Beef! How many ways shall I cook thee! I can stew you, bake you, or grill you, but today I'm going to curry you with potatoes. Haha!! Curry beef with potatoes is such a versatile dish. It goes great with rice, paratha roti or dhal puri roti, and it is simple to prepare.
Curry Beef and ...
Now, if you have this with roti, this is where it can become very interesting. I always enjoy adding curry bodi, pumpkin, fry ochro, and dasheen bush bhaji as a side to the roti. In the end, you are completely satisfied for the next four hours, especially with a cold glass of mauby.
However, today the rice will do. You can also add your usual fresh green salad to it, and an extra dash of pepper if you are brave like me. Here is rice and curry beef with potatoes. Enjoy!
Tip:
You can also pressure cook the beef before you start to curry it. You'll have nice tender beef and shorten your cooking time.
Rice and Curry Beef with Potatoes Recipes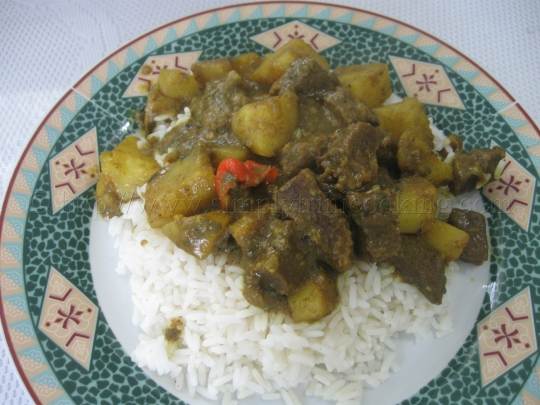 RICE AND CURRY BEEF WITH POTATOES

1 lb beef, cubed
1 medium potato, peeled and diced
1 small onion, chopped
5 leaves chadon beni, chopped
3 cloves garlic, chopped
1 ½ tbsp. curry powder (divided)
1 tsp. geera powder
½ tbsp. saffron powder
2 tbsp. oil
salt to taste
pepper to taste
Boil about 1 ½ cups of rice; drain and set aside.
That's it; simple and easy. See you around. Ah gone! 🙂
Don't forget to leave your comment for this rice and curry beef with potatoes in the comment box below.