There are some vegetables that I did not like while growing up and without a doubt Caraili was one of them. It was bitter, and tasted awful. Then, as I grew older I observed all the adults eating it; saying it was good to eat. How could something sooo bitter be good for you? Anyone who eats caraili knows that its taste takes some time getting used to, but soon you get accustom to its taste and learn to enjoy it.
The Bitterness of Karela
While rummaging around the internet, I came across a delightful story about how the bitter gourd got its taste. It was really interesting. Even though it was of Filipino origin, I enjoyed the story thoroughly. Want to read it? Check it out here. I hope you find it a good read. It's a nice story to read for your children as well since there is a moral at the end.
Anyhow, I am surprised how this bitter vegetable loses most of its bitterness when fried with onion, garlic and pimento pepper. It seems that the fire tames him a bit. The dish presented on this page makes a good complement to any meal, especially with its unique look. It adds an interesting taste to any dish as well.
So, my good readers, don't shy away from eating this healthy vegetable just because it is bitter and looks strange. Just know that it is good for you. This recipe is my second for caraili (karela). The other recipe is called kalounji. On that page I went into a little more of the health benefits with links.
Fry Caraili (Karela) Recipe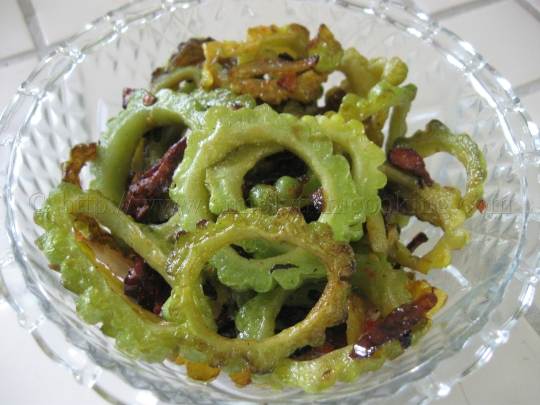 FRY CARAILI
1 large Caraili
2 pimento peppers
2 cloves garlic
1 small onion
salt to taste
pepper to taste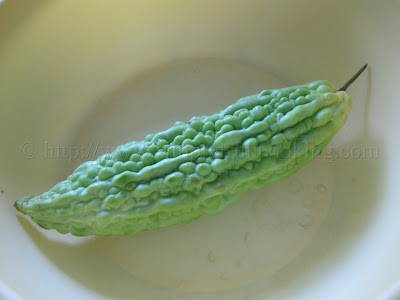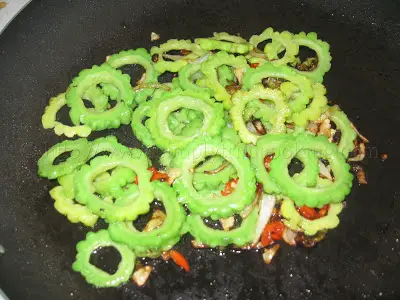 Here I'm having it with bodi, stewed chicken,
stuffed potato and sliced tomatoes.
Delicious!
See you next time for another wonderful recipe. Bye!
Print
Fry Caraili (Karela)
Ingredients
1

large Caraili

2

pimento peppers

2

cloves

garlic

1

small onion

Salt to taste

Pepper to taste
Instructions
Chop the Caraili into rings. Cut up the pimento peppers, onion and garlic and set aside. In a frying pan, over a medium flame, heat the oil. Add the chopped onions etc. and saute until golden brown.

Add the chopped caraili rings and mix in with the seasoning. Add salt and pepper to taste.