If there is one thing you should try on this site is our Trinistyle Barbecue Ribs. I know when you say ribs, most people tend to think pork. However, there is beef ribs as well. Both types of ribs will require a nice slow cook at first, but barbecuing this meat always brings out its juicy and meaty texture .
Origins of Barbecue
Barbecue is one of my favourite cooking techniques. As a matter of fact, I believe everyone loves barbecue. To me there is something to cooking and interacting with raw fire. Barbecue refers to meat that is cooked on a grill or pit and covered with spices and a basting sauce. For some people this sauce should be plentiful, for others not so much. It depends on your taste.
There are many barbecue vendors throughout the island. Most come out on Fridays and Saturdays, along the main roads while others are known establishments. This popularity of barbecue (for me) confirms the origins in the Caribbean. My post on "Buccaneering Meat Trinisytle" also shows meat cooking in a similar fashion.
Barbacoa or Barbe-à-queue,
Now, the etymology of the word barbecue is from the Taino language, barbacoa or barbakoa, which literally means "framework of sticks". It is on this wooden framework with which the meat is smoked. This technique helps add the most magnificent flavour to the meat. The word was then borrowed by the Spanish who called the method of cooking barbecue. Since then many cultures have accepted this Native Amerindian method of cooking meat as their own.
Now, I also heard that some people believed the technique originated in Medieval France. The word being an old Anglo-Norman word deriving from the expression "barbe-à-queue," meaning "from the beard to the tail".
Well, I prefer the first version. It made the most sense and we in the Caribbean are quite aware of the contributions of the Taino people in the Caribbean.
Barbecue Today
Today, you don't need a wooden framework. You can buy a barbecue pit and or bake the meat in an oven or use a broiler. Some people like to eat barbecued meat by itself or they might enjoy it with a serving of baked or fried potato or vegetables. Here on the island, it is also served with rice and some sides. This all depends on the person, their culture and their appetite.
A point to note though is when you are barbecuing beef ribs or pork ribs you have to allow the meat to cook. This is not something to be rushed, so you have to plan your cooking, start early so it can be finished on the time you are ready to serve. A long cooking time will produce a tasty, soft and tender meat. You will not regret it!
Anyway, here is our recipe for Barbecue ribs. Do enjoy.
Barbecue Ribs Recipe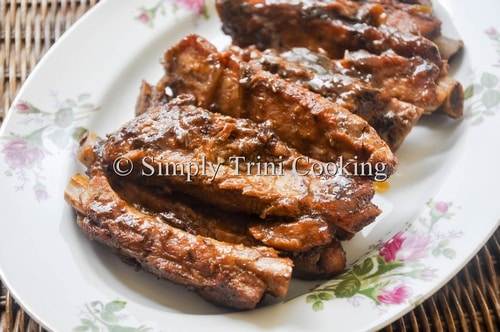 Ingredients:
Pork ribs or beef ribs
Barbecue sauce
Green seasoning for meat
Powdered and dried seasonings, such as: paprika, cayenne pepper, oregano, etc.
Fresh seasoning: fine leaf thyme, parsley and celery, salt to taste
Method:
Prepare the meat.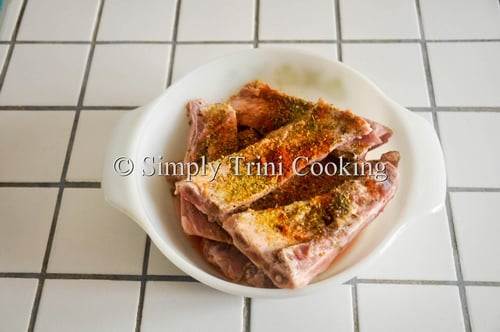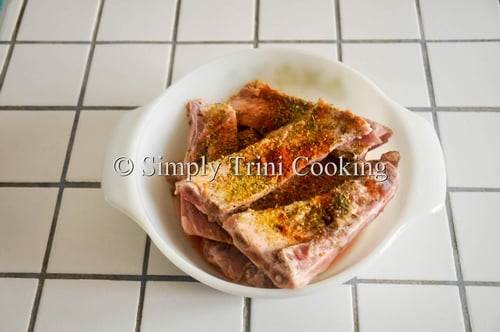 Season the meat with your favourite herbs and green seasoning (see link above). Let it marinate for at least an hour or overnight.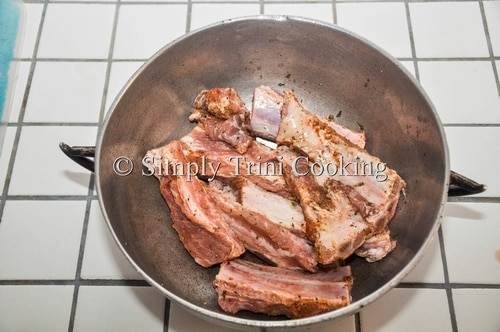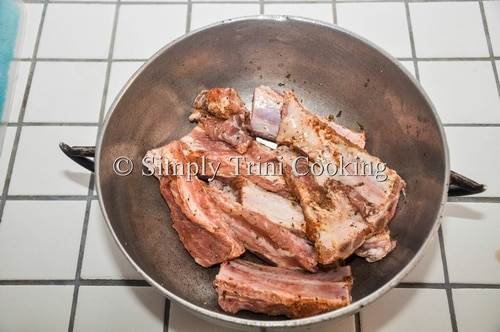 Place the marinated meat in a pot and add enough water to cover it.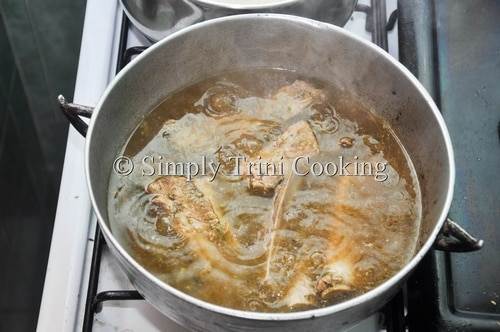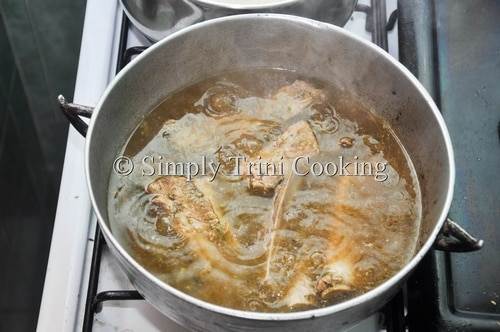 This begins the cooking process in water. The meat is cook on a low heat for 45 minutes.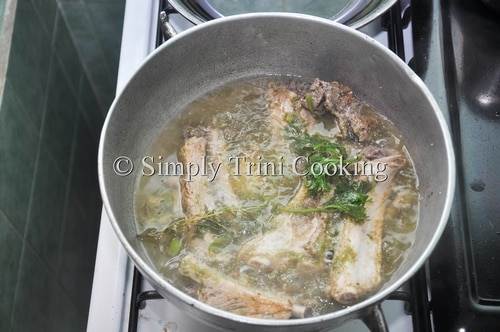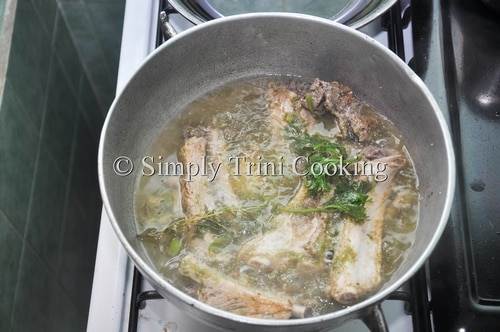 Add one sprig of celery and a sprig of fine leaf thyme.
Note: You can add extra green seasoning to the water while it is cooking as well.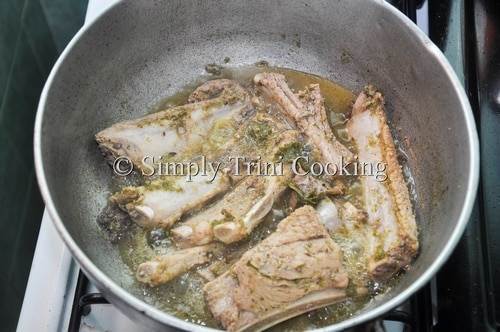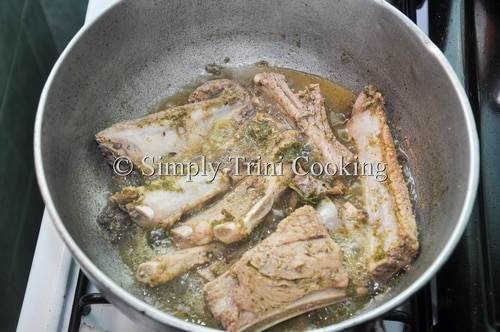 The liquid will reduce. Retain some of the liquid to prepare the barbecue sauce. The link for the barbecue sauce is above as well. The meat should be tender by now.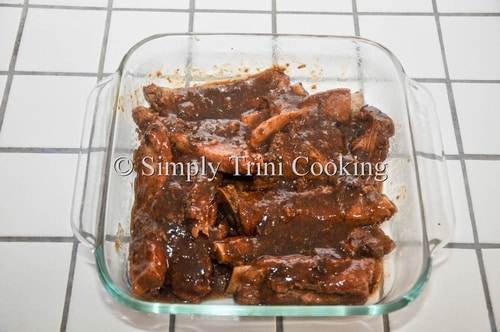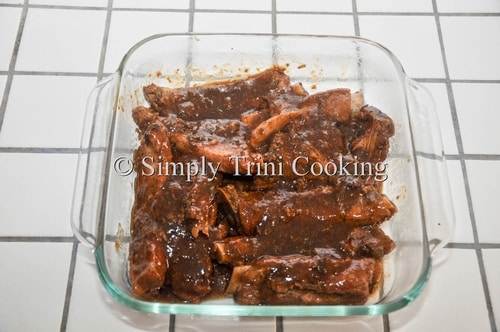 Finally, place the ribs in a dish and baste with the barbecue sauce. You can cover with foil. The ribs will steam and become more moist. Continue cooking in a 300 degree F oven until tender and juicy. Baste to desired "wetness".
Note: If you are using a grill to make your barbecue ribs, make sure the heat is on one side of the grill and the meat is placed on the other side of the grill. Do not place the meat on direct heat as it could dry out and get tough.
Do not open the grill before 30 minutes. Cook on both sides. Cook on low heat. After the first hour, cook the meat over direct heat. Cook the meat until tender.This could take about another 40 minutes. Then baste with the barbecue sauce again to how you like your sauce on your meat. I prefer my barbecue ribs a little on the medium wet side.
Anyway I'm still around busy in the background and also on the facebook group. Of course the cookbook is going strong check it out on amazon. More recipes to come much much more.
Oh before I go I am pleased to say that I have been recognised as a first time author 2020 by NALIS Heritage Library Division. so that's good news. Check out my reflection below as I talk about the cookbook.
Ah gone 🙂