Taste is very important to us when we're cooking. No dish is complete without the tasty aroma of the many local cooking herbs, we lovingly call seasoning, and yet still, others cannot do without that spicy, peppery taste in their food.
Cooking with Local Herbs
All our meats are marinated in fresh herbs (preferably) days before it is cooked. Even while cooking, fresh herbs are again added so much so that the very aroma of a good pot cooking could actually make your mouth water  So keep this in mind while you're trying out some of the many local Trinidad and Tobago recipes.  Some are going to be spicy, some peppery and HOT, and others will just have your mouth wondering what part of heaven you're in.
This weekend we went shopping, as it is also month end; of course among all the grocery items you just have to go to the market to get some of the fresh herbs for seasoning our meats and for cooking. Even though we use dried herbs in our cooking, we usually prefer to use fresh herbs when preparing our delicious meals. So, here is a little about some of the more common herbs we use in our sumptuous Trini cooking recipes.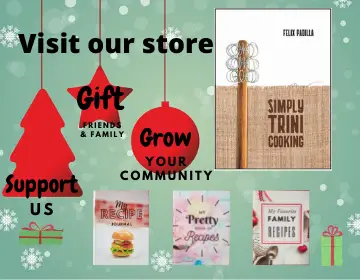 Local Cooking Herbs
The first local cooking herb is the chadon beni.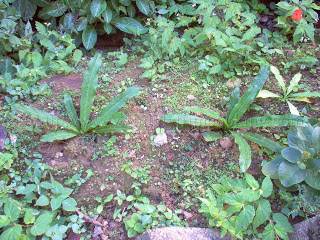 First of, the most popular herb found in any pot is Chadon beni or shadow beni (Eryngium Foetidum),also known as Bandhania and Culantro (not to be confused with Cilantro Coriandrum Sativum). This is a plant that grows mostly wild (sometimes cultivated) and very hardy because it grows where other plants cannot; as we say in Trini "dis plant doh aks to grow". The long leaves are used in almost everything; chutneys, chows, etc and of course everyday cooking.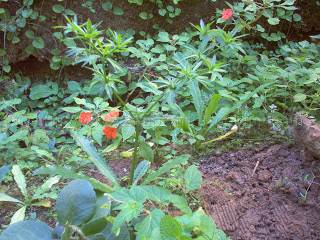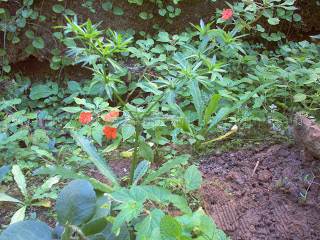 But of all there were none he liked so well as those of the famous Feliciano de Silva's composition, for their lucidity of style and complicated conceits were as pearls in his sight, particularly when in his reading he came upon courtships and cartels, where he often found passages like "the reason of the unreason with which my reason is afflicted so weakens my reason that with reason I murmur at your beauty;" or again, "the high heavens render you deserving of the desert your greatness deserves."
---
 

Chive

Another favourite is Chive (Escallion - Allium ascalonicum L.). Commonly known as 'chive' with the 'ch' pronounced as 's'. (sigh- ve) . In Trinidad this herb is grown mostly in the mountainous areas of Paramin largely because of the soil, which allows for easy water filtration, and the stable cool temperature of the high altitude.

Chive grows easily once the conditions are right, the stalk is used and the bulbs can be replanted in a grow box or pot.
Fine Leaf Thyme
Next we have what we call fine leaf thyme  This pungent herb, also grown in abundance in Paramin, also graces our pots and dishes from time to time. It is usually sold in small bunches or together with chive. From experience, this plant is very difficult to grow and seems to require the same conditions as chive - it also does not like direct sunlight.
Spanish Thyme
Spanish thyme is another of our locally grown herbs. Its leaves are a little bigger than its cousin the fine leaf thyme. Also used in cooking and in seasoning meat or fish or what have you. Once treated well, a Spanish thyme plant can last for years even if planted in a pot.
Big Leaf Thyme
Another of the thyme family is what we refer to as big leaf thyme.  Known for its pungent aroma, big leaf thyme is used when cooking or seasoning meats or blended together with the other herbs to make seasoning which is then refrigerated. This herb is also sold in bunches at the market.
Well this brings us to the end of another post stay tuned for more.