Last year I posted parsad made with cream of wheat. This time I decided to post the other popular variation of parsad - flour parsad. I thought I was a cream of wheat parsad convert until I saw how fast and easy flour parsad was to make. And you still get that wonderful smooth sweetness parsad is known for.
A Choice of Parsad
So now I have a choice of which one I want to make, but it is going to be a difficult choice.  Or... you know what? I think I will just have to make both when I'm ready: it's too hard to resist either parsad.
Now, during Divali, I normally get little bags contains the several Divali sweets, including parsad.  Most times that little bag of parsad never get to reach home, and far less the fridge, because I would be nibbling on that parsad while on my way home too right after the barfi :-D.
Trini Parsad
By the way you ever had day old parsad, cold from the fridge? Man! it is the best way I know of, to really enjoy parsad. Somehow the coldness does something to bring out that milky sweetness of the parsad. Anyway, I'll be short since I have more to post before Divali celebrations really get on the way today. Here's flour parsad. Enjoy!
Oh! Don't be daunted by the amount of pictures: the steps are simple. I just wanted to show a little more detail, so that you will get a vivid picture of what to do. 🙂
Ingredients:
1 tin evaporated milk 410g
1 ½ cup sugar
2 teaspoon elychee ( cardamom)
1 cup raisins
1 tbsp. grated ginger
½ lb unsalted butter or ghee
2 cups flour
Direction:
Bring to a boil the milk, sugar, elychee and ginger.
Set aside the milk.
In another pot melt the butter or ghee
Add the raisins.
after about 2 minutes, add flour and stir continuously.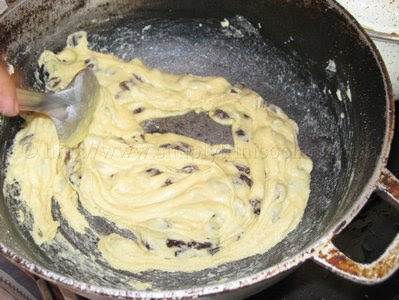 Note: You will also notice that the raisins have become plump. A good indication that it is ready for the milk.
Pour in the milk and continue stirring ...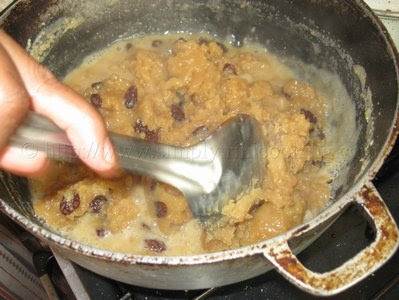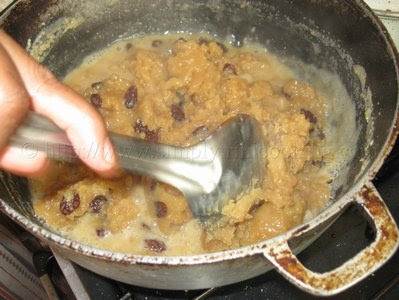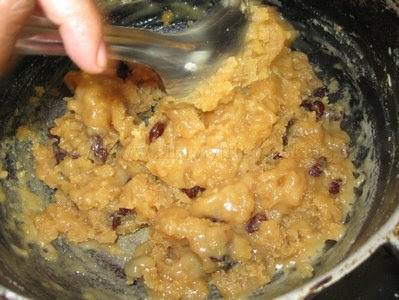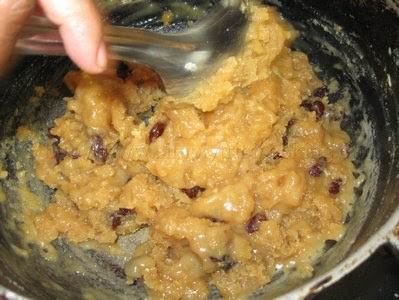 See how easy that was? Ok! Next recipe coming soon. Ah gone!
Print
Trini Parsad II (Flour Parsad)
Ingredients
1

tin evaporated milk

410g

1 ½

cup

sugar

2

teaspoon

elychee

cardamom

1

cup

raisins

1

tbsp.

grated ginger

½

lb

unsalted butter or ghee

2

cups

flour

enriched
Instructions
Bring to a boil the milk, sugar, elychee and ginger. Set aside.

Stir until the mixture achieves a golden brown colour. Pour in the milk and continue stirring until it leaves the sides of the pot and looks fluffy in appearance. Remove to cool.
---
I thought it best to post this video on flour parsad today, during this auspicious time of Divali, and also because of the number of hits this recipe has gotten over the last few days. Flour parsad is most loved by many because of its creamy sweet taste.  This is one type of parsad, the other is made with cream of wheat. The second is tastier and healthier.  It is not served much, because cream of wheat is more expensive than flour.  Generally, around this festive time a pounds of parsad is made to be distributed to friends and relatives.
So here is a parsad recipe for you to enjoy. Check out the video recipe then subscribe to the Simply Trini Cooking You Tube Channel. Of course tweet, facebook like and feel free to share with your friends and family.
Flour Parsad Video Recipe
Shubh Divali 🙂
Parsad is a popular Divali Recipe.  You will love this recipe.  This recipe produces a creamy and sweet tasty parsad.  We invite you to leave comments about this flour parsad recipe below in the comment box below.