We always enjoy a piece of stew pork every now and then. Sunday is a very important time in the life of a Trinidadian and Caribbean folks. It's a time to go to church, go to the beach or river or just relax at home with family and friends. But most importantly on a Sunday is Sunday lunch, because on Sunday we like to cook a big meal with lots of sides like red beans (which by the way we call Sunday peas since we like to cook it on Sunday a lot!) callaloo; some provision; macaroni pie; fried rice; stewed, curried, baked or barbecued chicken, beef, lamb, some wild meat and, my favourite, stew pork.
Pork: A popular meat
Cooking pork is really a time honoured tradition here in Trinidad and Tobago, especially around Christmas time. I still wouldn't feel "Christmassy" if I didn't have ham or a pork pastelle in my plate and I'm sure that many in the Caribbean would definitely agree with what I'm saying. It's just not the same. For the rest of the year we have barbecue pork, geera pork and baked pork for a Sunday meal or when we're "liming". We even have now a pork fete, imagine that! I think Pork is here to stay....Where was I?..... Oh! stew pork.
Stew Pork for Sunday
Stewed pork really compliments the Sunday meal and, to me, also does a fine job with provision as well. Ever heard of "Stew Pork and Dasheen"? The sauce over the dasheen is just superb. This is a favourite for the boys on the block while they sit by and play chess. Everyone gets a bowl of provision and some stew pork. Oh! I'm tasting it already! Anyway, in this recipe I'll be showing you how my mother-in -law makes stew pork; tender, juicy and finger licking good for our Sunday meal.
Here are some
Tips:
Make sure to marinate your pork at least overnight so that the green seasoning etc. could really be infused in the meat. As a rule, we Trinis never season meat while we're cooking. It's always marinated first.
When caramelizing be careful of the sugar. It will burn you badly.
To cut down cooking time the pork is pressure cooked.
Pork is always well-cooked. So allow time for the meat to cook.
If you are using frozen meat, make sure you thaw the meat. Cook the meat as soon as it is thawed.
Ok, now I invite you to try out this great tasting pork recipe and probably add it to your list of meals to cook for Sunday lunch.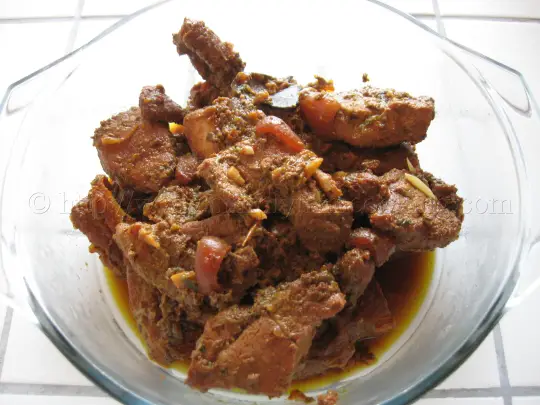 STEW PORK
Ingredients:
1 lb pork, chopped, seasoned and marinated
3 cloves garlic, chopped
1 small onion, chopped
6 leaves chadon beni, chopped
3 tbsp. sugar
1 tomato, chopped
2 bay leaves
2 tbsp. golden ray margarine
Water
Directions:
Add the garlic, onion, and chadon beni (bandhania) to the seasoned pork.
In a deep pot caramelize the sugar to a golden brown colour. Add the pork and stir to evenly coat with the sugar.
Add the tomato, the golden ray, the bay leaves and a little water.
And allow to simmer for 15 minutes in its own juices. Cover the pot when you're simmering for the 15 minutes. Afterwards, pressure cook the pork for 40 minutes over a medium-high flame.
The stew pork is done and ready to serve. I served this stew pork with baked chicken, chow mein and of course some watercress. It was delicious! The week has come to a close. It started out a little rough but I made it. See you on Monday with some more delicious recipes. It's Labour Day in Trinidad and Tobago and I am enjoying the holiday. Bye!
---