It's the simplest and tastiest way to prepare rice. You also don't need much different ingredients for it, just tomatoes and sizable amount of herbs.  I am referring to the dish called Tomato Rice; but some people would also call it Spanish rice.  However you call this rice dish, you will notice that it is a rice dish to add to your cooking repertoire.
A Dish For All Occasions
Tomato rice also goes well with just about any of my favorite local dishes.  I am never disappointed with it.  I have made it during the week and had it with a baked chicken and a salad.  I have made it during the weekends, Sundays especially, and had it with callaloo, barbecued chicken, steamed fish, stewed chicken, a green salad or beet salad.  This dish goes with any dish. You name it.  It also fits any budget and can be upgraded to become a main dish rather than a side dish.
Too Much Tomatoes for Tomato Rice Alone
Last week I got about four pounds of tomatoes, added to the pack I bought earlier, from my father-in-law and my mom.  So much tomatoes that I didn't know what to do.  My father-in-law also told me that I can also make tomato jam with it.  He proceeded to go down memory lane and tell me about his aunt's tomato jam and how great it tasted. Note to self: get that tomato jam recipe and post it 🙂
Then my wife requested tomato rice.  She was interested in the tomato jam, but tomato rice was on her mind.  Of course I'd do the tomato jam later, but for now we went ahead and made this rice dish. Here is tomato rice. Enjoy!!
The Tomato Rice Recipe
1 clove garlic, chopped
2 cups skinned, seeded and diced tomatoes  (method shown below)
1 small onion, finely diced
1 small green sweet pepper
1 pimento pepper, chopped
1 sprig parsley
2 tsp. small thyme
2 cups uncooked long grain rice
1 cup coconut milk
3 cups chicken stock or water
2 tbsp. tomato paste
1 stalk celery
1 tbsp. green seasoning
Salt and pepper to taste
2 tbsp. coconut oil
1 tbsp. butter
Optional Ingredient:
Crispy bacon
 Chop the garlic, onion, pepper, celery, thyme, and parsley.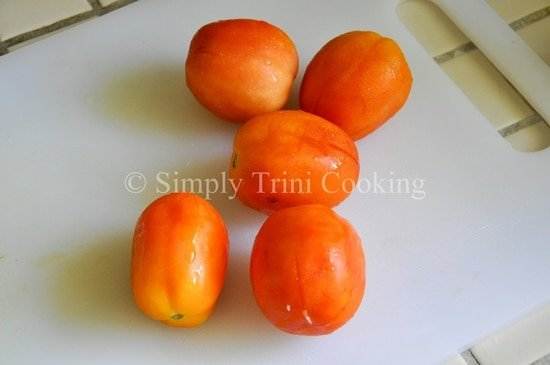 Make slits in the tomato and soak in hot water. Then place under running, remove the skins and dice.
Heat oil then add butter to melt.
 Saute  the onion, garlic and celery.
Add the tomatoes.
 Add the the coconut milk.
Add the sweet pepper and parsley.
Then add the rice...
and water.
Cover and simmer until the rice is tender and the liquid is absorbed.
Add the tomato paste and blend well. Adjust salt and seasonings to taste.
 Note: You can add the optional crispy bacon at this point. Mix well
Tomato rice is ready to be served.  Serve hot.
So, we have come to the end of another marvelous post. I do hope you enjoyed our version of tomato rice.
Ah gone 🙂