It had been almost 11 months since we had eaten anything with flour or grains. It was indeed a remarkable feat in itself. When Christmas came around we could not miss eating our favourite cornmeal pastelles. At the same time we were contemplating adding a bit more carbohydrates to the diet. So obviously, we choose to add corn and a bit of rice.
Now, I know you might be thinking that we abandoned posting new recipes. No! It was a trying time, due to the Covid restrictions. My students kept me busy online and offline. Also my wife, spent more of her time on our sister site (studyassistant.org which is an education site for elementary students) and she is busy writing some books for that site as well. However, we decided to put some more effort towards posting some more recipes. We still have some goals to reach on this site as well.
Anyway, the last recipe we posted was ripe plantain pone. It has been a regular on our table. My wife just enjoys this desert. Another desert she eats often is almond cake. We took the sugarless cake and made it gluten free. It is the most delicious gluten free cake version we have ever tasted. If you want us to post this recipe, leave a comment below.
A Gluten Free Coconut Drop Recipe
Now, during Christmas she wanted to add another desert that we can enjoy during that time. This desert is gluten free, and since we were enjoying cornmeal pastelles, she decided to use corn meal instead of flour. That is how we come up with this version of coconut drops. Check this out. This coconut drop is not only gluten free, it is also sugar-free.
Also, cornmeal flour is a bit heavier than flour, and some versions vary. I suggest you use precooked cornmeal brands such as Promasa (yellow corn meal) or Pan (white corn meal). These are the same brands you would use to make pastelles. I must add that the white corn meal is perfect for cornmeal dumpling as well. I will have a post soon for pure cornmeal dumplings.
Anyway, here is the coconut drops recipe.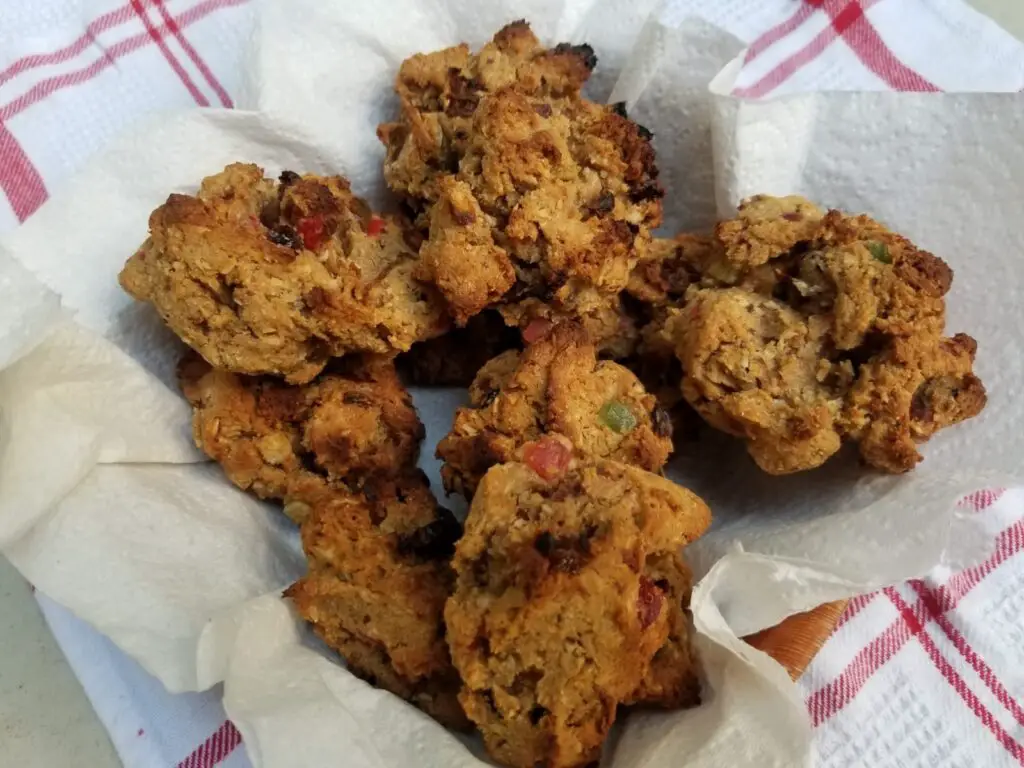 Gluten Free Coconut Drops
Ingredients:
3 cups (less 2 tablespoons) fine cornmeal (white)
1 small coconut, grated
1 ½ cups raisins (chopped)
½ cup mixed fruits
¼ cup butter, soften
3 large eggs or 4 small eggs
1 cup coconut milk
2 teaspoons vanilla
1 ½ teaspoons baking soda
1 teaspoon cinnamon
½ teaspoon nutmeg
2 tablespoons flaxseed flour
Direction:
Boil raisins in coconut milk and butter in a pot. Once cool add eggs.
In another deep bowl, mix together cornmeal, flaxseed flour, baking soda, cinnamon, and nutmeg. Add the soften raisins to the cornmeal.
Mix well. You may have to mix with your hands. Add mixed fruits. Add the milk, a bit at a time until you get a soft dough. The dough should not be too loose. Cornmeal tends to be a bit stiff and it holds up well on its own. For this reason it makes perfect coconut drops.
Next, drop about ¼ cup of the dough on to a lined and well-greased baking tray. Place them about 1 inch apart.
Note: Do not shape the dough too much.
Finally, bake the drops at 350°F for about 30 minutes.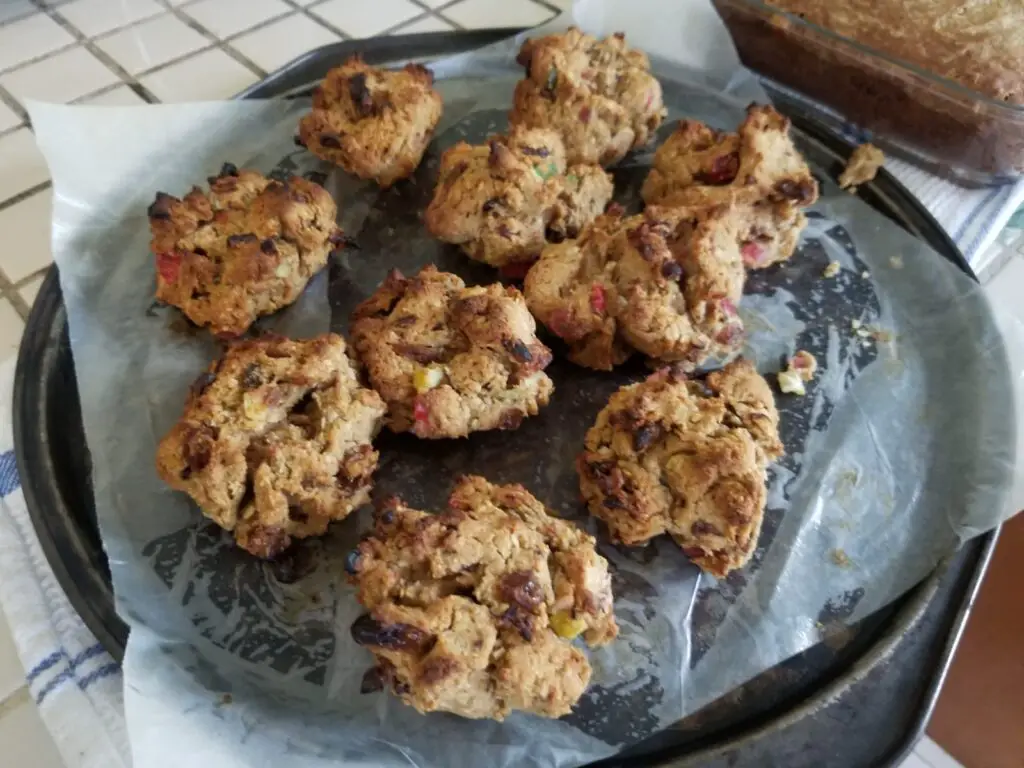 These coconut drops are not heavy at all. It is delicious and can be eaten for breakfast or dinner.
I must add that you can use this recipe to make a gluten free coconut bread loaf as well. You will have to add some more milk to the dough. This will be in another post. Stay tuned.