Before I go into the tamarind juice post I feel it necessary to talk about my tamarind tree....
From the kitchen window the tamarind or tambran tree appeared as a wall of green, towering above the Julie Mango tree and still trying to compete with the peewah tree for as much sunlight it could get to its leaves.
The Julie Mango, poor thing, nearly died losing to the competition, only to eke out a bare existence getting a few hours of sunlight each day, until, at last,one day we decided to trim that strong boy a bit and give miss Julie a little breathing space. But, the green wall continued to grow and dominate the backyard each year.
It grew strong: the thick anaconda roots, coiled and dug deep into the rocky soil and spread wide across the breadth of the backyard. It survived many a rainy season. Flooding washed away the top soil and still those roots held on with determination. Even while young, the strong winds from the tropical depressions were no match for its muscular branches. The leaves provided lots of shade: almost blocking the sunlight from reaching the ground and around its trunk hardly anything grew...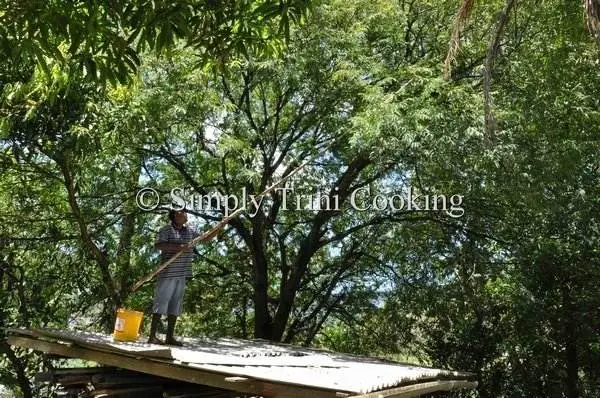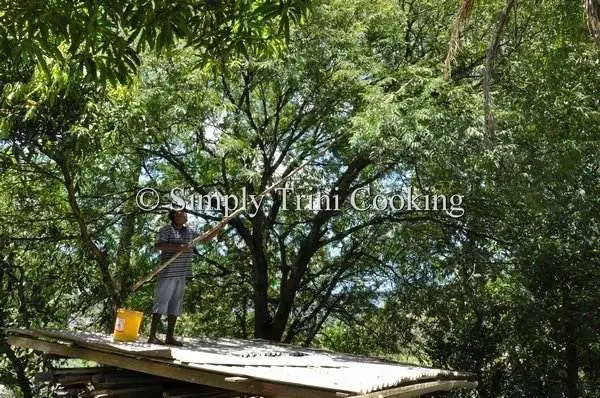 Picking tamarind from the top of the shed.
Bearing season came and the tree put forth an abundance of  fruit,  every time the winds blew there was a rattle of tamarind falling on the roof of the old shed.  Sometimes we had to sweep the tamarind off the roof because there was so much. Even after we gave away by the bucket load and sold some; we had some to shell and place in the freezer. It was a lot of tamarind!
Occasionally, we made Tamarind Balls or Tambran sauce from the fruit which are two traditional uses when it comes to preparing tamarind; but, with a little more ingenuity, our ancestors found medicinal uses as well. Tamarind is known to lower blood pressure and as such has become a natural remedy for treating high blood pressure.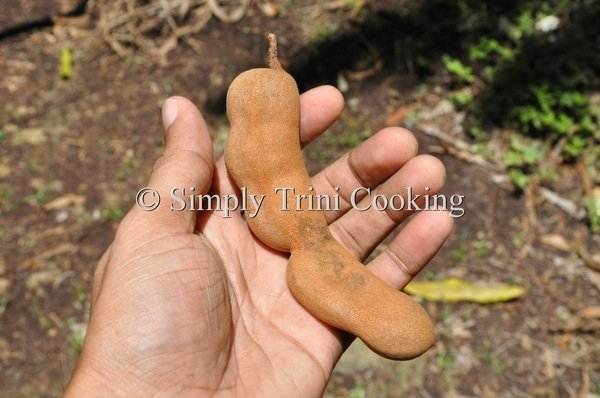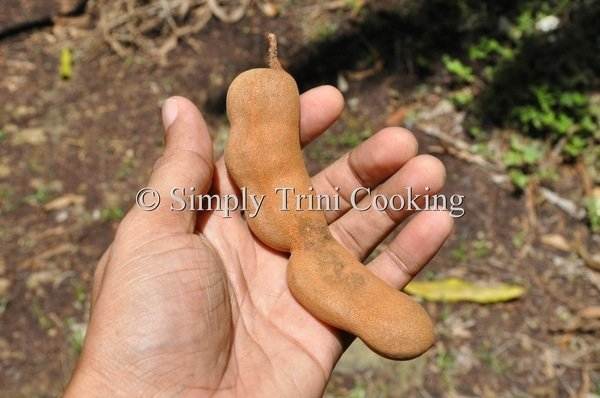 With that in mind I present to you today a refreshing drink made from tamarind (tambran). It is reminiscent of citrus drinks but with a bit more tart . But, before we get to the recipe I would like to warn anyone who suffers from low blood pressure to be cautious if you decide to have some. In my wife's case, only one glass was enough before experiencing a slight light headedness. Here's Tamarind Juice.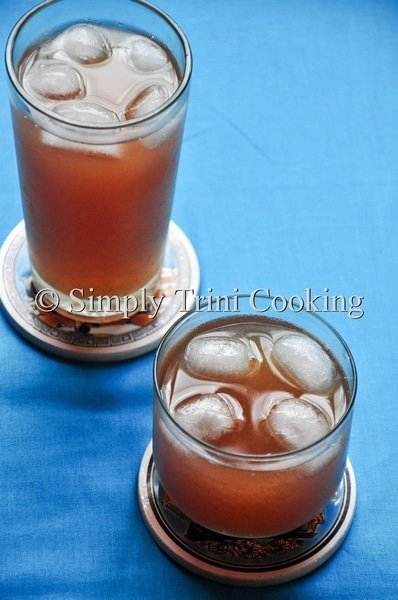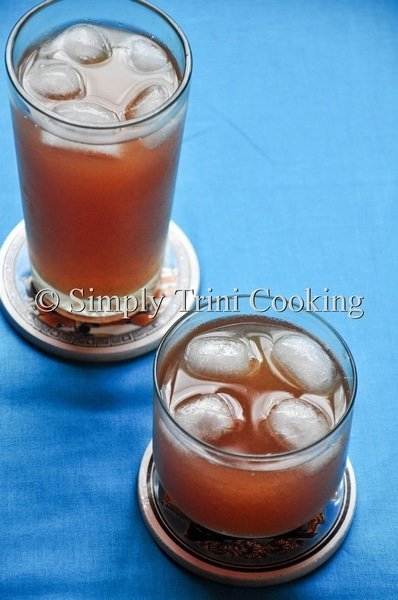 TAMARIND  JUICE
20 tamarind
1 ¼ cups sugar (You may need less if your tamarind is a more sweeter.  Our local variety is more sour than sweet)
6 cups water (to soak)
3 cups water
2 teaspoon vanilla essence
3 teaspoon Angostura bitters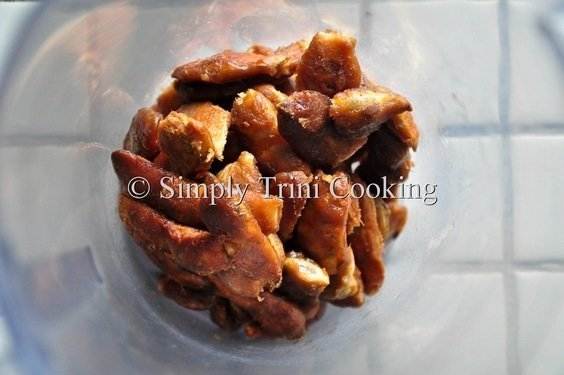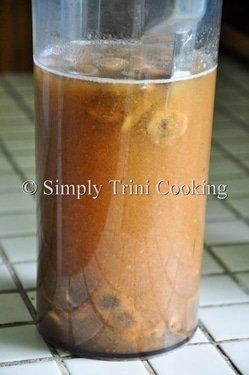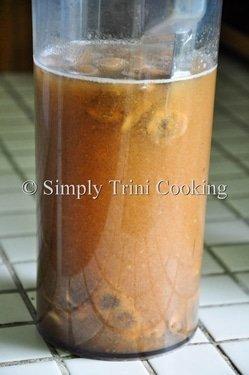 Shell tamarinds. Pour room temperature water over them (6 cups) in a mug and set aside for 20 to 30  minutes.
Stir to remove the pulp from the seeds.  Remove the seeds.
Add extra water (3 cups)  sugar, stir well until all the sugar has dissolved. Add essence and angostura bitters.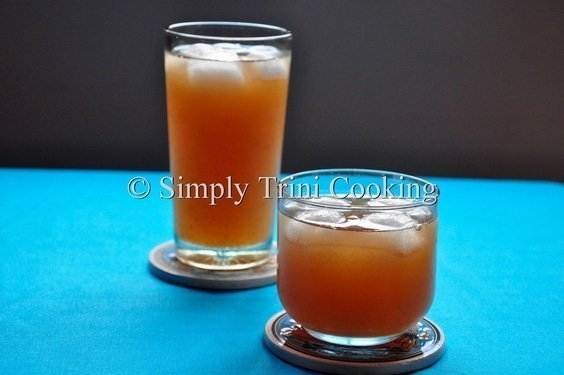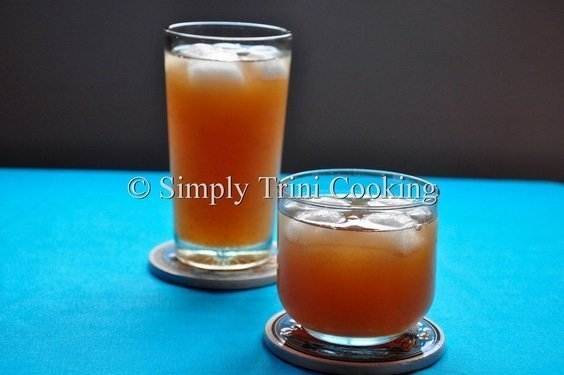 Serve chilled or with ice.
Well, more recipes to come as usual. Enjoy a bit a tamarind juice while I go cook something up.
Ah gone 🙂