Oven fried chicken...My journey to Health
Continuing with my recent health trend in cooking, I've been coming up with ways to present my recipes in a manner that will not only be tasty, but also healthy as well. This means sometimes reducing fat content or the amount of sodium used while still trying to create a harmonious balance with the rest of ingredients.
This sort of juggling act is challenging at times but I find it so refreshing that I can actually make healthy food taste great. We all know that when most people think of healthy food they quickly associate it with dull, boring or just less tasty than the fast food version of a meal. So here I was presented with a challenge; to make fried chicken a little healthier.
Of course the first to go was the excess oil...there goes actual frying. Then I played with complete seasoning instead of MSG but I still wanted to keep my trini influence in my oven fried chicken recipe so I opted to also season with green seasoning.
Here then is my crispy oven fried chicken; a little healthier than it's fast food counterparts.
CRISPY OVEN FRIED CHICKEN
2 egg whites
1 ½ cups cornflakes
½ tsp. ground black pepper or pepper flakes
½ tsp. paprika
2 garlic cloves, minced
2 tsp. grated onion
2 tsp. chive, thyme, parsley, celery leaves each
3 tbsp green seasoning
1 tbsp. complete seasoning - For picture see (Chinese Style Fried Chicken)
10 chicken legs, skinless
Clean the chicken and ...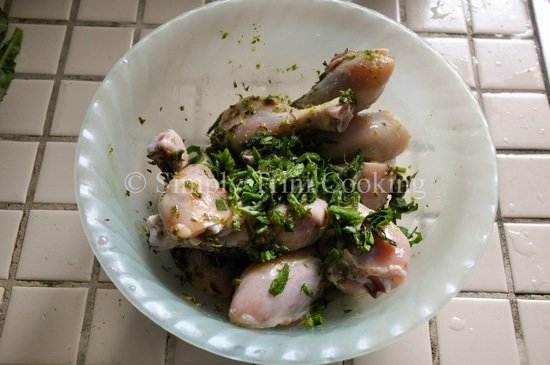 ... remove the skin and season well with green seasoning and complete seasoning. Leave to marinate 20 mins.
Preheat the the oven to 400 degrees F in the mean time for about 10 mins
Crush the cornflakes.
Note: Here I'm using our trusty bailna (rolling pin) to crush the cornflakes in a zip lock bag.
In a medium bowl, combine the cornflakes and the herbs ( pepper, paprika, garlic, and onion)
Beat the egg whites. (You can add some some dried parsley and paprika for flavoring).
Tip: You can substitute egg whites for buttermilk.
Working one piece at a time, dip the chicken into the egg whites and then into the cornflakes mixture.
Here comes a tip
Tip: Alternatively, you can also dust the chicken with flour or cornstarch before you dip it in the egg whites or buttermilk.
Arrange the chicken , on a well-greased baking sheet or dish.
Bake for about 35 to 40 minutes at 350 degrees F until the juices run clear, and the crust is golden brown.
See you soon with another trinistyle trini fusion recipe. Leave a comment if you like my crispy oven fried chicken.
Ah gone 🙂