When you get a glass of fresh passion fruit juice, find a nice comfortable spot in your home where you can see the mountains and enjoy the delicious healthy juice. In Trinidad and Tobago, we see this fruit seasonally, so when you get it, find delight in it. Passion fruit is a long time favourite. We especially love to use it to make juice or wine. I must say though, when you drink passion fruit wine don't be fooled by the fruitiness; you can get intoxicated quickly as I have experienced.
I could remember eating the passion fruit as a child; sucking the sour seeds and all,but what I remember most is when my mother would make passion fruit juice. Of course all I had to do was go and pick some from the vines my father planted but nowadays you have to buy it at the market or be lucky to get.
There are some varieties of passion fruit, the most common are the purple and yellow varieties. They are the Passiflora edulis ((oval shaped with purple skin) and the Passiflora Flavicarpa (oval shaped with yellow skin) varieties. The yellow-skinned variety is more common in Trinidad and Tobago. The passion fruit is a good source of vitamin C and A
Here is passion fruit juice simple, and straight forward. Enjoy!
---
PASSION FRUIT JUICE RECIPE
The yellow passion fruit, common in Trinidad and Tobago. Scrape out the seeds, using a spoon, into a bowl.
Add a little water and whisk until the pulp separates, and strain the seeds.
Add water, ½ tsp. bitters and sugar and sweeten to taste.
One thing I like about passion fruit is that you can make a blended juice with it and not lose the smell and taste of passion fruit. You can blend it with any other fruit such as pineapple, orange, lemon, lime, pomegranate, grapefruit juice, and even watermelon. It is like a citrus fruit juice bomb, high in vitamin C and likely can improve your immune system.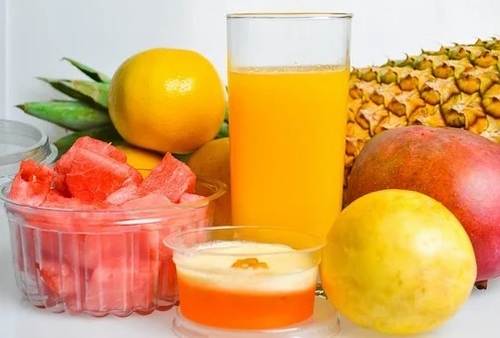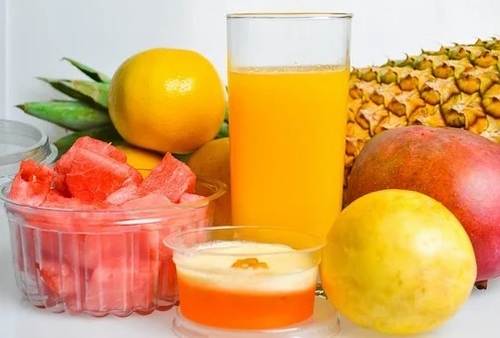 In the next post look out for Dosti Roti, another type of Roti that is enjoyed in Trinidad and Tobago. Until then.
Print
Passion Fruit Juice
Ingredients
4

yellow passion fruits

½

teaspoon

Angostura Bitters

about 3 cups water

divided

Sugar to taste

about 4 tbsp.