The Covid-19 lock-down began with me watching Midnight Diner. It is a Japanese anthology TV series directed by Joji Matsuoka. The show is about a late-night diner in Shinjuku called "Meshiya" (Midnight Diner). It's chef is simply known as "Master" to his customers. This show got my attention, and I felt I had to try some of the Midnight Diner recipes I saw in the show.
---
My Review of Midnight Diner
"Master" is like a sage, always willing to listen to his customers worries, sympathize with them, offer them the food they crave, and give good advice. He is interesting and mysterious. We never get to know much about him: like his real name or why he had that visible scar down the left side of his face. But he offered food to his customers with a personal touch. I enjoyed watching them eat while they recall a memory tied to the food.
"Master" also had a few interesting rules for his customers, such as no more than 3 drinks per person and no fighting in the diner. (It would seem interesting that it had to be mentioned). The small diner opened 12 am to 7 am. Strange hours indeed! It catered for customers that worked these odd hours. You can very well tell who would be hungry during these hours, yet surprised to see others.
My favourite regular customer was Mariko "Marilyn" Matsushima. Though a popular stripper in Shinjuku, I felt she was treated with respect and acknowledged by other characters in the diner. I found that most interesting and most unlike what I am familiar with in my country. No stripper gets any good kind of acknowledgment.
Simple Food for a Simple Plot
Now, concerning the food served in the diner, it is always simple and requested by the customer to satisfy some craving. Master would not cook any thing if he does not have the ingredients (of course, and he never has much anyway). Though in one episode a customer brought the ingredients. I also noticed the amount of ingredients for the dishes are always at most two or three ingredients. Once the dish was served, the conversations began.
The conversations were very interesting. The plot was a bit simplistic as well with a little drama or conflict. Each episode, about 25 minutes long, was based on a dish. The show is five seasons long and if you yearn for a simplistic show (even the music was simplistic), you would love it.
Even though, this is a show to see - if only for the food - you can gain much insight into the Japanese culture.
Here is a preview of the show.
Now, I choose EIGHT recipes for the site. I believe Trinidadians would love this, especially as life is begging for us to get simpler.
Here are the eight recipes inspired by Midnight Diner. Click on the number links below to view each Midnight Diner recipe.
---
1. Butter Rice
I just had to put this recipe in this post. Butter rice was shown in season 1, episode 5 (Midnight Diner). The food critic tastes butter rice. This was interesting as I also remember eating butter rice when I was a child. My mom gave us a little plate of butter rice to eat if we were hungry while the food was still being prepared.
The rice is always the first to be cooked. While it is hot she would bury a bit of butter into the rice. The heat of the rice would melt it and then she would mix it. That is all. A pot-spoon full of rice was the serving size. It was delicious. I could never forget the taste of butter rice.
Now, my wife remembers butter rice when she was young as well. Unlike her mom who used butter, my mom also liked to use Golden Ray. Did your parent use butter or Golden Ray margarine?
---
A Butter Rice Recipe
There are only two ingredients: rice and butter. Boil the rice until soft. Add butter to the hot rice. Once you bury the butter in the rice, the butter melts and so you can mix the rice. Serve the hot butter rice with a dollop of butter on the top.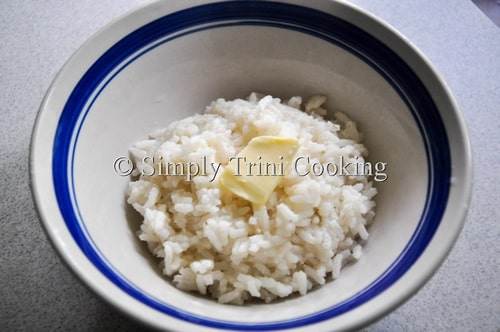 ---
2. Pork Wrapped Tomatoes
In season 3, episode 2 (Midnight Diner), Master made Tonbara Tomatomaki (Pork Wrapped Tomatoes). I never thought this one would be so tasty. One bite is all you need. The baked tomato is soft and juicy; it blends well with the crispy texture of the bacon.
A Pork Wrapped Tomatoes Recipe
This recipe uses two ingredients: bacon and small tomatoes. However, I used turkey bacon for this recipe.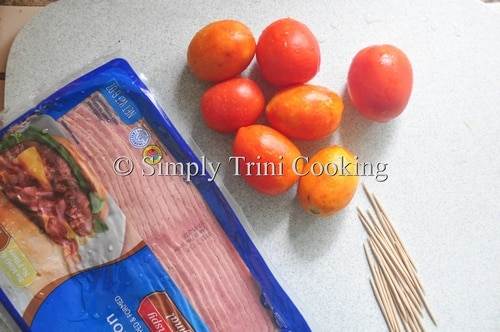 All you do is roll the tomatoes in the bacon. Secure through with a toothpick.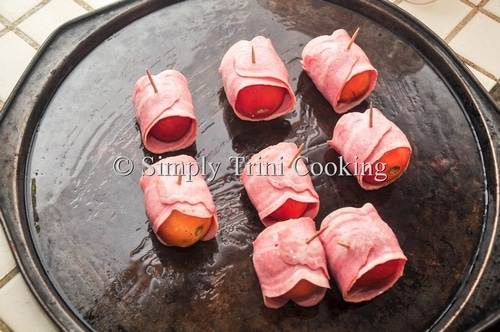 Then place them on prepared sheets and bake in a hot oven for 15 minutes. This recipe is similar to the Rumaki recipe. You can also roast your bacon wrapped tomatoes like in the show. I can see this recipe taking on so many variations because of its simplicity.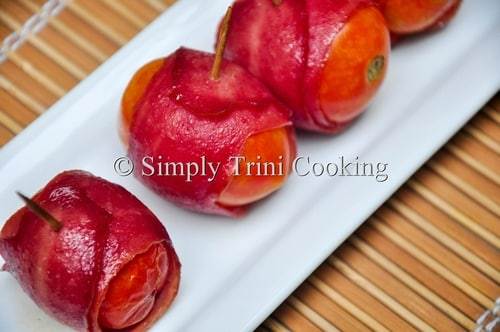 ---
3. Potato Salad
In season 1, episode 4 (Midnight Diner), I saw another version of potato salad. West Indians love potato salad, and I guess the Japanese also. What is the difference? Only cook the potatoes. The carrots and cucumber are sliced thinly. I used a mandolin to slice the vegetables in the thinnest way possible. This is the only dish that had a little more ingredients.
Potato Salad Recipe
The ingredients you need in this dish are 3 boiled, peeled and then roughly chopped potatoes,  ½  - ¾ cup fried pieces of bacon, 1 cucumber (thinly sliced), 1 carrot (thinly sliced), 5 tablespoons mayonnaise, 1 teaspoon mustard and 1 tablespoon rice wine vinegar, or apple cider vinegar.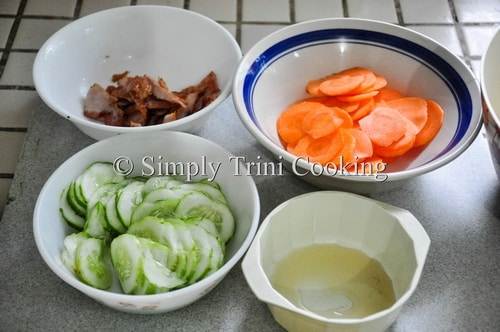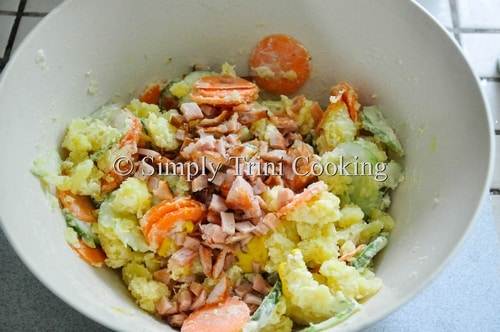 The ingredients are mixed together in a deep bowl. This potato salad is very filling. In the show, it was eaten as a main dish.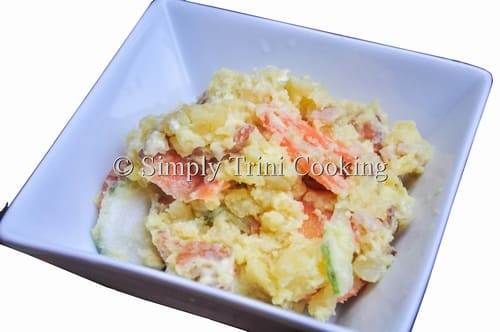 ---
4. Stuffed Cabbage
In season 3, episode 6 (Midnight Diner), The Master prepared Roll Kyabetsu (stuffed cabbage) for the customers. I cannot find the suggested cabbage, but I still wanted to try the recipe.
Stuffed Cabbage Recipe
The ingredients are just seasoned minced meat and cabbage. You will use about 12 cabbage rolls for 1 pound of minced meat . Remove the center core of the cabbage and place the cabbage into boiling water. Cook the cabbage until pliable. Then remove and cool. Peel off each leaf. You may have to trim the thick veins of some of the cabbage leaves.
Add the stuffing to the center of the leaves and roll from the bottom up. Roll the cabbage tightly. You can use tooth picks to seal the leaves in. The rolls are boiled covered in a little water, for 30 minutes.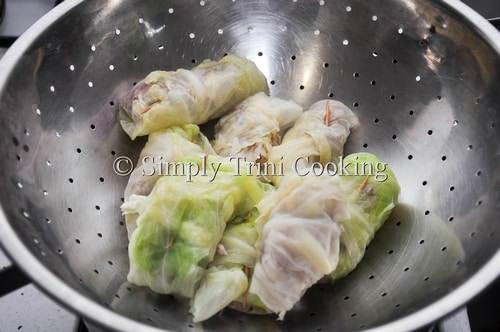 I steamed my rolls. You can serve yours with tomato sauce. Again you can go to town with variations for this simple recipe.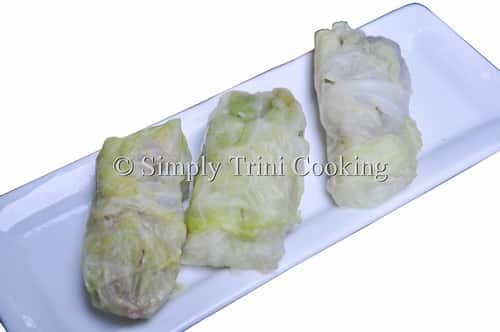 ---
5. Fried chicken Breast with Cheese
I have tasted fried chicken many times and I had never thought of frying it with cheese in such a way. In season 5, episode 2 (Midnight Diner), the Master prepared Chicken Cheese Katsu. The Japanese seems to love fried chicken, much like us Trinis. There is even another type of fried chicken I wanted to try as well, but this one was my favourite. And I do not regret it at all. However, I will try that one some other day. Anyway, this chicken cheese Katsu is delicious. It is crunchy on the outside, and moist with the melted cheese on the inside. I love this combination. I believe I ate a few at once.
Fried Chicken Breast with Cheese Recipe
The ingredients are again few; you will need boneless chicken breast, cheese, Panko breadcrumbs, flour, egg, and oil for deep frying. First, thinly slice the chicken breast and evenly pound it a bit, until tender. Season with salt and pepper. However, being West Indian, I stubbornly season my meat with a little green seasoning.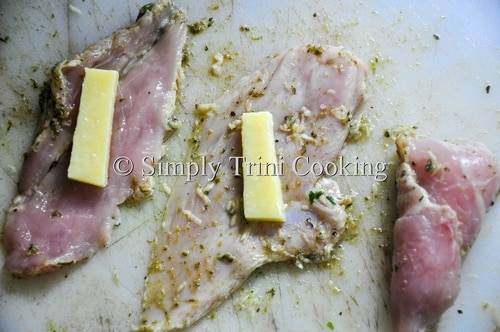 Next, place a thin long stick of cheese as shown below on each slice and roll tightly. Note, use the cheese available in your area; you can use Cheddar, Mozzarella or Parmesan.
Then roll in the flour, and dip into the beaten egg, and coat with the Panko breadcrumbs. Try not to expose the cheese within. You don't want it to leak into the oil when you are frying later.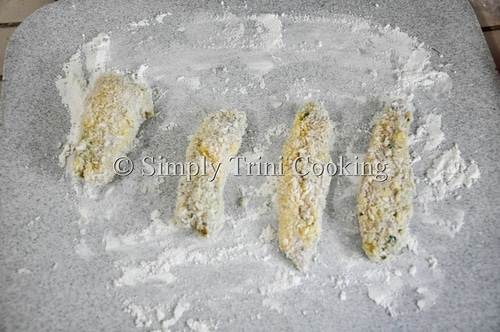 Finally, deep fry the chicken in hot oil.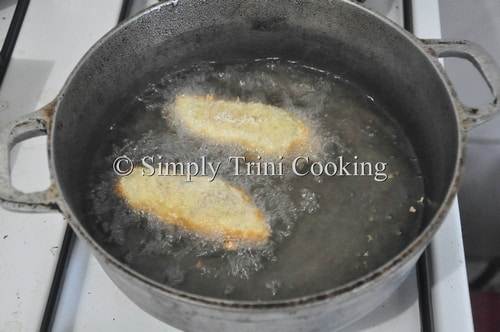 This dish took me about 45 minutes to prepare. The Japanese like to serve this with shredded cabbage, so I guess that means a cole slaw for us; and tomatoes.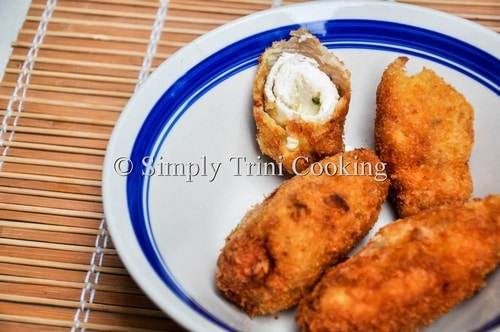 ---
6. Tuna Mayo Rice
In Season 2, episode 5 (Midnight Diner), the Master prepared Tuna Mayo Rice (Tuna Mayo Don). Don is short for donburi which literally means "bowl". It is a rice meal served in small bowls. The rice is topped with a meat like beef, chicken, pork, and in my case fish (tuna). Vegetables could also be used. This is a very simple dish, but very tasty. To me it is basically a tuna salad over the rice and being familiar with tuna salad in our puffs I chose to do it that way for our Caribbean tongues.
Tuna Mayo Rice Recipe
The ingredients are again few; you will need tuna, finely chopped onion, mayonnaise, pimento pepper, black pepper and some pepper sauce (see tuna puff filling)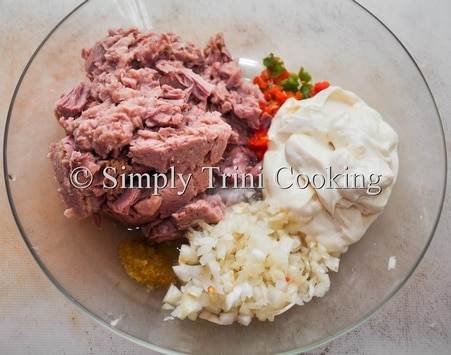 The ingredients are mixed. Add salt and pepper for taste.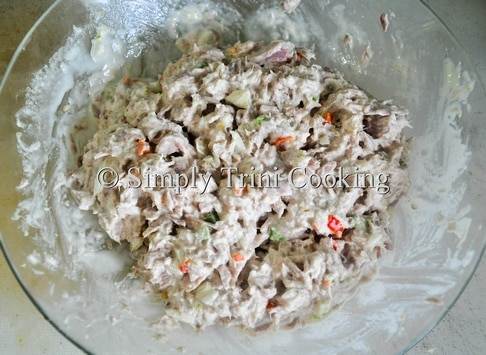 Serve in a small bowl over cooked rice and garnish with chopped chive. Try butter rice with the tuna and you would absolutely love it. I also heard that rice served in such a way are considered comfort food. I certainly agree with that!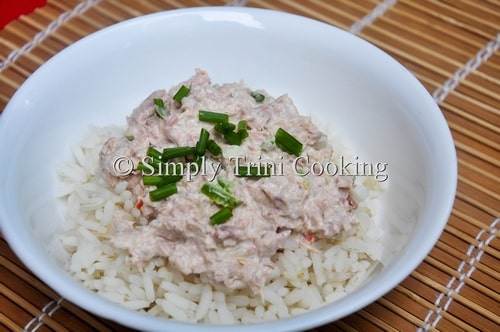 ---
7. Egg Sandwich
In Season 1, episode 7 (Midnight Diner), the Master prepared an Egg Sandwich (Tamago Sando). It is simply an egg salad placed in the middle of two very light slices of white bread. The edges are normally trimmed. This one really surprised me.
I decided to use store bought hops bread, as it has a soft texture as well, and also because I do not like the white bread sold here in Trinidad. The only thing is that I will not be able to trim the edges of the bread. You can slice the hops bread horizontally or vertically, as you please.
Egg Sandwich Recipe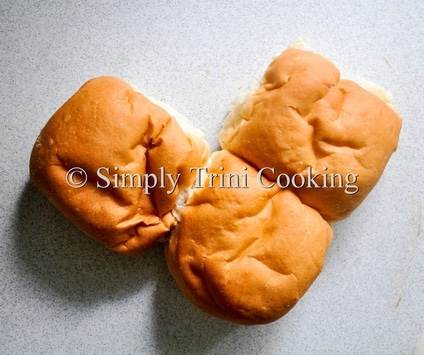 The ingredients for the egg filling are 3 eggs, 2 tbsps. mayonnaise, 1 tablespoon of cream or milk, butter, salt to taste, and ½ teaspoon sugar, and 1 teaspoon mustard. Below are some of the ingredients.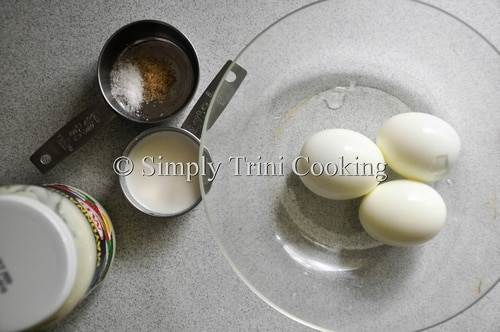 Mash two of the eggs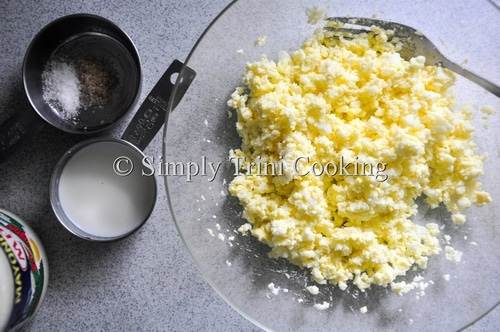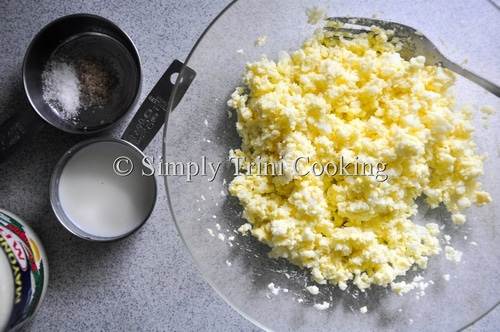 Add the rest of the ingredients except the butter and mix together.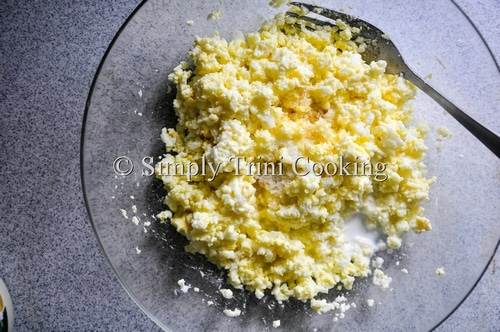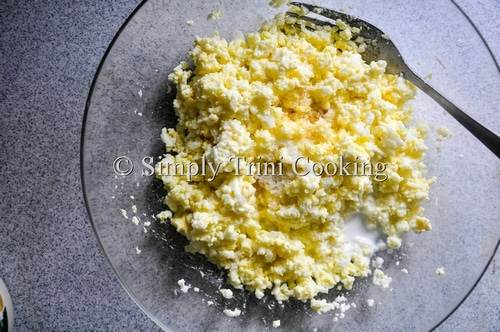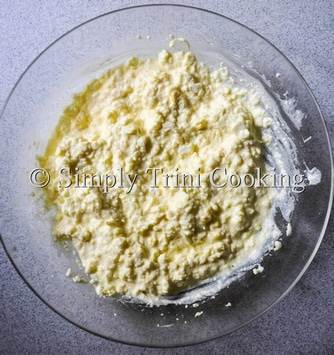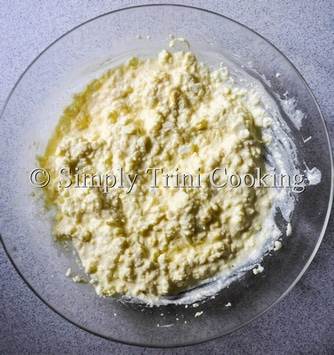 Slice the bread and butter the slices. Then paste the egg mixture on to one slice and top with another slice of bread.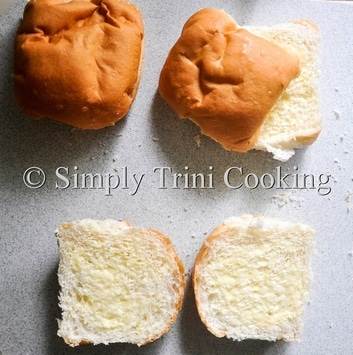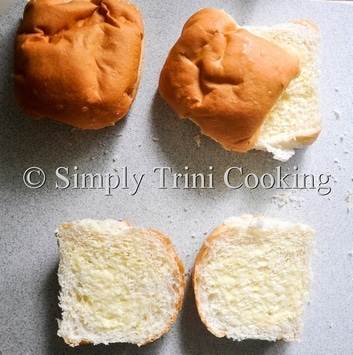 ---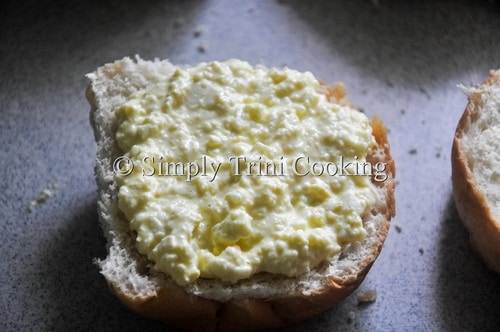 While I prepared this one, I also thought the bread could also be cut vertically. This way you will find the hops bread easier to bite.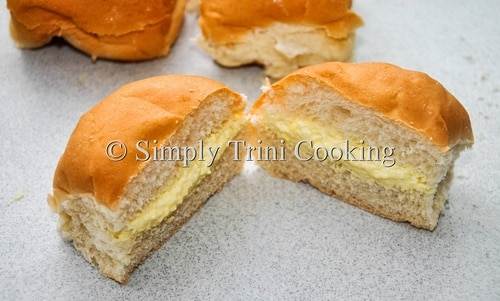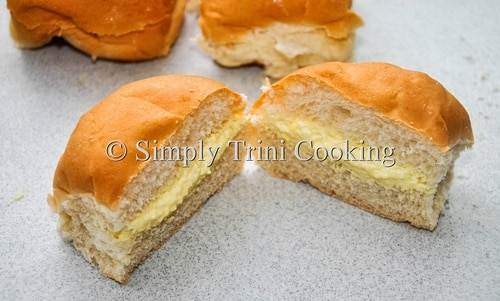 I kept an egg for one like this.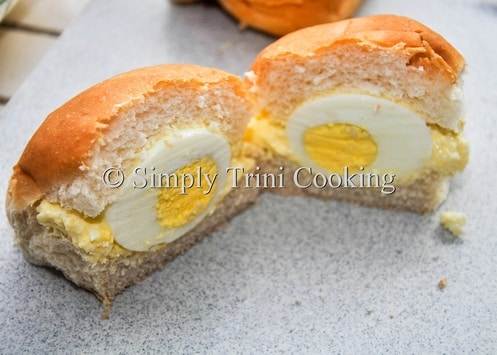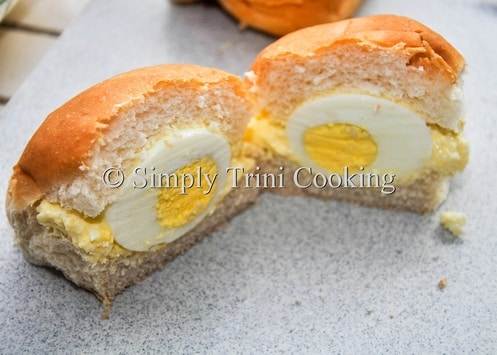 I simply enjoyed this sandwich. So simple...Made me thought of trying my Spicy Egg Salad as a variation.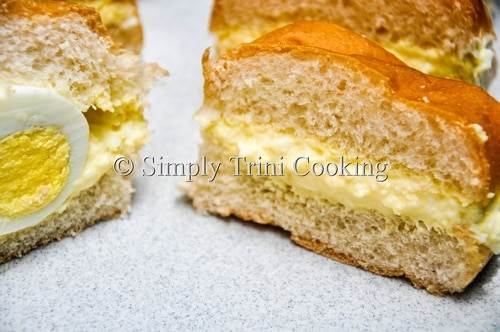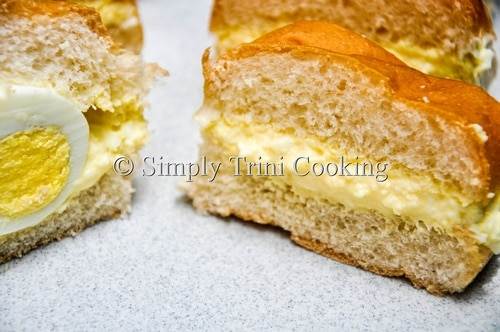 ---
8. Curry Ramen
In Season 2, episode 8 (Midnight Diner- Tokyo Stories), the Master prepared Curry Ramen (curry uden) for a pachinko parlor employee and his middle school classmate while they reconnected. The episode touches a bit on gambling. This recipe is really a merging of two recipes Japanese Curry and ramen soup.
Now, the Japanese curry preparation is different from our idea of curry. See the link provided. The curry is used as a topping for the Ramen noodles. This is not something we do in a Trini kitchen, because to us it sounds strange. So why not try it?
Curry Ramen Recipe
This recipe calls for a few ingredients, assuming that you have already prepared the Japanese curry dish. The other ingredient is 3 packs of ramen noodles.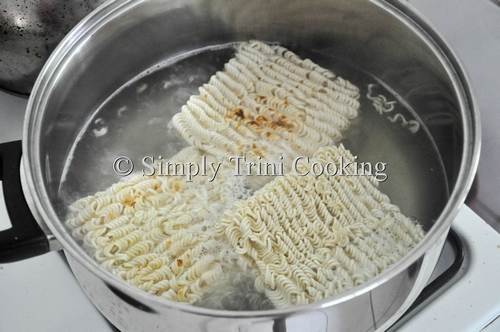 Boil the ramen noodles according to the package.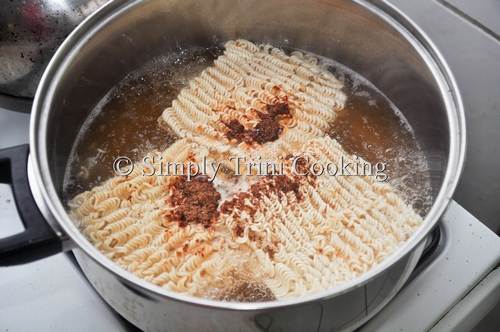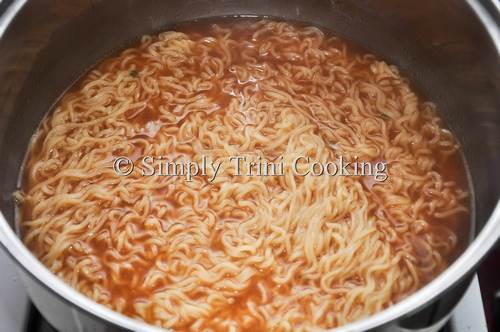 I used a Ramen pack with beef stock but any of the stocks will do. Experiment with the tastes.
Pour the noodles with liquid in a bowl, add hot Japanese Curry over a third of the noodles. Garnish with chopped chive. (Note: this really added to the taste of the dish). Serve immediately and enjoy.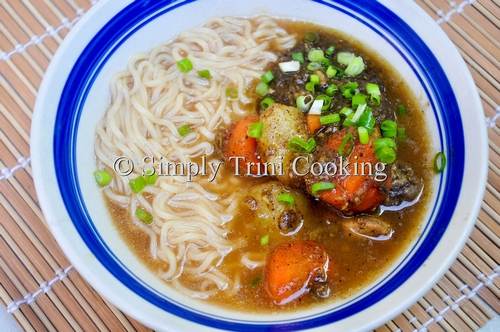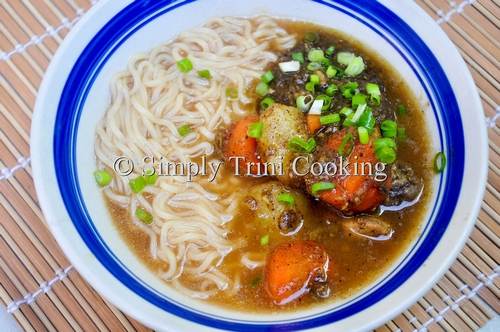 Well that's it for this post. I hope you all enjoyed it. Do leave your comments below. More to come.
Ah gone!