Light is important for every room in the house as it affects one's mood and interest, and the kitchen lighting is no different. The kitchen also consumes a lot of electricity because each work center requires adequate lighting. For this reason a lighting plan is a good idea to minimize moments of awkwardness in the kitchen.
Colour and Light
Light is affected by reflection of light, window and skylight.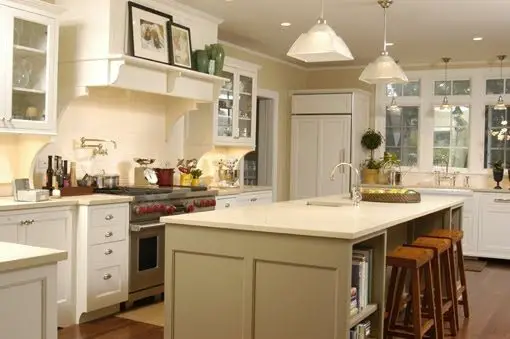 Reflectance levels
The amount of light reflected in a room is affected by the various coloured surfaces in a room, such as a tile floor, painted wall, and fabric's texture and colour. It should be noted that light colors are very reflective and dark colors are light absorbent. White, on the extreme, will reflect 80% of the light in a room, and black, on the extreme, will reflect 4% of it.
The surface texture also affects the reflectance levels. Surfaces that have a mirror-like quality will reflect as much as 90% of light in a room; whereas surfaces with a satin or glossy white or pale will require less light than one with deep toned walls.
Finally, the size of the room can also affect reflectance levels. A high ceiling will require brighter lights to dispel the shadows. A low ceiling room will not need a high level of brightness, because the light will bounce off the ceiling and walls.
Windows and skylights
Rooms with large windows and skylights have natural light to illuminate the room.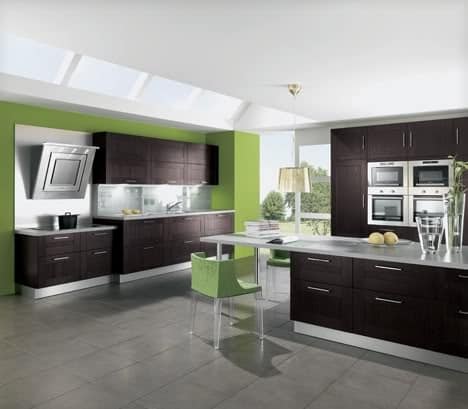 Note:
Keep in mind the various activities you intend to perform in the kitchen and the type of ambiance you want. Photo courtesy:www.photobucket.com
Planning Your Kitchen Lighting
Good planning could eliminate the need for an extension cord. So once the work centers are determined, placements of outlets becomes easy to plan. Right lights in these work centers ensure ease of fulfilling the three main kitchen tasks: reading, cooking, and working.
It is therefore necessary to keep in mind you and your family needs for the kitchen and the time of day the room is most used. A well light kitchen ensures recipes are read easily and food prepared and cooked without intrusion in this activity.
For this reason when you plan the kitchen layout you should also plan lighting and wiring. You should not leave this for last. Planning your lighting ensures you get a good balance of lighting as well as create the ideal ambiance you want for your kitchen.

Lighting and Wiring
Lighting in the kitchen will most likely come from more than one source. You may have lights brightening the entire area of the island and  where you prepare meals.  Then these areas could be brightened with natural lights from a skylight or a window.  Good lighting ensures safety in the kitchen when performing tasks. The picture below shows a combination of lighting in kitchen.
In this kitchen, task lighting is obvious. Matching frosted pendant lamps brighten the entire length of the island (but also draws the eye towards this area of the room, making it the rooms central focus). Matching metal pendant lights brighten the sink area. There is ample natural light from the window and the glass-fronted cabinets help bounce light throughout the room. In other areas of the room there are several recessed lights and surface-mounted spotlights.
These different light sources can be wired to the same switch or different switches as well. They can be switched on or off when needed; they can also be dimmed to soften the light.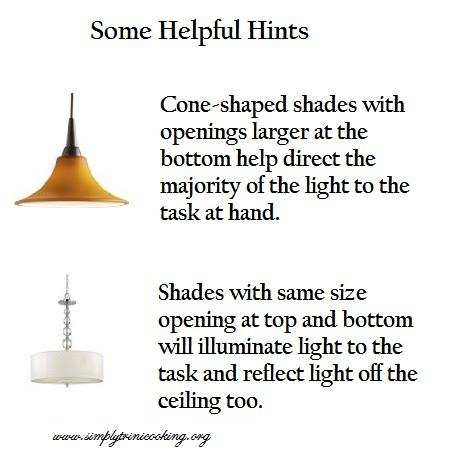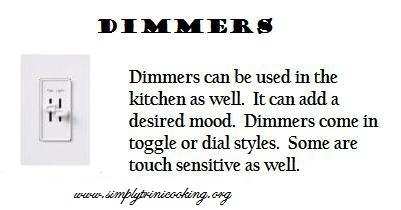 Task Lighting
Task lighting is supplementary lighting; it is not a primary lighting option, but helps to offset glare. Task lighting ensures that specific activities such as cooking, reading, and chopping are done with ease.
Task lighting makes use of lighting fixtures that are cost-efficient and low maintenance. Fluorescent bulbs are generally used to illuminate kitchen work surfaces; however, they come in a variety of colours, so choose them carefully. You can involve the family when selecting the colours for your lighting.
Pendant Lighting System
The pendant lighting system is one of the oldest method of lighting. In this system of lighting the lights are suspended from a single or multiple light source from a ceiling. In the kitchen they are placed generally over counters and where task lighting is needed.
Pendant lighting are an excellent solution where the ceiling height is at least 10 feet. They come in different styles, sizes, and colors and have aesthetic impact on space. They are easy to maintain and if you choose pendant lighting, try to select those that will closely coordinate with the design colour, finishes, and furniture of the kitchen. Pendant lights also make use of fluorescent lighting technology.
Here are some examples of pendant lights
Frosted glass pendant
These single glass pendants create an attractive, fresh, modern look. They cut glare because of their translucent quality. It can be hung by itself or others for a greater impact.
Fluorescent light bulbs vs incandescent light bulbs
Which do you think is better Fluorescent light bulbs or incandescent light bulbs? The debate continues….
Incandescent light bulb. Incandescent light bulbs makes its light by heating a metal filament wire to a high temperature until it glows. As a result, they are handy for heating rooms that are cold. They come in a variety of sizes and light output. They are gradually being replaced by fluorescent light bulbs.
Fluorescent light bulbs. Fluorescent light bulbs are energy saving, it has 17% higher luminous efficacy. Compared to incandescent light they give the same amount of visible light with less power and have a longer rated life, about 8 to15 times that of incandescent lights. However, they cost more than incandescent light, mostly about 3 to 10 times more costly. However fluorescent light produces less light later in their life than when they are new. You will observe that fluorescent light cast a gloomy, yellow glow. Fluorescent light contains mercury and this complicates disposal.
Halogen lamps are a type of incandescent lighting. They produce a whiter and brighter light at a lower wattage, and with greater energy efficiency. However, they are expensive and produce a high heat. You will need a special shield over halogen lamps in order to prevent fire. Halogen lights are suited for accent lighting.
OTHER LIGHTING OPTIONS
Fiber Optics is another type of lighting that is used for accent lighting. It does not generate excessive heat like Halogen light. Below is an example.
Lighting options:
In this video, Meghan Carter visited Kichler Lighting where she discovers three different types of lighting options that helps makes a functional and beautiful kitchen. They are: general illumination, task lighting, and accent lighting.
Recessed Lighting: Installation and selection

One type of lighting that is versatile is recessed lights. They are also unobtrusive and are a terrific lighting option in the kitchen for a number of reasons.
They can:
Illuminate a room without glare;
Accent areas in the kitchen to make dramatic effects, and
Provide good task lighting for work centers in the kitchen
Recessed lighting fixtures come in many configuration as well. Here are some helpful video advice on recessed lighting installation and selection of recessed light bulb.
https://youtube.com/watch?v=_asFJF2a39
Installing recessed light for your kitchen.
Video to help you choose light bulbs for your recessed lighting.
Light Terms
Candlepower - (Abbreviation: cp) - refers to intensity produced by a lamp. The more candela (units), the brighter the source.
Chimney effect - a term that describes the rise of hot air which is less dense than cold air.
Lumens per watt - (Abbreviation: lpw) indicates the amount of light produced by a bulb.