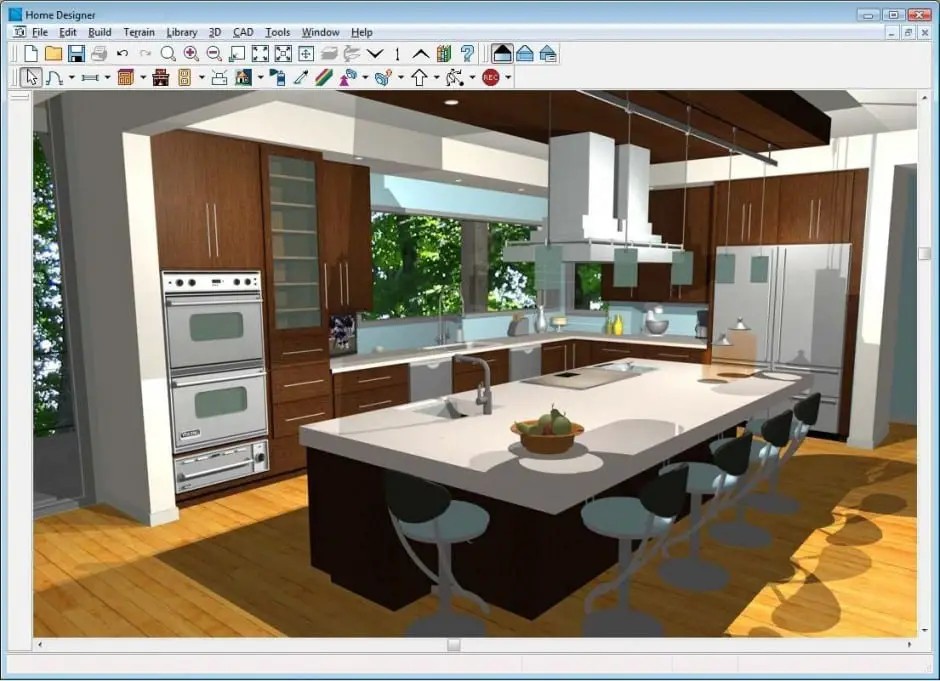 There are a number of software, including kitchen design software, available to help you visualize the ideas for your new kitchen. Some are basic programs that could help even the novice develop a dream room or home, and others are more technical and may help you even become a master designer. Computer aided design software is a welcome for everyone; it is a convenient product that gives much power to the homeowner when it comes to designing their interiors.
Computer Design Software
Many computer design software can be downloaded from the internet when purchased while some will require you to install from a CD or DVD ROM. These software can also help you develop a blueprint, create virtual walk throughs, and help decide where to place kitchen appliances, cabinets, and lighting. They may also have expert tips on the best location for these appliances. Most design software can be helpful for the novice and for those who want to make the interior designing a career.
Here is an example of how a 3D walk through looks like on an interior designing software.
Most software will give you a stimulation of your design. If you are interested in software such as these this article will help you find suitable software for you project.
No Special Training Required
Most software do not require any special training. The wizard-driven interface makes learning easy and ensures that any project is drawn up professionally. Some allow you to upload pictures of your own kitchen and screen possible changes; some allow you to upload other pictures that may help you visualize your propose room changes. Yet still, some software may be easier than others.
3D home design technology allows you to save money and time before you fully commit resources to a project. So it is a good idea to make use of these resources. If you would like know a bit more about a remodeling software before you try your hands at it, here three of the most popular software you would enjoy using.
---
3 Popular DIY Kitchen Design Software
Sweet Home 3D - Interior Design Planner
Platform: Windows 10-8-7-Vista-XP & MAC
If you want to design and enjoy it at a low price and with similar features as the more professional Chief Architect, Sweet Home 3D Interior Design Planner is the program for you. This 3D design program can help you plan your projects for any interior space.
The software is simple and allows you to remodel individual interiors as well. Remodeling your kitchen will be easy and quick as you place and arrange the cabinets, choose colours, and place appliances from the extensive catalogue with furniture and accessories. Plus, you can import your own 3D models, pictures and textures or modify furniture within the program to help you customize your design. The software has over 1,100 additional models.
The floor plans you design can be visualize as well to help you get a 3D view of the designs. This is quite helpful in offering you new perspectives for your layout space. With Sweet Home 3D you will be able customize your cabinets, sinks, and fixtures in the kitchen. There is a wide choice of items: window, doors, lighting, furniture, and cabinets you can choose from to build you space, especially your kitchen.
Customers who purchase this software are generally pleased with it, especially for its low price and helpful features. However, most agree that if you are not too concerned with specific details in interior designing it is worth the price. Sweet Home3D is the best product out in this price range as it has several features as some of the more professional products on the market.
Sweet Home 3D Interior Design Software is ideal for the novice and for simple renovation or remodeling task.
The product is inexpensive and would go ideal for those whose design budget is not deep.
---
Chief Architect Home Designer Suite
Platform : Windows 8.1, Windows 8, Windows 10, Windows 7
If you want a user friendly 3D design software that is advanced, Chief Architect Home Designer Suite might be what you are looking for is an updated version that offers the serious do-it-yourself user advanced designing tools to help them remodel their dream space, as well as their kitchen. This software has a number of remarkable features and makes a wonderful kitchen design software.
The Chief Architect Home Designer Suite is a professional home-design software for the serious DIY user. It has many designing tools that can help you plan, visualize, create a material list for your project, and estimate the cost of your project before you remodel. Creating spaces such as kitchens is a breeze with this program. The program is easy to downloaded, and installed on your computer. It allows for easy movement of walls, change of color, addition of rooms, and redesigning of kitchens. Objects can be easily moved as well with just the click of a mouse.
Chief Architect Home Designer Suite can help you create you dream kitchen with its many cabinet designs, materials, appliances, and fixtures. There are other built-in tools, such as, the Cabinet Designer tool which can help you to create thousands of cabinet styles and combinations. You can choose from laminate to solid surfaces or import your own pictures or website photos of materials, favorite objects, colors or textures from a photo or website to your visual space. The program allows you to design not only kitchens, but any interior or exterior space such as decks.
The program has a broad use. It also helps you create and view the beautiful landscape, terrain features and gardens you designed. It has a whopping 1500 plants in its plant encyclopedia.
The other features Chief Architect Home Designer Suite offers are: an extensive library of items such as doors, windows, furniture, etc.; an interactive House Wizard; a 2D and 3D display of designs, and easy how-to-videos for step-by-step instructions on how to use the software.
Most of the buyers of this product rate this Home Designer program as a very good buy under $100 and with some practice you could learn to use the program very well.
Buyers also rated the software as fun and addictive. You would certainly want to create living spaces again and again. You can also share your designs as well. You can also export or import pictures.
Chief Architect Home Design Suit is a step up for the serious DIY homeowner.
There are 6500 objects in the library to use. This allows the designer to create accurate visuals of their creation.
---
HGTV Home Design and Remodeling Suite
Many people over the years have used HGTV Home Design & Remodeling Suite to gain a fresh perspective of their kitchen. HGTV has a number of design features that makes this product highly recommended. This is another good kitchen design software.
HGTV is one of the few 3d designing software that can help you remodel your own kitchen "green" with energy-efficient appliances, besides offering you an opportunity to redesign your kitchen (or any living space) virtually.
The software is easy to use once you familiarize yourself with the program you will be adding and replacing cabinets, counter tops, appliances, and fixture in from the furniture and appliance library in very little time. Also the Wizard-driven interface is there to help guide you with your project.
HGTV software uses Photorealistic 3D Technology, with virtual walk-around and thousands of 3D appliances, furniture, lighting and more. The 3D technology create like-real brilliant visuals. Another plus for this software is the ease of importing digital photos which you can use to make changes on things such as the colour or texture of materials.
The software also come with some additional help for the home designer, they are: a Video Library and a printer user guide that will cover a number of home improvement ideas such as mold prevention methods and eco-friendly carpets. Some other # Includes free technical support
This software could be a huge help and really fun to use. However, if you don't have the patience or time to spend with it you could check out other products. Also CAD users will find it easier to use. However, if you are willing to make full use of this software and you're new to this this type of program it might be best for you to take full advantage of the tutorial videos and the handbook.
Most customers reported that though the sellers of the program claim it is easy to use, it is rather complex, However, most would agree that the program has picture-perfect furniture, and the wall placement is accurate to the inch.
stars.
If you like architecture software, here are some more you might be interested in.
Leave a comment. Tell us how helpful this article was helpful to you.