So you are wondering what is your kitchen design. There are many kitchen design styles, and we know just one is meant for you. Here are ten kitchen design styles to get familiar with and choice.
1. The Contemporary Design Style
The contemporary design style is a refreshing and clean design style for your kitchen. A contemporary kitchen is a kitchen with a functional style that also is the center of the limelight (it can have access to the patio or garden area of your house). This style is supposed to be clean-lined, allowing lots of light, and avoiding excessive use of ornamentation. It seeks for a clutter-free environment.
In order to avoid designing a kitchen that looks almost cold or boring for your contemporary kitchen, add dramatic accents of colour to the background and incorporate textures to complement the sleek, smooth surfaces of the wood and metal glass. Texture can come from woven rugs in bold colours. Use slick lines, but avoid curved legs. The structural element in a contemporary design draws attention to the architectural elements of the room, including the window. So the windows are unadorned or a simple window treatment is used. You can choose bamboo blinds to accent the window frame.
2. Traditional Design Style
The traditional design style is a period or historical styles, with influenced from English or European. It is an elegant and elaborate style with design elements that focus on order and refinement. There are decorative molding, paneled cabinetry, and wooden finishes. Its beauty is graceful, with lots of curved lines, floral prints, and textural patterns. Traditional design make use of traditional lighting methods.
The traditional design is known for it crafted dark wooden furniture and use of antiques or antique reproductions which can give the kitchen some history. The degree of formality or informality will depend on the variety of materials, decorative features of molding, and colour used.
3. The Southwest Design Style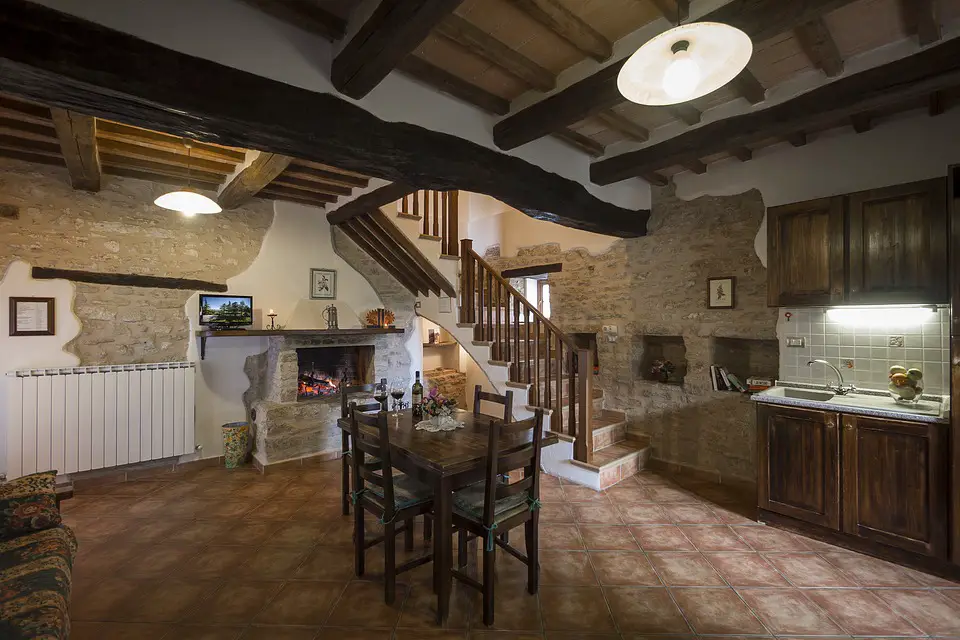 Southwest style is a colourful style which draws its inspiration from the native adobe dwellings. Much emphasis is place on muted colours, such as, blue, red, orange, and yellow. The wall are painted with a subtle faux finish to look aged.
A southwest style makes use of some wall art, multicoloured or simple woven rugs, decorative pillows, and carved wood furnishings. The materials and fabric are natural, such as leather and natural stones. Wooden ceiling beams and terracotta tiles for floors gives the southwest style a casual elegance.
4. The Classical Design Style
The classical design style is style inspired by the Greek and Roman empires. It has a quiet strength because of its traditional elegance and uncluttered efficiency. The main purpose of this style is to achieve visual balance, and for the kitchen it means the room must have a focal point such as the stove, window, or kitchen island, from which balance is achieved.
If you want your kitchen to reflect the classical look you must seek to achieve order, symmetry and balance in the kitchen. The colour scheme is generally yellow, blues, greens, browns, softer muted hues like terracottas, grays, and pink. Black and white can be used in these kitchen to help it portray a style of elegance. This reserved style makes use of natural materials such as wood, stone and marble.
5. Country Design Style
The country design style is a style that seeks to bring familiarity with the gentler times of our grandparents. It is relaxed and comfortable. This style could vary from simple to elegant. The country style also vary from a number of basic looks such as the English country, cottage, Victorian, and Art and Craft.
The country style emphasizes the use of natural materials, handcrafted accessories, and colours that are fresh and soft. The colour scheme varies from greens, reds, blues, beige, and white. Materials should appeal to tactile senses.
If you want the country look in your kitchen, you should seek out materials and textiles that are natural such as wood, wicker, wrought iron, stone, and pottery. The country style can be pleasing visually - use textured material and fabrics, light floral fabrics, such as cotton, linen, silk, and damask. Make use of antique furniture and classic area rugs for this style.
6. Art Deco
This classical, but unique design combine the elements of ancient culture with the machine age of the 1920s to 30s.  The focus of the art deco style is to streamline items in a room. Other elements are smooth surfaces (common with stainless steel items and glass top tables), white, and geometric shape items. The colour scheme for the art deco is versatile, but  form is important in this design.
7. Tropical Design Style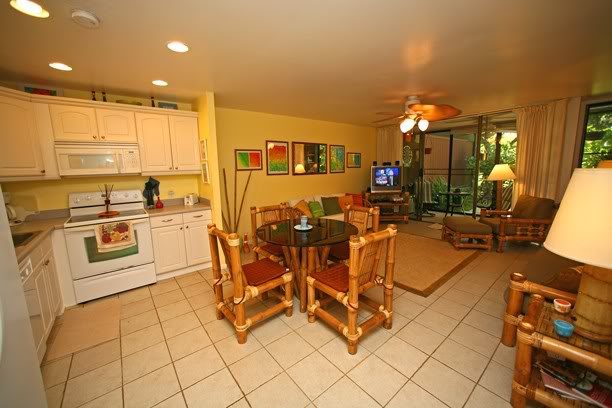 The tropical design style is a style that emphasizes the exotic, breezy, majestic feel of a tropical location. The idea of a tropical exotic image is mostly one of the seaside. Therefore, this style relies on the use of natural textures and elements to make a room relaxed and warm.
If you want your kitchen to have that tropical or exotic feel, use warm colours, such as cinnamon or nutmeg hues, citrus or jewel tones., and textures that reflect a tropical interior. Use materials of wood,teak,or bamboo. Woven furniture (such as rattan and wicker furniture) are well suited for the tropical look; as well as natural fabrics such as cotton, linen, silk and gauze for the windows treatment and pillows or cushions.
Bamboo blinds add a natural feel to windows, and accessories that reflect the tropics (such as coral and shells) can add great accents. Wooden beams and wooden or tiled floor is best for this style. For accessories, use a ceiling fan and lamps that are inspired from elements of the tropic.
Here is an example of a room inspired with a tropical design style.
The tropical design are obvious in vacation houses in the tropics.
Tropical style can be patterned after the Asian style which can be calm, and minimalistic - like the Japanese concept of wabi sabi or flamboyant like the Chinese design. These designs are meant to promote serenity by developing order with the use of natural materials.
10. Eclectic Design Style
An eclectic design brings together different styles from different eras. This is the most difficult style to utilize and produce a cohesive room. In order to pull of this "personal style", designers agree that you have to to ensure commonality in the elements you choose. The eclectic design is considered a transitional style because it blends the contemporary and traditional elements to produce a functional, yet comfortable living area.
The eclectic design uses the room like a color palette. It own colour schemes are medium hues, such as taupe, hot pink, lavender, and chocolate. This style is attractive to people who desire a unique space and own a number of antique pieces and cultural art work.
Yes, there is just one more design to talk about.
11. Transitional Design Style
If you still cannot figure out which is for you, you might be interested in the transitional style. This is the most popular of all the kitchen design styles. it is a mixture of contemporary and traditional styles. This style is a marriage of two distinct styles. You choose the things you love in both styles to form one. Thus you take the sleek smooth look of the contemporary style and the ornate and decorative accents of the traditional style and you create a new harmony.
Hope this article on kitchen design styles was most helpful. Leave a comment below. Tell us what is your favourite kitchen design style.