I Just love a Good Friday lunch.  Good Friday has come and gone and Easter is breathing down our necks... How quickly time flies! Just the other day we were ringing in the New Year then we were "jumping up" for Carnival. Anyhow, yesterday was a special day for me because it meant that fasting has come to an end and now it's time to get ready for Easter. So besides the l-o-n-g walk for the "stations of the cross" and all the other religious significance of the day, there is a traditional custom when it comes to what we Trinidadians eat on Good Friday.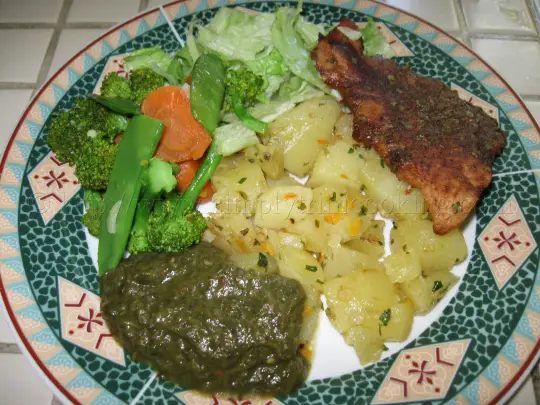 A Traditional Good Friday Lunch
The meal usually consists of fish ( any kind of fish) and provision (yam, cassava, dasheen, plantain etc.) Now the origin of this custom has been lost in time, at least to me. It's just one of those things you just grow up knowing about and follow. But, when I look at it from a different angle, I could understand why we eat this type of meal. So here's my crack at explaining this custom of eating provision and fish on Good Friday....
Why the Good Friday Lunch Must Have a Provision
First of all this meal is simple: after a long walk in the hot sun, you want to come home and be able to cook a meal that's quick to prepare, easy and filling at the same time; provision is easy to cook (you just boil it) and the fish cooks in no time as well.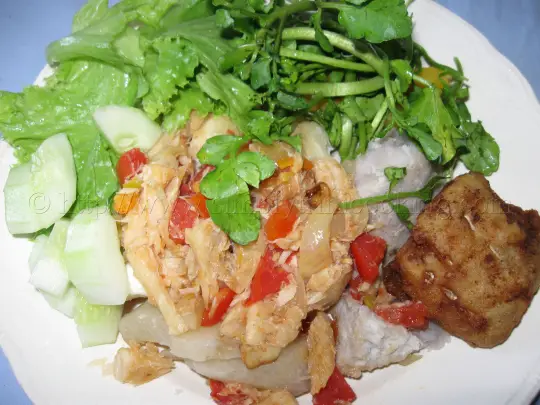 Secondly this meal is similar to the Seder meal which has great religious significance where the different parts that make up the meal has a deeper meaning. So, within our Trinidadian cultural context there is an approximation to the original Seder meal. So instead of the Charoset/ Haroset we have have the provision, to symbolize the mortar the Jews used. Instead of the bitter herbs we use a green salad or in some cases watercress to symbolize the bitterness of slavery, and instead of the lamb bone to symbolize sacrifice we use fish....preferably saltfish (the salt being also symbolic of the sweat and tears of the slaves.....
What an insight!
Well I already did the provision and saltfish recipe a while back, but to give the meal a little twist we did it a little different...  but still just as meaningful and tasty. We decided to do herbed potatoes with sauteed veggies, green salad, baked fish and callaloo, as shown in the picture above. I don't have to tell you how satisfying this meal was. I was filled for a few hours well.
Anyway, I wish each and everyone of you a Happy Easter and do enjoy the day; I know I will....
(speaking to myself: maybe I'll go take a nice river bath or go up to the waterfall...or buss ah lime by....)
Until next time! Bye!