The following article was edited for www.simplytrinicooking.com
Suppressing the junk food cravings (appetite) can be big feat by itself, even so many of us are still trying to get that one successful method to really suppress the need for junk food even thought there are many suggestion out there. Scientists recognize that this is the most basic of our impulses, and so it is difficult to really overcome. Also, the need to eat until we are completely full has more to do with our need to survive and less to do with the many foods ads we see on television.  This basic urge to eat is natural, most writers love to call it primal.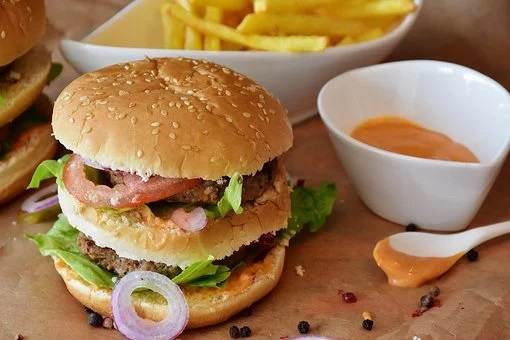 Causes of  Junk Food Cravings
Now we can get to the real issues to help us satisfy our snack cravings and deal with it in a rational manner. Since our brains creates that initial sensation of hunger in the first place we can therefore focus on the role of our hormones, specifically the ghrelin, a hormone secreted by your stomach and intestines, and in a terrible twist those who are overweight tend to produce more of this hormone.
Also, more of the ghrelin hormone is produced when we make minor changes in regular eating/sleeping routine.  However, certain foods can suppress ghrelin.  It is found that carbs do this best, followed by protein.  However, fats are worst; they are more likely to spike this hormone and ultimately encourage weight gain.
Another hormone to note is leptin, a hormone generated by fat cells which can help us curb our appetite.  Scientist have discovered that leptin levels drop when people lose weight and thus hunger pangs sets in and weight gain ensues rather quickly since the appetite for junk food increases.  This explains why many people who lose weight, gain it back again.
Foods that Suppress Junk Food Cravings
I've found this to be especially true and so I have a list of 35 potent foods that can help you keep that weight off once it is lost.  These foods are clinically proven to promote weight loss, and also have a low fat content.  They also possess special properties that add zip to your system and help your body melt away all that unhealthy pounds.  Above all, this incredible 35 foods that can suppress your appetite for junk food and keep your body running smoothly with clean fuel and efficient energy.
35 Potent Foods
Here is a list foods that can energies and reduce your need for junk food.
1. Apples.  An apple a day can help you melt the fat away.
2. Whole Grain Bread.  You needn't dread bread. It's the butter, margarine or cream cheese you put on it that's fattening, not the bread itself. We'll say this as often as needed fat is fattening. If you don't believe that, ponder this a gram of carbohydrate has four calories, a gram of protein four, and a gram of fat nine. So which of these is really fattening?
3. Coffee. Easy does it is the password here. We've all heard about potential dangers of caffeine , including anxiety and insomnia  so moderation is the key.
4. Grapefruit.  There's good reason for this traditional diet food to be a regular part of your diet.
5. Mustard. Try the hot, spicy kind you find in Asian import stores, specialty shops and exotic groceries.
6. Peppers.  Hot, spicy chili peppers fall into the same category as hot mustard.
7. Potatoes. We've got to be kidding, right? Wrong. Potatoes have developed the same 'fattening' rap as bread, and it's unfair.
8. Rice.  An entire weight-loss plan, simple called the Rice Diet, was developed by Dr. William Kempner at Duke University in Durham, North Carolina. The diet, dating to the 1930's, makes rice the staple of your food intake.
9. Soups. Soup is good for you! Maybe not the canned varieties from the store, but old-fashioned, homemade soup promotes weight loss.
10. Spinach. Popeye really knew what he was talking about, according to Dr. Richard Shekelle, an epidemiologist at the University of Texas.
11. Tofu. You just can't say enough about this health food from Asia. Also called soybean curd, it's basically tasteless, so any spice or flavoring you add blends with it nicely.
12. Barley. This filling grain stacks up favorably to rice and potatoes.
13. Beans. Beans are one of the best sources of plant protein. Peas, beans and chickpeas are collectively known as legumes.
14. Berries. This is the perfect weight-loss food.
15. Broccoli. Broccoli is America's favorite vegetable, according to a recent poll.
16. Buckwheat. It's great for pancakes, breads, cereal, soups or alone as a grain dish commonly called kasha.
17. Cabbage. This Eastern Europe staple is a true wonder food.
18. Carrots. What list of health-promoting, fat-fighting foods would be complete without Bugs Bunny's favorite?
19. Chicken.  It's an excellent source of protein, iron, niacin and zinc.
20. Corn. It's really a grain, not a vegetable,  and is another food that's gotten a bum rap. People think it has little to offer nutritionally and that just isn't so.
21. Cottage Cheese. As long as we're talking about losing weight and fat-fighting foods, we had to mention cottage cheese.
22. Figs. Fiber-rich figs are low in calories at 37 per medium (2.25" diameter) raw fig and 48 per dried fig.
23. Fish. The health benefits of fish are greater than experts imagined , and they've always considered it a health food.
24. Greens. We're talking collard, chicory, beet, kale, mustard, Swiss chard and turnip greens.
25. Kiwi. This New Zealand native is a sweet treat at only 46 calories per fruit.
26. Leeks. These members of the onion family look like giant scallions, and are every bit as healthful and flavorful as their better-known cousins.
27. Lettuce. People think lettuce is nutritionally worthless, but nothing could be farther from the truth.
28. Melons. Now, here's great taste and great nutrition in a low-calorie package!
29. Oats. A cup of oatmeal or oat bran has only 110 calories.  Just don't expect oats alone to perform miracles, you have to eat a balanced diet for total health.
30. Onions. Flavorful, aromatic, inexpensive and low in calories, onions deserve a regular place in your diet.
31. Pasta. The Italians had it right all along.  Also be sure to consider whole wheat pastas, which are even healthier.
32. Sweet Potatoes. You can make a meal out of them and not worry about gaining a pound, and you sure won't walk away from the table feeling hungry.
.
33. Tomatoes. And don't overlook canned crushed, peeled, whole or stewed tomatoes. They make sauces, casseroles and soups taste great while retaining their nutritional goodness and low-calorie status. Even plain old spaghetti sauce is a fat-burning bargain when served over pasta, so think about introducing tomatoes into your diet
34. Turkey. Buying turkey has become easy. It's no longer necessary to buy a whole bird unless you want to. Ground turkey is available fresh or frozen, as are individual parts of the bird, including drumsticks, thighs, breasts and cutlets.
35. Yogurt. Supermarkets and health food stores sell a variety of yogurts, many with added fruit and sugar. To control calories and fat content, buy plain non-fat yogurt and add fruit yourself. Apple butter or fruit spreads with little or no added sugar are an excellent way to turn plain yogurt into a delectable sweet treat.
This article was shortened for the website.  You can view the entire article in this month's Compère Magazine. Don't forget to post your comments on "potent foods" in the comment box below.