This Coconut cinnamon rolls is my wife's innovation on a common recipe. Here's her story....
A few weeks ago, I had four coconuts sitting on the kitchen counter top.  I had plans for these coconuts, but one was reserved for a new idea I had been playing around in my head. 
Every time I cracked a coconut, the water from the coconut is used to quench the thirst, the nut is blended next in water, the milk is used in preparing a number of meals, and the husked, yes, it is used as well.  
Generally, I make a coconut bake or coconut sweet bread with the husk.  But this time I did not want to just make a bake or bread.  I felt for something different.
Then, I thought of cinnamon rolls.  The idea grew, and I  tweaked it a few times until I settled on this final idea.   First, I made a coconut bake dough (it is a simple dough) and separated it into smaller balls.  Each ball is rolled out thin, as thin as possible, and I spread a prepared cinnamon filling on the dough. 
The dough is rolled into a log and sliced.  Now, I find these coconut rolls are really delicious.  I love that the dough was not prepared with a lot of sugar and the filling is not excessively sweet.  All the sweetness of the coconut rolls is due to the cinnamon and the coconut flakes or the raisins.
Now, I do not like extremely sweet desserts.  That is why I would not cover my cinnamon rolls with frosting or a sweet glaze.  The sweetness in this recipe is comforting.   I know you would enjoy preparing this recipe.   I have two types of cinnamon filling.  You can try one or both.   So here is my delicious coconut cinnamon rolls...
 COCONUT CINNAMON ROLLS
4 cups flour (3 cup all purpose and 1 cup whole wheat)
1 pk (11 g) yeast
1 tsp. salt
½ tsp. nutmeg
1 tsp. allspice
2 tbsp. sugar
1 cup finely grated coconut
water
1 egg
1 tbsp. cream or water
Coconut filling
2 packs (2-20 g) ground cinnamon
1 ¼ cups of butter
8 tablespoons sugar
2 packs (2 -100 grams) shredded coconut
Raisin filling
2 packs (2-20 g) cinnamon
1 ¼ cups of butter
8 tablespoons sugar
1 ½ cups raisins
Note: You do not have to squeeze the grated coconut dry.
Add 1 tablespoon of cream or milk to the mixture.
Mix the liquid well. Then add the liquid to the dry ingredients.
Allow the dough to rest.  Now it is time to prepare the filling.  Here are two types of delicious filling for this coconut roll. The shredded coconut is my personal favourite.
If you are preparing half the amount with cinnamon and half with raisins, you can use half the amount of ingredients for the filling. Here is how to prepare the filling.
The Filling
Cinnamon-coconut filling:
Place the butter in a small sauce pan.  Melt the butter and sugar together. Add the cinnamon. Mix the ingredients over a low heat - do not let it burn. Remove and add the shredded coconut. Mix well. Set aside.
Cinnamon-raisin filling:
Place the butter in a small sauce pan. Melt the butter and sugar together. Add the cinnamon and the raisins. Mix well over low heat. Remove and set aside.
Now to continue the recipe
Roll out each at a time to about ½ ". Spread the filling on top with a spatula.
As you can see the coconut flake filling is a lot easier to spread on the dough.
Above, the middle muffin is a perfect example of this.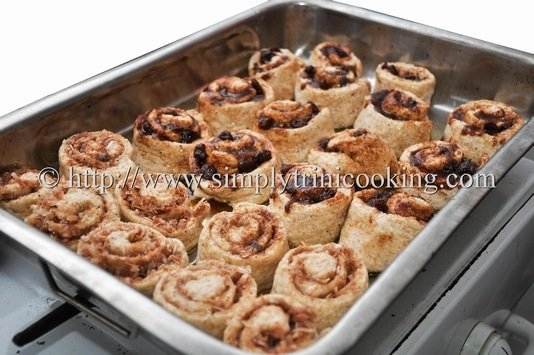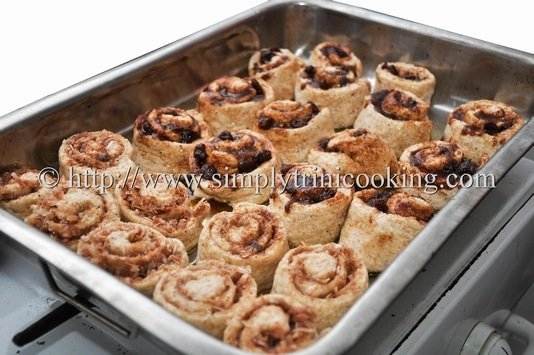 The rest of the rolls are placed side by side, about 1 inch apart to allow for rising while it is baked.
Preheat the oven to 200 degrees F.  Bake for about 30 minutes or until golden.
The baked Coconut cinnamon rolls. Delicious!!!
This recipe should yield 28 rolls.
Well that's it for another innovative trini recipe...See you all soon with another delicious trini creation.
Ah gone 🙂