Introduction
The history of cocoa in Trinidad and Tobago is one marked with a lot of struggles to keep an industry alive.
It's seven o'clock; the sun has already gone to sleep and the moon has taken over the night shift. It is getting cold: the dogs are already curled up below the house as the valley cools drastically. Even I feel the cool wave come through the windows and so I close them.
The News is on: Panorama, the news at seven. While watching the News, it's dinner time and that fry bake and cheese hits the spot. In the small kitchen, the little tea pot is on the stove boiling away. The chocolate aroma wafts into the living room…I don't have to guess what I am getting for "tea": A cup of hot cocoa tea ……………
Cocoa was once King of Trinidad with some of the best cocoa coming from this country, but now much is left to be seen as it struggles to be remembered amidst an industrialised and technologically driven society. As the first part of our story begins, I give you a brief background on the history of Cocoa in Trinidad and Tobago.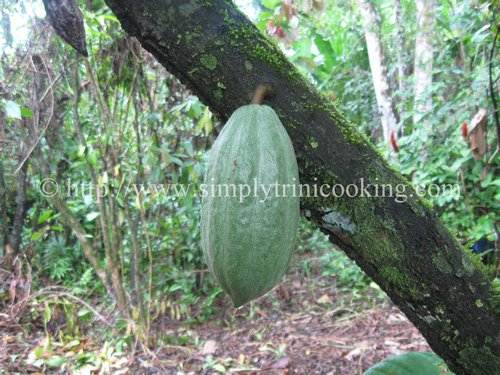 ACT I
Cocoa in Trinidad and Tobago
Cocoa began its long history in Trinidad and Tobago in the 1780s. The many cocoa estates, including abandoned cocoa estates, present in the islands testify to this. Today, cocoa estates are more common in the North of Trinidad (Toco, Paria, and Blanchisseuse). Trinidad cocoa is most prized because of its high quality, fine flavor, and distinct fruity taste. Also, a careful post-harvest processing technique ensures a unique blend. Despite, its high quality and high demand, the cocoa industry in Trinidad has experienced a considerable decline over the years, and any reclaim of its more prosperous years seem for many unlikely, because of the difficulty of overcoming the many of the contributing elements of its own downfall.
Sukaha (2003) described Trinidad and Tobago cocoa as "interesting fruity, mildly floral, winey even raisiny overtones with mild acidity". The cocoa he describes has its origin from the Trinitario germsplasm which captures a premium price in the commodity market. There are two more great varieties: the Criollo and the Forastero. The Trinitario species is a hybrid between the Criollo and the Forestario.
The Trinitario variety of cocao, in its early years of planting, became more valuable than sugar in Trinidad and Tobago. This fine quality cocoa was exclusive to Trinidiad and Tobago and became a major agricultural export for the country at the turn of the 19th century. However, this variety is susceptible to viruses, fungi, and insect infestations. Needless to say, this is not the only reason for the decline in cocoa in the local market.
In 1921, the cocoa industry experienced a staggering decline in the price of cocoa, and local production eventually waned. Francis Bekele explained the phenomenon of this highly priced cash crop. Among them are: the Great Depression, abandonment of estates, diminishing labour supply and an increasing labour costs, an inefficient production system, unfavorable market price, and the spread of the Witches' Broom disease (WB) which reduced the yield and also increased labour cost. Additionally within this equation was Trinidad's dependence on Spain; but all was not lost.
Efforts by the government of the day to rehabilitate the cocoa estates by replacing clones susceptible to WB disease and cocoa trees that would produced a high yield were not entirely successful. Progress was hampered on account of a number of factors such as drought, larceny, weak infrastructure, and increasing production costs.
Nevertheless, there are still much opportunities for cocoa growers in Trinidad. There is still a ready market for Trinidad cocoa beans and low restrictive quotas in Trinidad. And, there has been an increase in the amount of family owned estates in the country. Leiter and Harding (2004) rightly pointed that, above all, a well-motivated labour force can help ensure that cocoa estates are kept in the best of conditions; cocoa farmers needs to consistently care for the cocoa: such as, utilize proper pruning methods, ensure weeding, irrigation and removal of diseased trees are performed regularly (p.119).
This is an endearing task. The cocoa industry is entrusted to ensure that Trinidad and Tobago continue producing this prized possession. They must ensure that the product meets its necessary standards (a product that is wholesome and full of flavor) so as to keep it competitive. Above all, their efforts would ensure that the people continue to enjoy cocoa in its various commercial forms... especially as a tea that is enjoy in every generation and has become part of our cocoa tea drinking culture.
Below is an old film showing activities on a cocoa estate.
References:
Bekele, F.A. The History of cocoa production in Trinidad an Tobago. The Cocoa Research Unit, The University of the West Indies, St. Augustine. Retrieved on March 11, 2011 from https://sta.uwi.edu/cru/fb-hocp-ncnp.pdfLeiter, J. & Harding, S. (2004) Trinidad, Brazil, and Ghana: three melting moments in the history of cocoa. Journal of Rural Studies 20 p. 113-130. Retrieved on March 11, 2011 from www.worldcocoafoundation.org/scientific-research/research-library/pdf/LeiterCocoaHistory%28243KBSocioEconomic%29.pdf
Sukha, D.A. (2003). Primary processing of high quality Trinidad and Tobago cocoa beans targets. problems, options. Proc. of: Seminar/Exhibition on the revitalisation of the Trinidad and Tobago cocoa industry - Targets, Problems and Options. Retrieved on March 11, 2011 from http://sta.uwi.edu/cru/Primary-processg-options4cocoa-in-Trinidad.pdf
You might also like:
Parang I: The Origins of Trinidad's Parang Music
A Cocoa Story II: How Cocoa Is Made Trini Style
A Cocoa Story III: Making Cocoa Tea
Download our free toolbar
Join our Facebook fanpage
Subscribe to our Newsletter
Don't forget to leave your comment in comment box below about Cocoa in Trinidad and Tobago.