Ever heard about a vegetable quiche? Read on to find out more.....

Quiches to me are exquisite and fanciful. They are perfect for breakfast, or as a side dish accompanying any meal. Well, except for dessert lol. In my opinion desserts are usually sweet. They're like the perfect "anytime you want to eat something nice" pastry. They can be made with only vegetables or your favourite mix of any type of meat and vegetables.
They are not difficult to make as it may appear but you will have to prepare the pastry dough in advance. This quiche recipe is somewhat easy, including the pastry crust as you would see in a moment.
So what really is a quiche? A quiche is a tart that consists of a pastry crust with a custard mixture of cheese, cream, herbs (for a seasoned taste), meat and/or vegetables. This opens up a world of variations when it comes to making a quiche. As I always say, "Experiment away." However, we must start with the basics so this one has only vegetables.
A Savory Quiche
This vegetable quiche has a wonderfully, satisfying, savory taste. That would satisfy anyone. Picture this...With every bite you taste a conglomeration of sauteed vegetables with milk and cheese baked perfectly golden. The aroma of the cheesy delight enters your nostrils sending you into a bit a ecstasy as you continue chewing....Yeah, I'm salivating reliving the experience. Lol. The vegetable quiche tasted as if we bought it from a bakery. So you know how good it tasted.
Everyone enjoyed the quiche; both young and old. I of course had to go back for seconds just to make sure ...er, it was baked properly hahaha. So, if you enjoy eggs, milk, cheese and vegetables, try this recipe. I gave it two thumbs up and my father-in-law gave it 11 out of 10 lol. Here's vegetable quiche. Enjoy!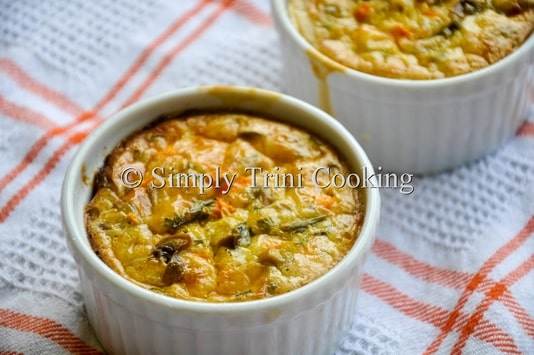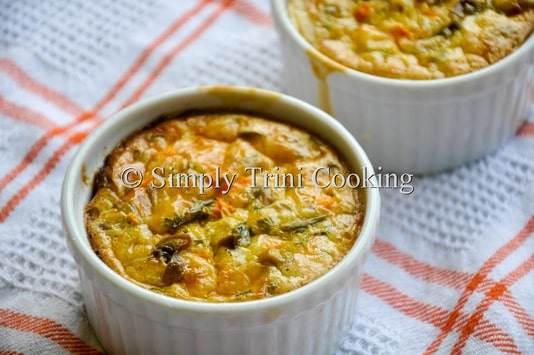 Vegetable Quiche Recipe
1 ½ cups mushrooms, chopped
4 eggs
2 tbsp. butter
1 cup cream
½ cup grated cheese + 2 ½ cups grated cheese
1 grated onion
2 ½ cups chopped vegetables - broccoli, carrots, sweet pepper
Seasonings: basil, black pepper, parsley, and mustard
1 tbsp. coconut oil
pastry dough (Click here for the recipe for the pie crust)
Direction
Prepare the pastry dough in advance.
Preheat oven 350 degrees F. Prepare the ingredients.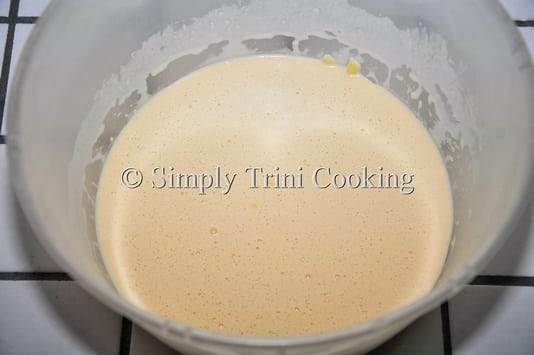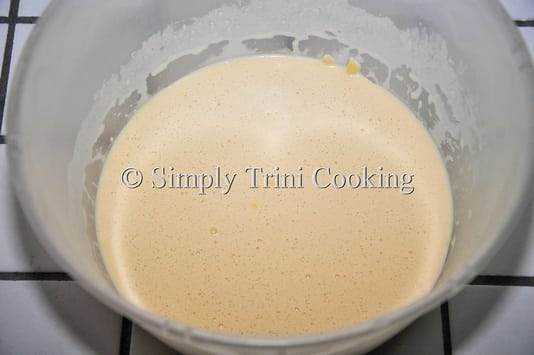 Combine eggs, cream, ½ cup cheese, chopped onion, and blend well.
Next, saute vegetables in a little oil.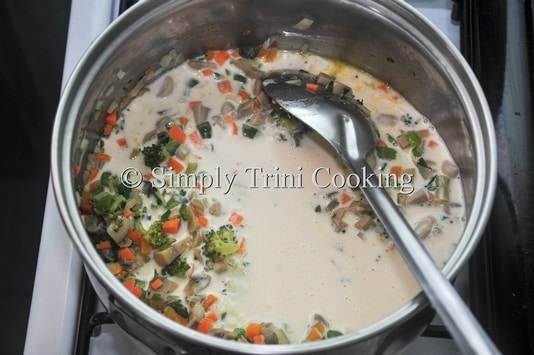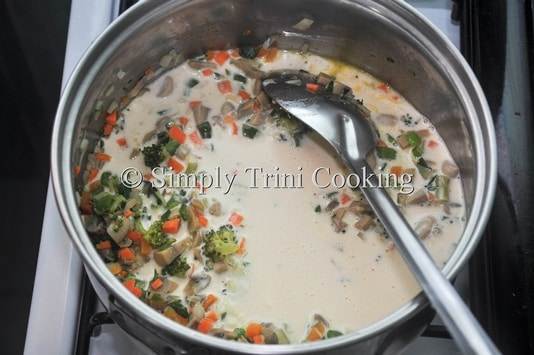 Add the egg-milk mixture to the vegetables.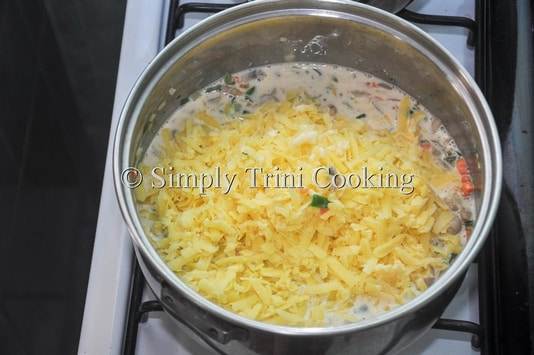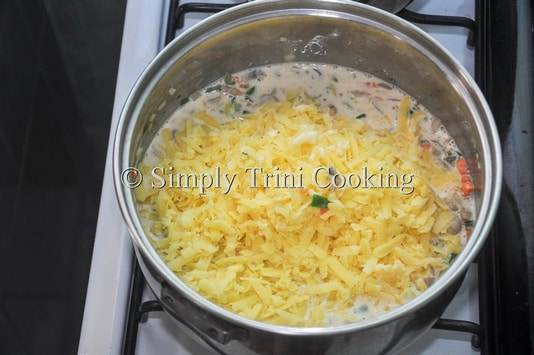 Next, add 2 ½ cups of cheese to the vegetables.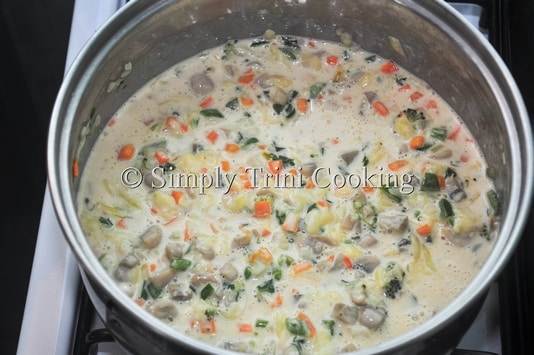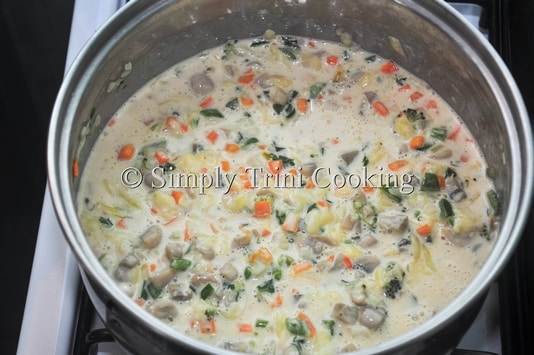 Mix well. The mixture is ready for the next step.
Roll out the pastry and cut into rounds to fit the preferred quiche dish or ramekins. Then, place rounds of the pastry into the dish.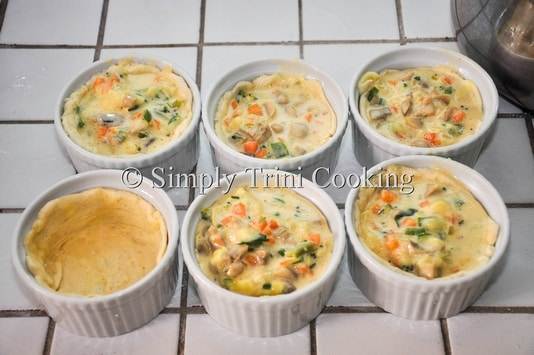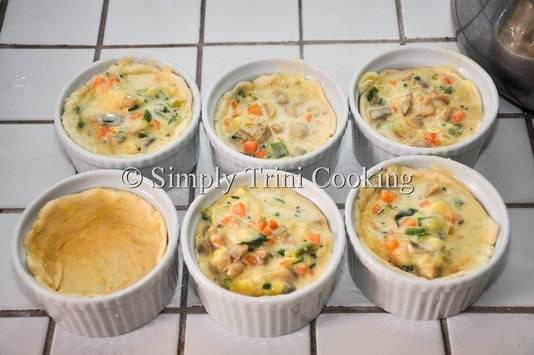 Pour the mixture into each prepared quiche dish or ramekins.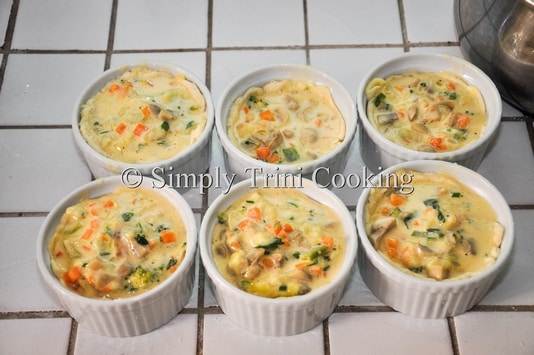 Place the dish on a baking sheet and place in the oven. Bake for about 45 minutes or until the surface is golden.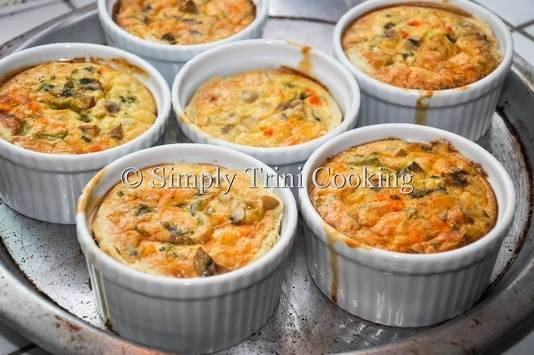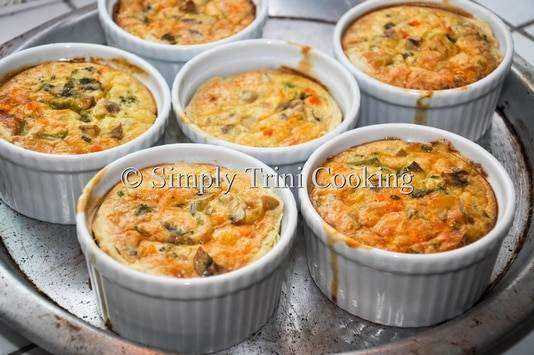 Let stand for 5 minutes before cutting or removing from the ramekins.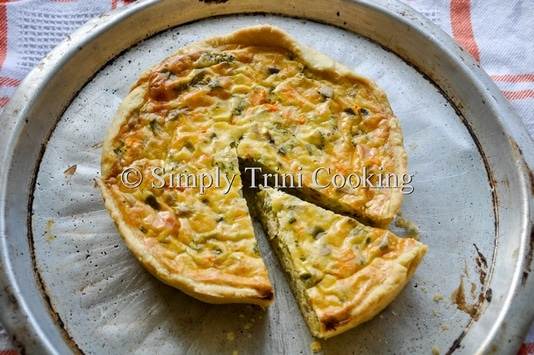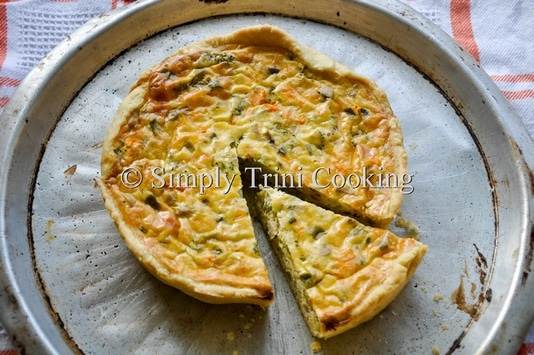 I also baked a larger quiche. Here is it.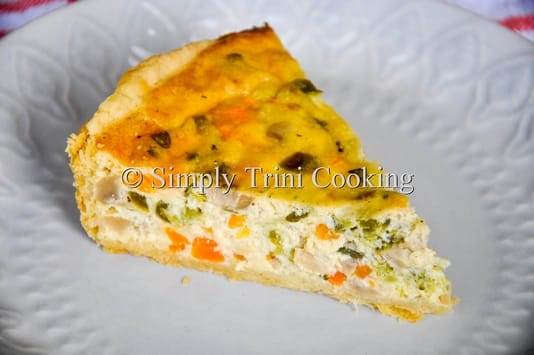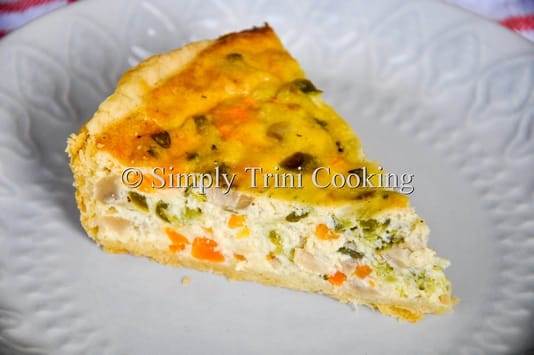 I believe this was my second slice that I was going to test after the photograph to see if it was properly baked lol.
There we have it, a simple vegetable quiche made with love from our kitchen to yours. So, happy cooking adventures to you. Please leave a comment and tell us what you think.
As promised, we are back to posting delicious recipes so keep visiting to see what's new every week and if you're now joining us check out our other recipes.
By the way, don't forget we now have our wonderful cookbook on sale at amazon.com. Support the site, purchase a book, and enjoy cooking Trini foods!
Ah gone 🙂