Achoooooo! Ah boy! Look like ah finally get de cold ...(sniffle..) And to make matters worse we in the thick of the dry season drought (56 days no rain). Leh meh see if ah cud post today before the cough metcine (medicine) kick in.....
Tuna puff filling or tuna filling, as everyone knows here in Trinidad, is synonymous with one thing: puffs. Although we sometimes eat it in a tuna sandwich ( sometimes!). So, liming together with some beef pies, cheese puffs, and maybe a piece or two of sponge cake, we would find tuna puffs all fine and dandy. The puff pastry or choux pastry was done many moons ago (many moons lol!) 🙂 so I'm just focusing on the puff filling which we have come to love so much.
Tuna Puff Filling With...
As you would see, this tuna puff filling is easy to make; it took us about five minutes to prepare. And for those of you who don't like to wait on good Trini food, this one is a sure keeper. You don't even have to make the puffs because you could enjoy it in a sandwich; with bake, or roti for that matter. Hmmmm! Sada roti and tuna....now that sounds like a plan!
Anyhow, what I'm trying to say here (between intermitent sniffles) is that tuna puffs is part of the Trini food experience just like all the other posts I've (Achooo! Excuse me.) done. It permeates our culture in most social celebrations: from a christening ( baptism ), to a birthday party, to a wedding, you would find tuna puffs alongside cheese puffs, prunes with peanut butter filling, (when last yuh eat that one?) and some other flaky pastry on a tray, buffet style, or served by someone for you to enjoy...Here's tuna puff filling.
---
 Tuna Puff Filling Recipe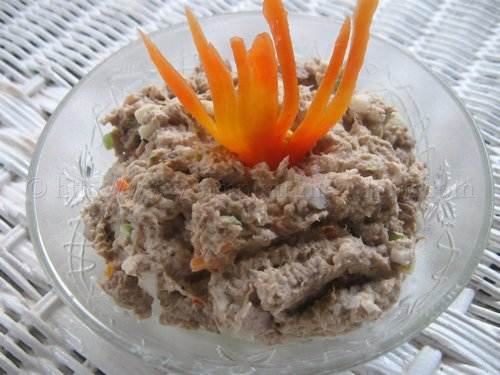 TUNA PUFF FILLING
Ingredients:
2 tins tuna (in water)
2 pimento peppers (red and green) , chopped finely
1½ tablespoons lemon juice
1 small onion or ½ medium onion, chopped finely
¼ teaspoon black pepper
¼ cup mayonnaise
¼ teaspoon salt
pepper to taste
Direction:
Drain and squeeze excess water using the back of a spoon.
Add the lemon juice, pimento peppers and onion.
Note: Watch closely at the manner of cutting the onion. Some crisscross cuts are made first, then the onion is sliced.
Mix thoroughly.
Add the mayonnaise and adjust salt and pepper if desired. Tuna filling ready for a tuna sandwich or tuna puff.
Ok! So that was tuna puff filling, a simple dish anyone could whip up in a while. Don't forget you could also use in a sandwich as well.... I have a cold to see about ( where de puncheon rum and lime?), but I will try and rest a bit a come back to post the rest of recipes.
Good Friday is tomorrow so maybe some of you may want to know what I'm doing for ideas on a menu. Basically we eat provision, lots of provision, with fish, but we may do something a bit different this time.
Wishing everyone a Happy Easter just in case I don't recover as fast as I would like.
When yuh miss meh ......Ah gone!
P.S. For some of you who may have missed the two hyperlinks for the actual puff pastry recipe here it is again. Click here 🙂  .  Don't forget to leave your comment on tuna puff filling in the comment box below.