Stew oxtail is one of my favourite. Today, I decided to post the second method of stewing oxtail. This time we're using the more common method of using sugar to brown the meat. Just like you would stew chicken you could also stew oxtail. This method gives it a slightly more sweet taste and a more golden look like in the picture.
Stew Oxtail Recipe
We usually like to stew oxtail together with potatoes most of the time, but it also goes well with baigan (egg plant). When oxtail is stewed with potato it thickens and makes it a more filling and a complete meal at the same time. All you have to do is serve it with rice and as we say in Trini "all talk done".
We'll be using the pressure cooker method because this meat is really tough and only a pressure cooker could tenderize it. And still, after pressure cooking you have to be careful of the bone not bruising your gums. You could apply the curry goat tips to this meat as well. Remember to heft the pressure cooker first to get the original weight then as it cooks shake lightly to feel if there's water remaining. Still look at the steam from time to time to be double sure.
The pictures are self explanatory so I don't need to explain much. Feel free to still email me if you're not sure of any step. If you're interested in the first method click here. Anyhow I hope enjoy this wonderful Friday ( it's raining here in Trinidad) and I'll see you soon with more Trini recipes. Here's Stew Oxtail II...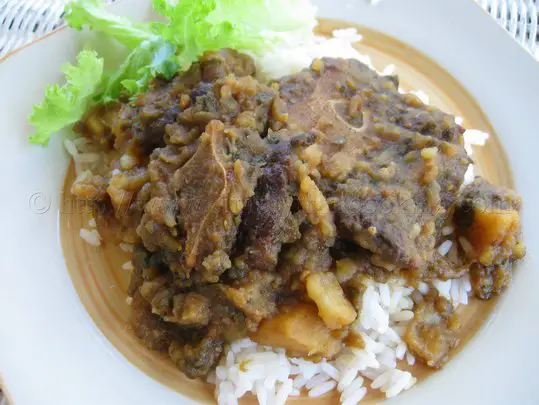 STEW OXTAIL II
Ingredients:
1 pound oxtail, seasoned and marinated
4 potatoes, peeled, cubed
2 tablespoons oil
2 tablespoons sugar
salt to taste
water
Direction:
The oxtail was seasoned marinated for about an hour.
Heat the oil and add the sugar over a medium flame.
When the sugar has a golden colour, add the oxtail and stir. Make sure the oxtail gets evenly coated with the caramelized sugar.
Note: Watch out for the hot caramelized sugar. It burns badly.
Allow the oxtail to cook in its own juices for approximately 5 minutes.
Now add water to cover the meat and pressure cook for about 15 minutes
As you can see most of the water has evaporated and the oxtail is half done after the 15 minutes.
Now its time to add the potatoes. Add enough water again and pressure cook until the oxtail is tender
The finished stew oxtail with potato. Serve with rice.
Ok! see you later. Ah gone!