These marmalade cheese muffins are really delectable and they will certainly surprise you and your whole family.  Perhaps the surprise may be on you seeing how fast they will go in under an hour.   As soon as they come out the oven, everyone will be eying these muffins; and when they eat one, it will never be enough.
There are times you crave for a rich dessert.  One that is not loaded with too much calories, so you would not feel guilty after eating more than the recommended serving size.  Your craving is never satisfied with just one.  Most times two or three servings will do.  But, when you have not had a rich dessert in months (like I have), these marmalade cheese muffins become a most fulfilling reward.
Even though I had posted some muffins earlier in the week, they were made basically for my son and wife.  I am on a restrictive diet these days.  But when my wife and I got to talking about muffins, we ended up talking about a muffin that would top all muffins;  a muffin that would could have a marmalade topping and some cheese... cream cheese perhaps.
Before we knew it,  we were off to the supermarket, looking for the best ingredients.....  We could almost taste the muffins as they baked.  Just imagine for a moment....a teasing cake texture surrounding a soft cream cheese centre, smothered with a sweet fruity marmalade....It was the bomb!
Craving for Marmalade Cheese Muffins
Yes, we definitely had a food craving that day. Everyone gets them once in a while, some maybe a little too often. Sometimes you are not hungry when you get a good craving.  The combination of your body, brain, and chemicals react together, and most times we really react to it.
Food Cravings
Food cravings is an intriguing topic, especially for scientists and nutritionists.  Most say that a food craving happens only for high-calorie or energy-dense foods that are full of fat or sugar. They also say that they are not sure if it is even possible for people to crave healthier foods, such as broccoli.  The craving begins in the brain.  They are more common in women than men, who experience it more during pregnancy and premenstrual times.
Men are more affected by food cravings while watching television advertisements.  Studies show that women are more in touch with their internal needs than men when it comes to food craving.  (Could watching food magazines do the same for men?)  I say, if men are really more responsive to photos, then their cravings will be more external.  That is why they can ignore cravings that begin internally.
Finally, I heard with age comes wisdom, and a food craving is one that can be controlled as we age.  However, I do not wish to provoke my readers as well.  But that may be too late! 🙂
Marmalade Cheese Muffins Recipe
We tried our best to ensure this muffin did not go overboard with the calories.  We suggest a low fat cream cheese and limit the amount of sugar you add to our marmalade cheese muffins recipe.  Also, you can use a fruity jam instead for your topping.  Alternatively, you can sprinkle some chopped walnuts on the muffins as well. Here's marmalade cheese muffins. Enjoy.

Marmalade Cheese Muffins
2 cups flour
2 tsp. baking powder
⅔ cup brown sugar
⅔ cup milk
½ cup cream cheese, softened
½ cup marmalade or spreadable fruit (I used Smucker's Simply Fruit, strawberry)
⅓ cup unsalted butter
3 tbsp. chopped nuts
2 tbsp. icing sugar
1 egg
2 tsp. orange peel
A pinch of salt
Preheat the oven to 375 degree F  or 190 degrees C. Grease the muffin tins and set aside.
 Mix the flour, baking powder, and salt in a bowl.  Set aside.
Place the sugar and butter in another bowl.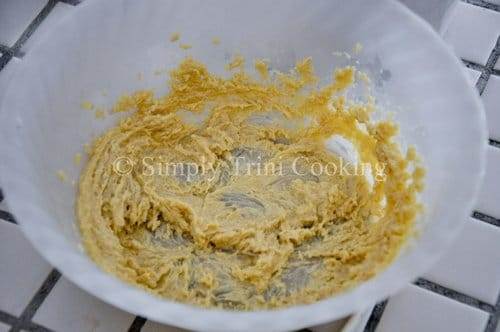 With a mixer, whip the sugar and butter together.
Fold in the beaten egg.
Add the orange peel. And gradually add the milk.
 Gradually add the flour mixture...
 Mix well and set aside.
 In the third bowl, mix the cream cheese and icing sugar.  Set aside.
 Now to fill the muffin cups.

Fill the cups about half-way with the first mixture. i.e. flour, butter, eggs etc.
Note: Make sure the cups are well greased or else they will stick.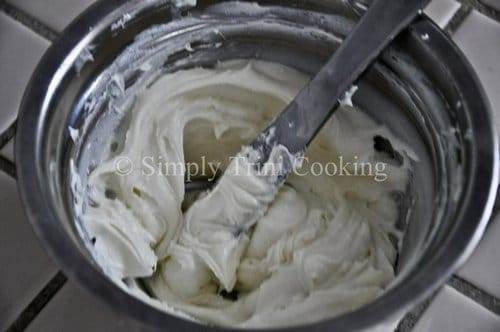 Place 2 teaspoons of the cream cheese mixture in the center of each cup.
 Then place about 1 tbsp. of the marmalade or spreadable fruit on top of the cream cheese.
 Fill the cups with the remaining batter.  Place the batter around the cream cheese and marmalade or spreadable fruit.
 Sprinkle chopped almond nuts on the top.  Bake in the oven for 25 to 30 minutes.
When done, allow the muffins to cool before you carefully remove them from the tin.  I will stress again, that you must ensure that the muffin cups are well  greased.  If you did this, then the muffins will come out easily.  These muffins are light and you will be relieved when they slip out of the tins easily.
So that is it.  These marmalade cheese muffins were to die for, everyone enjoyed them and I must confess that I can't wait to make them again.