It is time for a mango sorbet. The morning sun was hot today and for once I found that there were too much cars on the road that added to the almost stifling heat. And, then I found that there were too much people in the bank, but I remembered that it was month end, and we had two holidays this week....happiness eh? lol 🙂
The Effects of  Water on Galvanize
The day eventually ended with a long shower of rain that was very sleep inducing. You know how the rain sounds on the galvanize roof? ......It's a lulaby to a Trini's ears especially on mornings. It makes you feel to "pull for yuh cover and go back to sleep". Ent?
Anyhow, between sleep and wake, while all this rain was falling I got to work on today's recipe. I opted to do something with mangoes since we have a lot these days. You can ask any Trini, rainy season is synonymous with mango season. Mangoes can be found every where on the island during this time or as we say in Trini creole "mango kickin' dog fuss it have mango" hahaha! 😀
A Simple Mango Sorbet
So today I did a simple mango sorbet recipe that's also quick, easy and might I say very delicious. Before we start here are a few quick points:
Try to use a mango that's not too fibrous. (That's why I chose mango Julie!)
Check the ripeness of the mango. It must not be over ripe.
Lemon juice could be substituted for the lime juice.
Sorbets are creamy and smooth when you put the amount of sugar for the recipe. The sugar makes the ice crystals. Larger ice crystals could mean that there was not enough sugar in the sorbet.
Vodka can also be added to the base to help create a smoother sorbet. Just add a bit to the base.
Just as well, if you find a sorbet to slushy, it most likely has too much sugar or too much alcohol. If this happens just add some of the other ingredients called in the recipe, minus the sugar.
Are you ready to make mango sorbet? Let's begin.
---
Mango Sorbet Recipe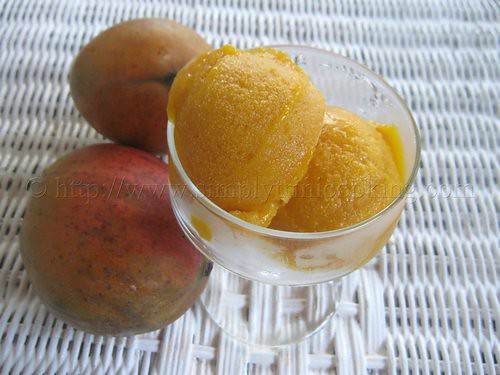 MANGO SORBET
Ingredients:
2 cups ripe mango pulp ( I used Julie mango )
2 tbsp. lime juice
¾ cup sugar (light brown or granulated sugar)
Direction:
Cut the ripe mango; then make marks as shown and scoop out the pulp with a spoon.
Blend the pulp then add the lime juice.
Add the sugar and blend until the sugar is dissolved. Place in a metal baking pan and cover with foil or plastic wrap. Freeze until firm (about 3 hours).
Note: Alternatively, you can freeze in an ice cream maker according to manufacturer's instructions.
Let the sorbet soften at room temperature before serving.
Note: For those of you who don't have an ice cream maker, like me, here's what to do. Freeze until firm (about 3 hours) then take a fork and mash the sorbet, then freeze until firm again before serving.
How easy was that? Did you enjoy it? Well I hope you did because I did and I still have some in the freezer ....Oh wait, I think I hear it calling me.....lol! 🙂
I have to go........" unwrapping foil..... "
More quick recipes to come.... " Now where did I put the scoop?......."
Ah gone!
(Don't forget to leave your comments on mango sorbet in the comment box below.)
Hey there, just to let you know, this website have a cookbook available on Amazon. If you love the recipes, you can also show us your support when you buy a the book. See the link below for more information.