I got excited when I got the idea to make pizza, but not how I normally did it. I wanted to make my pizza into individual pizza rolls and cups. It was a twist to a recipe that I knew would be very creative and interesting. And, indeed it was.
Now, I did not change my recipe, I like my pizza recipes -  there are two different types of pizza dough on this website. You will find their links here in this post, because I would not repeat these recipes in this post.
My favourite pizza dough recipe is the herb crust, it has a wonderful  herb flavour because of the different types of herbs in the dough. Though this dough has six different types of herbs, you can add other types of herbs such as oregano and rosemary to further push the flavour. 
Also, the texture of this dough is neither soft or stiff. It is just perfect. The other dough is simpler, but includes wheat for those who want to include a little fiber in their diet.
I choose the second dough for the pizza rolls and cups. I just wanted some fiber in my pizza then. Next time I make these I would try the first pizza dough, the herb dough. Nevertheless, I enjoyed the these pizza rolls and cups. As a matter of fact, everyone enjoyed them. They did not look like pizza, but they definitely tasted like pizza.
Homemade Pizza Rolls and Cups Recipe
As I said before, you have to begin this recipe as usual. However, I recommend that you select the tastiest ingredients for your pizza. I found this pizza tastes best if you include pineapple, mushrooms, corn and sausage. Don't forget the cheese. That is important!
Now for the recipe.
Pizza dough (see links)
1 large carrot, grated
2 pimento peppers, chopped
1 cup whole corn
1 tin sausage, chopped
Pineapple, chopped (about 1 cup)
1 onion, chopped
2 medium tomatoes, sliced thinly
1 sweet pepper, sliced thinly
Grated cheese
First, prepare the pizza dough.  Click here for my Trini Wholewheat Pizza dough or here for my Trini Herb Crust dough. 
I doubled the recipe for the pizza dough.  One half for the roll and the other half for the cups.  Set the dough aside and leave to rise according to direction.
Then prepare the sauce and the ingredients for toppings.
Directions for the Pizza Rolls:
rolling pin
.
Next, you spread the sauce ...
Next, carefully hold one end of the dough and roll inwards to form a log.   Cut with a sharp knife.  Then place each roll about 1 inch apart on a greased baking sheet.   Finally, place the rolls in an oven and bake for 35 minutes in a 250 degree F oven .
Directions for pizza cups
Now, the pizza cups are simple.
Place the circles in a muffin pan.
Next add the pizza sauce.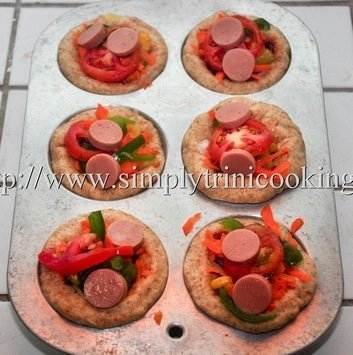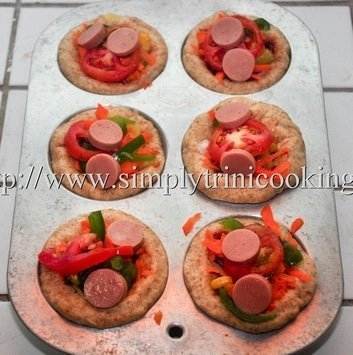 Then, fill each cup with the ingredients.
Finally top with grated cheese and bake in a preheated 250 degree F oven for 25 to 35 minutes.
Another great experiment from my kitchen to yours. These pizza rolls and cups is a kid friendly recipe that you can use to involve your  children in the kitchen. Plus, they make nice finger food and fits nicely in a lunch kit because of how compact it is. It's great food on the go! See you next time.
Ah gone 🙂