This is another method of geera - ing meat. The last time, I showed you all how to do this using pork. This time I chose to use chicken because not everyone eats pork. Usually, when doing geera chicken, we use mostly back and neck, or gizzard the more bony parts that allow the flavour to really be infused into the meat. But you could try it with the less bony parts as well , like the breast or leg etc. Basically the difference between the two methods is when you put in the geera; some people put it before, when they're seasoning the meat or after, just before it is done. Because of this the recipe is not that different, well except for the curry it is just the method. So here is Geera Chicken.
A Trini Geera Chicken Recipe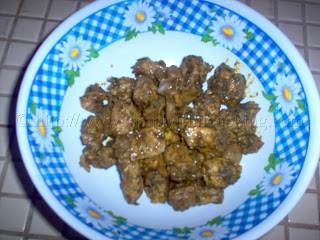 GEERA CHICKEN
1 lb. Chicken parts (back and neck, gizzard etc.)
2 tbsp. geera (cumin)
1 tablespoon curry powder
4 cloves garlic, chopped
1 small onion, chopped
3 leaves chadon beni
1 sprig of chive
1 pimento
water
Thyme
1 hot Pepper (scotch bonnet)
Salt to taste


Tomorrow I'll take a rest and start my week of posts on Monday. Until then, Bye!.