This morning was bright and sunny. Maybe I could safely say that the dry season has started. The ground is drying up now after the rains have fallen for the past few months. The cloudless sky indicates only one thing to me; plenty of hot sun in our tail for carnival. Anyhow, this is the beginning of a good year.
More Pancakes
Since the morning was so nice, and a change from all that rain, my wife decided to make some pancakes. She likes to make them with cornmeal but she says that there are so many other variations to the basic pancake recipe, that she can't make them all for me to post at once today. But I would still try to explain some of the variations and maybe a little trini twist that I've grown accustomed to (seasoned pancakes). Possibly with enough requests I would do it the way I like it some time later on.
I could remember the first time I had them....My sister was doing Home Economics in school when she got the recipe and decided to make for us. It was different and a welcomed change from the roast bake or float we were accustomed to eating for breakfast. And, to top it off we had it with some syrup. Delicious!
As time went by she got more recipes and tried them at home. One such favourite of mine was scones. Mmmmmm Those cheese scones went down good; I feel I have to ask my wife if she could make those as well...... Where were we....Oh yes... pancakes.
They tasted great this morning. She made them with cornmeal, one of the variations of the basic pancake recipe. I will include information on the other variations including the basic recipe most people know. I invite you try all the variations because this is one of the simplest recipes for pancakes I have come across. Enjoy!
Pancakes: A Basic Pancake Recipe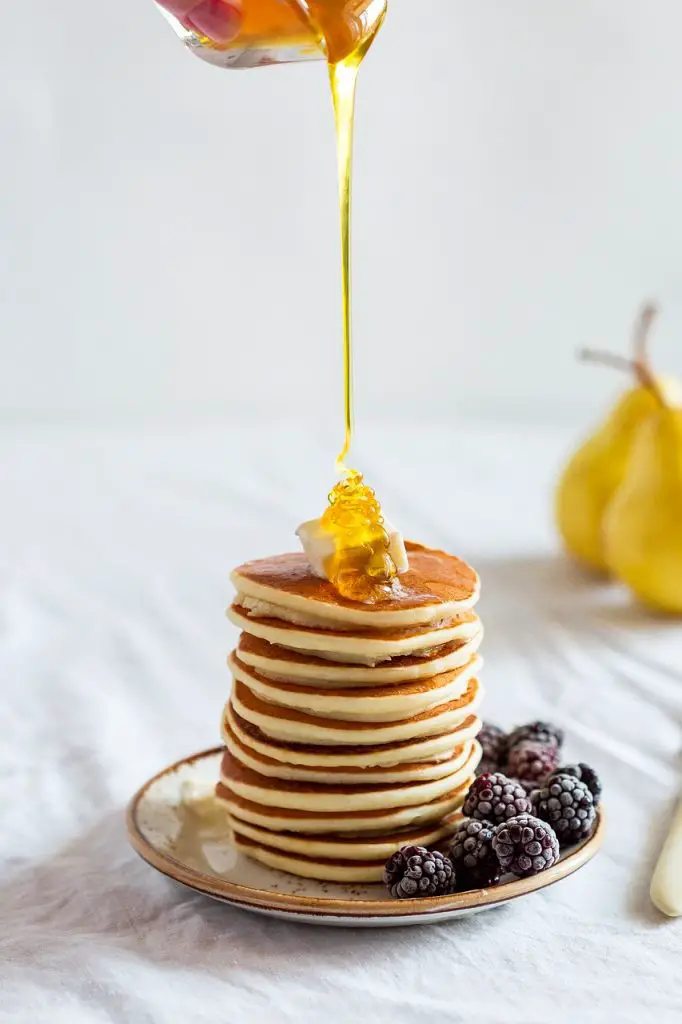 Pancakes
Ingredients:
1 cup flour
3 tsp. baking powder
½ tsp. salt
1 tbsp. sugar
1 egg
2 tbsp. oil or melted butter
1 tsp. vanilla
½ tsp. cinnamon
½ - ¾ cup milk
Variations:
Buttermilk pancakes

: substitute 1 cup buttermilk for milk. However, decrease the baking powder amount to 1 tsp. and add ½ tsp. baking soda.

Cornmeal pancakes:

substitute ½ cup cornmeal for ½ cup of flour.

Whole wheat pancakes

: substitute whole wheat flour for flour. Use brown sugar.

Seasoned pancakes (

my favorite

):

remove the sugar, vanilla and cinnamon from the basic recipe and add chopped chive, celery, chadon beni to taste.
Direction:
In a small bowl, sift the flour (I am making cornmeal pancakes so I am using ½ cup cornmeal and ½ cup flour). Add the baking powder, cinnamon. salt and sugar. Mix well.
 
Beat egg and vanilla with hand beater or a fork. Blend in the oil or butter and ½ cup of the milk. Make a well in the centre of the dry ingredients and pour the liquid, mix well. Add the rest of the milk for thinner batter.
Note: This variation requires a little more milk. Most likely because cornmeal absorbs liquid so easily and thickens instead.
Pancake mixture is loose enough to pour into the griddle or frying pan. Grease heated griddle or frying pan if necessary.
Pour about ⅓ cup of the pancake mix into the griddle or frying pan and spread. When bubbles cover top, flip over and cook until other side browns. Remove and place on paper towel. Serve with maple syrup, honey or jam. I sometimes like to put butter on it.
Pancakes ready to serve.
That's it for another post. This post has been very comprehensive in that you have about five recipes in one. So take your time; try them all and I will see you soon. Bye for now!
Don't forget to leave your comments on pancakes in the comment box below.
By the way, I must tell you that you can get your copy of the Simply Trini Cooking cookbook in Amazon. Visit the link to view.