Fry bake and saltfish is a perfect dish for Lent. Carnival is subdued with the first day of Lent, Ash Wednesday. All Catholics, during this time, begin a self imposed abstinence from meat, either for the entire 40 days of Lent or on Fridays, as a means of bringing oneself from the materialism of the world to a prayerful state of contemplation and spiritual reflection.  As a matter of fact, fish is preferred over any other type of meat during the Lenten season, and its demand is reflected in the higher prices in the market place.
Fry Bake and Saltfish for Lent
Today, we had fry bake and salt fish for dinner. Salt fish is a favorite in Trinidad and Tobago because of its versatility in many of the dishes we prepare. Salt fish is curried with bodi, potato, string beans etc., it's used in buljol and in accra, it also makes a perfect side dish with ground provision (dasheen, eddoes, tannia, yam, green fig, cassava etc.), and you just can't forget a good plate of dumpling and saltfish. Salt fish also goes great with another popular dish called Oil Down when you don't have any other meat or you just want something different for a change.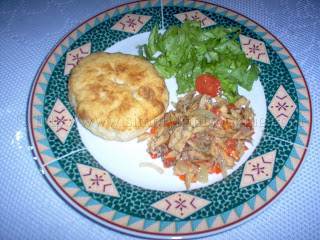 Salt fish, also called bacalao or bacallao, bacalhau (to the Portuguese), is dried Pollock (Cod) or sometimes Shark preserved with salt. Here in Trinidad salt fish could either be bought at the market by the pound (lbs.) or at the supermarket in packets or in trays.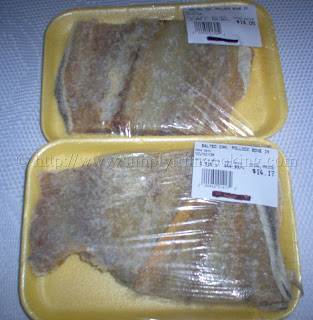 Saltfish in trays: this one is the Pollock.
Saltfish in a pack: this one is the Shark
(notice the difference in the texture)
---
Fry Bake and Saltfish Recipe
As you would see, in the following recipe, before salt fish is used it is boiled in water to take out some of the salt and to also add some moisture back into the fish. One thing to note though, is that you don't need to add any additional salt to your cooking; yes, salt fish is that salty even after boiling it.How could someone fry bake? Do you fry then bake? Ha Ha Ha !!! …… For us in Trinidad, a bake is a type of flat bread that we cook on a Platin or tawah (griddle) or a pot. Another variety is the fried bake (I intentionally put the title as "fry bake" to reflect how we really pronounce it) that is, of course, fried in a little bit of oil and not deep fried.
FRY BAKE AND SALT FISH
Ingredients:
Saltfish:
½ lb. Salt fish
3 cloves garlic, crushed
1 small onion, chopped finely
¾ lb. tomatoes, chopped
½ tsp. chive, chopped
½ tsp. thyme, chopped (Spanish or fine leaf)
2 tbsp. olive oil or coconut oil (to fry the saltfish)
1 small hot pepper, finely chopped (optional)
Bake:
3½ cups flour
½ cup wheat flour
4-5 tsp. baking powder
1 tsp. salt
1½ cups water or slightly more
1 tbsp. sugar
Oil for frying (bake)4 small
Direction:
Prepare the Salt Fish:
Boil the salt fish for about 10 minutes to remove some of the salt.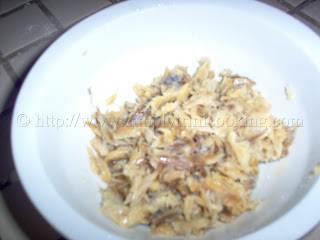 Remove skin and bones; wash and squeeze the saltfish and break into small pieces.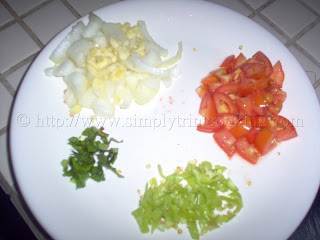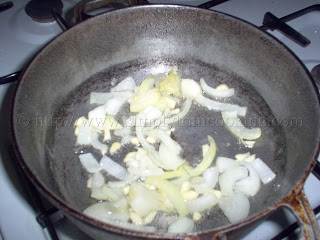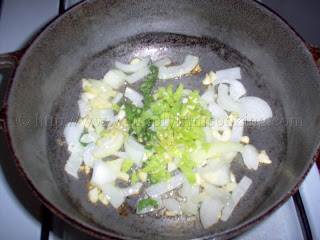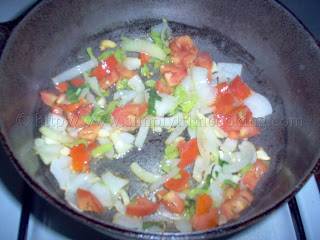 Cook the onions, garlic, tomatoes, chive and thyme in oil until slightly brown.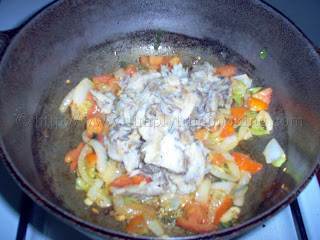 Add the flaked salt fish and hot pepper and allow it to cook for 10 minutes.
Please don't add salt.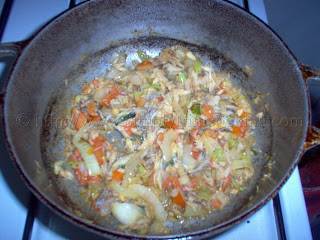 The salt fish is now ready
Fry Bake: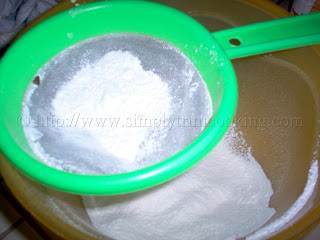 Sift together the flour and baking powder. Add salt and sugar and mix well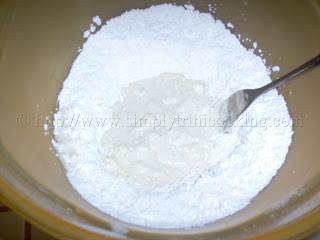 Add the water all at once, if dough is still dry when mixed, add enough water to make smooth dough.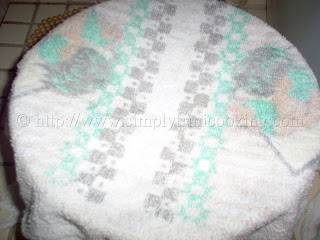 Cover with a damp towel and allow to relax for ½ hour .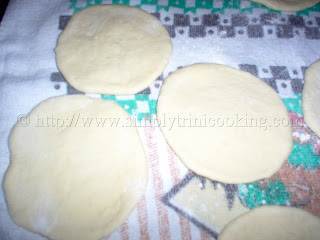 Divide dough into small balls (makes about 12 balls).
Roll ball of dough out on a floured board to 1/4 inch thick in a round shape.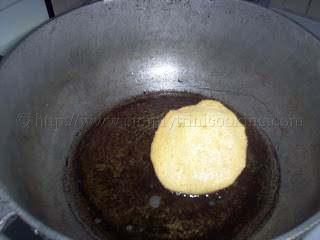 Fry in hot oil (do not deep fry),
turn once and drain on kitchen paper. Serve cool.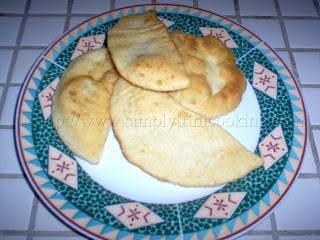 Fry bake
Well that's it for another post. If you don't want to fry you could also try roast bake with the saltfish. It tastes just as well and you don't have to deal with hot oil but rather a hot tawah. Bye for now and do enjoy your fry bake and saltfish.