Okay! You may be wondering what I was up to that kept me back from posting on Wednesday as usual. Well, now you know. This doubles post was in the making. Since this is going to be a long post I will have to keep my words to a minimum, but you all know how I love to talk....
The Ultimate Trini Street Food
Doubles is THE ULTIMATE Trini street food. It doesn't get any better than this: it's relatively cheap, tasty, wholesome, filling, fresh, piping hot and fits nicely in the palm of your hand.
Eating it comes to be a ritual: bend forward slightly to avoid the filling getting on your clothes; hold doubles opened in one hand while the other picks up the bara filled with the channa and condiments... Or if you find that too messy you can enjoy it like I do... unwrap one side and munch away like a veggie wrap or burrito. Then when you're finished enjoy a cold coconut water; with slight jelly!
Born right here in Trinidad and Tobago of humble beginnings, doubles has now become a staple in our diets and is synonymous with being Trini. Emamool Deen and his wife Raheman Deen probably would be amazed with the popularity and reach of their tasty creation. You can find doubles any where in Trinidad, not just where it originated in Fairfield, Princess Town. Doubles is a now a Trini experience!
Ask any Trinidadian abroad what they do as soon as they reach back home and I'm sure 99.9% will tell you "Get some doubles!". 🙂 We just can't get enough.  All in all, this is our food identity...Italians have their pizza, Mexicans their quesadillas, and us Trinis, we have Doubles.
Now, we can make this doubles at home. Here's Doubles. Enjoy!
Doubles Recipe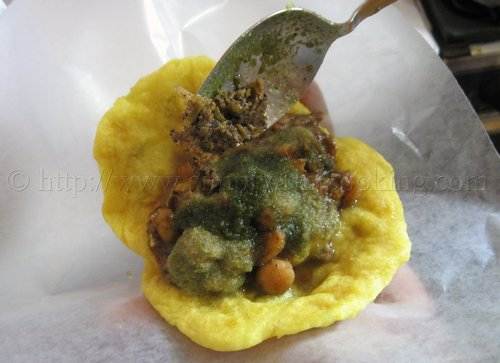 DOUBLES
Bara
1 lb flour
1 teaspoon saffron powder (tumeric)
1 tbsp. baking powder
1 teaspoon yeast
¼ tsp. sugar
1 tsp. salt
2 cups water
1 tbsp. oil
oil for frying
Channa
2 cups channa, soaked overnight
10 cups water, for boiling
2 tsp. baking soda
2 tbsp. oil
1 tsp. curry
1 tsp. saffron (tumeric)
1 tsp. geera (cumin)
1 tsp. masala
2 cloves garlic, chopped finely
½ onion, chopped finely
5 leaves chadon beni ( bandhania), chopped finely
salt and pepper to taste
Prepare the bara:
and make little balls about 2 inches in diameter.
Prepare the channa:
Ok everything is cooked and ready but how do we eat doubles? I'll show you.
Hope you enjoyed the doubles recipe. More recipes to come. Bye! Ah gone.