After spending a long time in the kitchen I believe it is time to rest and eat some dhal puri roti. This will be my last post on this auspicious Divali holiday. I hope you enjoyed yours because I certainly enjoyed mine. Everyone who ate from the halwa and parsad enjoyed it and came looking for seconds. I believe I still have a little remaining in the fridge.
I wanted to do another recipe called barfi but I forgot to buy the cream so I guess I would have to do it another time. Dhal puri roti is the fourth type of roti we make in Trinidad and the most labour intensive. That's the main reason why buss up shut , sada roti, and dosti roti are more popular; it is less work than dhal puri.
Time for a Dhal Puri Roti
There is another roti that we make that's really a variation of the dhal puri. Instead of using the dhal as the filling we use potato and it is called aloo puri. I think I will do that one also later on for you all to see. Today we decided to make a few dhal puri to celebrate Divali in our own way. Now you have to remember that during divali no meat dishes are prepared so if you went to a Hindu home today, do not expect meat. Oh! and how could I forget the Sohari leaves, instead of a plate to eat in. In some homes you would be served on special leaf instead of a plate.
So as I was saying, this roti is labour intensive but I had a few tricks up my sleeve to cut down on labour. The labour comes from the grinding of the split peas. Long time we used a hand mill to grind the peas and that took forever, especially if you were making a lot of dhal puri. Since I had no mill today I tried using my magic bullet and to my surprise it worked easy as 1, 2, 3. That was the fastest I ever ground the split peas, so from now on I will be using this method. Here's Dhal Puri roti. Enjoy!
Dhal Puri Roti Recipe
1 cup split peas
½ tsp. saffron powder
3 cloves garlic
5 cups flour
1 tbsp. baking powder
½ tsp. salt
½ tsp. geera
1 tbsp. ghee
¼ cup oil
water for kneading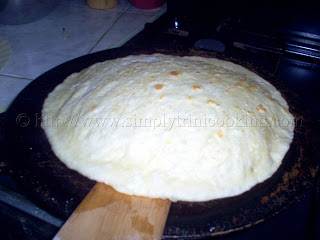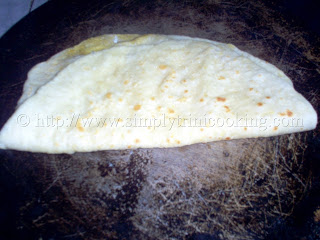 That's it for my Divali posts today I hope you enjoyed the recipes. Until then, bye!