So, we have come to the final act of the Cocoa Trilogy that explored cocoa in Trinidad and Tobago in its glory days to showing how it was made the traditional way long time. Well, you don't have to guess what's the next step. After all that hard work, pounding that cocoa in the mortar, now what's left is to enjoy the fruits of our labour and sip a nice hot cup of creole cocoa.
And, don't forget a piece of hot bake and butter at the side. You know what I mean. The process was a labour of love, but it was really worth the effort. I would never look at local cocoa the same way again especially now that I've learnt that the Trinitario was born and bred right here in sweet T & T. Makes me feel proud 🙂
Act III

Making Cocoa Tea
Before I go into making the cocoa tea I have to explain something on teas..... In Trinidad and Tobago and the Caribbean, "tea" is any hot drink which ranges from Lipton to bush tea (such as fever grass tea, and zibapique tea) to hot milk drinks like Milo and Quick to which cocoa tea falls under. So when I say tea don't think of Lipton or Camomile tea.
Making cocoa tea is very easy, and could add a little variety to your normal "tea" lineup. A hot cup cocoa tea can be very relaxing after a long and tedious day. It is a good substitute for coffee as well, especially if you are trying to kick of that habit. Cocoa tea would not bring on any of those side effects that are common in coffee, due to the amount of caffeine it contains. Instead you will trade in the health benefits of Cocoa tea.
Ladies Note: Cocoa tea is rich in antioxidants; it can trigger that feel good mood, and help you maintain a healthy complexion. What else could you ask for? It is truly a feel good and look good elixir.
If you have never tasted cocoa tea, believe me you have done yourself an injustice. I urge you to get over that immediately and find yourself some cocoa bars to grate. It is readily available in supermarkets all over the country, and probably in the West Indian section of your supermarket if you live outside the Caribbean. There are a few local brands here in T & T whose quality is very high. They come in regular shapes like chocolate bars and I've even seen one brand in the form of the cocoa pod: very creative I must say.
Once you taste cocoa tea, you would never be able to resist it. I certainly cannot. I am glad I grew up on this stuff; nothing else could ever compare to its taste. In that one cup, you come to know how true chocolate really tastes. Everything else fades in comparison.
Note: For a Casein Free Cocoa Tea, you may add coconut milk, almond milk, or any other type of casein free milk. You can also add extra spices for added flavor.
Here's Cocoa Tea Trini style.
Easy Step to Making Cocoa Tea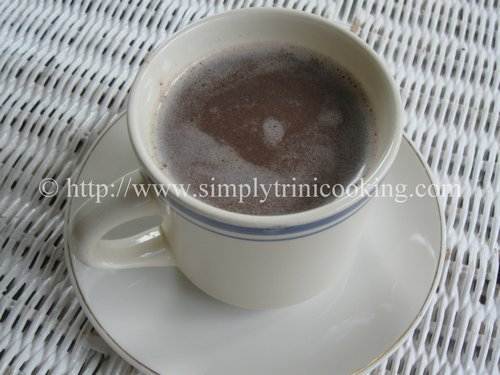 COCOA TEA
Ingredients:
1 ½ cups water
2-3 tablespoon grated cocoa
¼ teaspoon salt
2 tablespoon sugar
2-3 tablespoon full cream milk
Direction:
Finely grate the cocoa.
Boil the water in a deep pot. Then add the grated cocoa to the water. Allow to simmer for about 10 - 15 minutes. Then turn off the stove.
Add the milk...and sugar. Blend the ingredients well.
Strain and Serve hot.
I just had to put the picture here again.
Do you notice the cocoa grease floating at the top? Real Good stuff!
Now to go look for a piece of bake lol!
More recipes to come...as usual.
Ah gone!
Don't forget to leave your comments in the comment box below about making cocoa tea.
Print
Cocoa Tea
Ingredients
1 ½

cups

water

2-3

tablespoon

grated cocoa

¼

teaspoon

salt

optional

2

tsp.

sugar

to personal perference

2-3

tablespoon

full cream milk or skim milk

Spices and Cinnamon sticks
Instructions
Finely grate the cocoa.

Boil the water in a deep pot. Then add the grated cocoa, spice and cinnamon sticks to the water. Allow to simmer for about 10 - 15 minutes, then turn off the stove.

Add the milk and sugar. Stir the ingredients well.