In search of a healthy drink? Try this beet shake.  This beetroot drink or beet drink is a nutritiously dense drink - it is loaded with lots of vitamins and minerals.  Also, it is very tasty and easy to prepare.
A Bit On Beetroot
Beet root (beta vulgaris) is a root crop with a bulbous shape.  It is also known by others as table beet, red or golden beet, or just beet.  It's rich sweetness and red thick flesh makes it a wonderful addition to salads and as a side dish to meals.  It can be eaten cooked (steamed, boiled, or roasted) or raw; however in its raw state it keeps all its healthy goodness. 
Roasting is also better the boiling - roasting intensifies its flavor. However if you must boil beetroot; do not overcook it and do not peel or cut it before boiling - it could lose some of its rich red colour.  You should note that canned beet root lacks most of the healthy nutrients.
Raw Beetroot
Raw beet is the best.  You can grate raw beet and add it to salads, soups or pickles. Raw beet can also be used to make beet juice.  Now the health benefits of raw beet juice is astounding, and many profess that raw juices that contain raw beet help them clean the the gall bladder, liver, kidney, prostate gland, and other sex glands. Another study showed that drinking 500 ml of beetroot juice led to reduction in blood pressure within one hour, even more pronounced after 3 to  4 hours, and measurable up to 24 hours after drinking the beet drink.
N. W. Walter, in his book, "Raw Vegetable Juices" (p 22),  indicates that combining raw carrot, beet, and cucumber juice can give one the "finest cleansing" ever.  Many other authors bear testimony to this combination. We all need a little cleansing now and then; and we all should give our body the time and food to help it do its cleansing work. 
This may mean eliminating sugars and starches or even meat, for a while.  I look at it, as a cycle at least.  This is something that should be done on a weekly basis.  The benefit of this is rejuvenation of the body and recapturing of lost energy.
Beetroot, A Super Food
After that discourse, we can say that beet root is definitely a super food.  This is because of the high nutrient content of beet root.  Beet is rich in B vitamins, folate, manganese, and potassium; it also has dietary fiber, vitamin C, magnesium, iron, copper and phosphorus, calcium, sulfur, iron, choline and beta-caroten.  They are low in calories, but have the highest sugar content of all vegetables, and so are used to make refined sugar.
The compound that gives it its red colour is called  betacyanin which is quite harmless, and acts a natural antioxidant.  In the past few years, scientists have discovered its usefulness in treating a number of illness, such as cancer, especially colon cancer. 
It has also been helpful in protecting against liver disease.  When extracted from the fibers, the red colour can be used as a food colouring in dishes such as ice cream, yogurt, beverages, sweets and cream filling.  The fiber in beet also has a positive effect. It helps improves bowel functions and maintain good cholesterol.
Other benefits you can derive from beetroot are:
It can help clean the lymphatic system;
It helps the immune system;
It is anti-carcinogenic;
It aids the digestion;
It restores health in people with general weakness, sexual weakness, prostate troubles, liver disorders;
It help prevent cardiovascular problems, and
It helps maintain healthy skin and hair.
Note:

Some people eating beets may experience beeturia (red or pink color in the urine or stool).  Please note this is harmless.

Individuals with a history of oxalate-containing kidney stones should avoid over-consuming beets.

(Source: Micheal T. Murray, et. al, (2005) Encyclopedia of Healing)
Selecting Beetroot at the Store
Raw beetroot should be firm, smooth and  round with a vibrant red-purple colour when you buy it.  It should not look wrinkled or dull colored.  Raw beetroot, without the leaves, can be stored in the vegetable section of the refrigerator for  no more than 2 weeks.  Raw beet should not be frozen.  Choose small to medium size.
Beet Shake Recipe
This beetroot shake recipe is simple, healthy and delicious.  It is combined with another fruit, vegetable and nutmilk.  In my opinion, the combination makes it a super drink  that could be enjoyed by the whole family.When I first made this drink I used cooked beetroot.  You can do this.  Or you can opt to use the beet raw.  This drink recipe will give you 3 glasses of beet shake.
BEET SHAKE
1 medium sized beet root (cooked or raw), chopped
1 apple, chopped
1 large carrot, chopped
1 ½ cup almond milk (vanilla flavour)
¼ cup honey
½ teaspoon coconut essence
½ teaspoon almond essence
3 dashes Angostura bitters ( just for the trini flavour)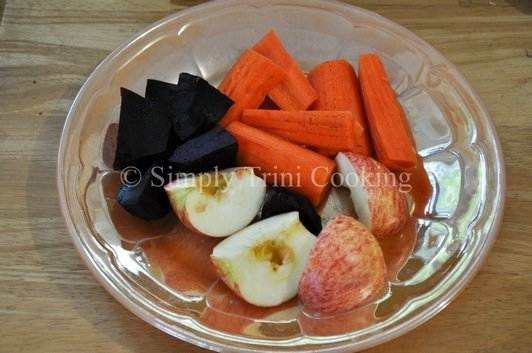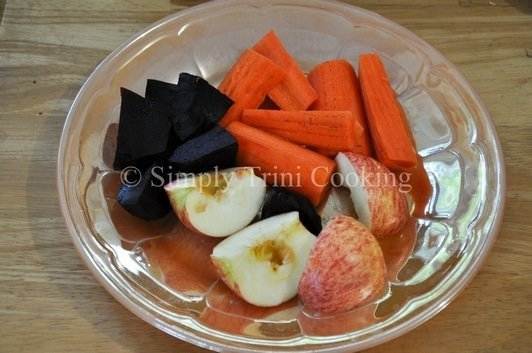 Cook the beet: wash the beet and roast or boil in water until tender.
Or, keep in its raw form.
 In a blender or food processor, blend together all the ingredients until smooth.
Serve with ice.  Enjoy!
Print
Beet Shake
Ingredients
1

medium sized beet root

cooked or raw, chopped

1

apple

chopped

1

large carrot

chopped

1 ½

cup

almond milk

vanilla flavour

¼

cup

honey

½

teaspoon

coconut essence

½

teaspoon

almond essence

3

dashes Angostura bitters

just for the trini flavour
Instructions
Cook the beet: wash the beet and roast or boil in water until tender. Or, keep in its raw form.

In a

blender

or food processor, blend together all the ingredients until smooth. Serve with ice. Enjoy!
Before I end this post, here is a handy health tip:
A carrot, beetroot, parsley juice is an excellent tonic for women with menstruation or menopause problems. Probably, in an upcoming post this tonic will be done. But, I would like to know if you all would be interested in such a recipe post.
References used in this post:
Don't forget to leave your comment for this beet shake recipe in the comment box below.