I'm not sure if eating black eyed peas and rice on Old Years (New Years Eve) makes you lucky. But, for as long as I could remember we enjoy this meal especially on Old Years Day.  Ostensibly, the origin also seems lost in time.  However it can be traced back to the time of the African slaves in the Caribbean.
I noticed that it is also a tradition in the United States, because they prepare a dish called "Hoppin' John" in a similar way. Maybe someone from America could verify it for me.  I don't know where else this is done, but I will be glad to know if there are other countries that celebrate the New Year by preparing this dish. Anyway, to ring in the New Year try our Trini style black eyed peas and rice recipe.   And if you are feeling adventurous, make sure you eat 365 peas at that sitting to represent each day of the following year.
A Trini Style Black Eyed Peas and Rice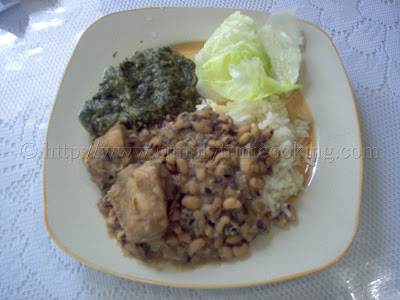 BLACK EYED PEAS AND RICE
Ingredients:
1 sprig parsley, chopped
2 cups black eyed peas, dried
1 small red pepper (optional)
½ lb. chicken or beef (or ham), chopped and seasoned with Green seasoning
1 bouillon cube (optional)
2 cups water
1 small pimento
2 tbsp. cooking oil (coconut oil preferably)
1 tsp. salt
1 small onion
2 cloves garlic
1 sprig thyme, chopped
1 cup rice
Directions:
Boil the rice and set aside. Pressure cook the peas (peas may also be soaked overnight and then cooked).
Season the chicken with green seasoning and chopped chive.  Marinate the chicken if you have the time.
Heat the oil and sauté the onion, garlic, pimento, pepper, parsley and thyme. Add the meat and a little water and cook until tender.
Add the black eyed peas to the chicken.
Many people like to add bouillon cube to their stew.  This is optional. Alternatively add your favourite herb mix to the stew. Add the bouillon cube and simmer the cooked black eyed peas for about 5 - 7 minutes.
That's it! Simple and wholesome. Well, with all the festivities still in the air I do hope you all have a safe New Year. And please don't drink and drive.
Ah gone!  Enjoy your black eyed peas and rice.
---