A bake and shark at Maracas Bay is truly an experience for both tourists and locals alike. In my list of things to do before you die I would say "Having a Bake and Shark at Maracas Bay" should be high up on the list. By the way, this one has already been crossed off more times than I could remember. And, I may have a few hundreds more crosses before I die lol!!
The taste is truly exquisite especially with all the sauces…Me, being the gree…ur!  hungry person that I am, I must have all the sauces and sides which are available.  So, on my rounds I must have my garlic sauce, chadon beni chutney, some hot pepper sauce, lettuce, cole slaw, ketchup, mango chutney, tomatoes, cucumber……somebody bring me a napkin, I'm dribbling here lol!!! 🙂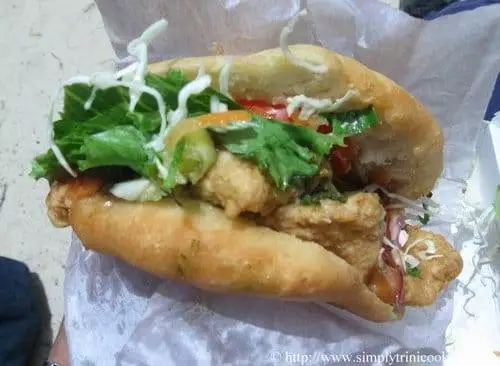 Having a bake and shark with everything at Maracas Bay
Bake and Shark and Carnival
Anyhow, bake and shark is not only limited to Maracas Bay but it also has gotten so popular that it is a staple at "all inclusive" carnival fetes and concerts. And, I don't have to tell you all what's going on in Trinidad and Tobago around this time. It's CARNIVAL !!! …
And, I've gotten the carnival fever again which will only be over by Ash Wednesday. With all the soca music and calypso around, I can literally feel the carnival energy around me…..These days my TV is stuck on Synergy TV and when I can't get enough I go online and watch more videos…
This year I will to be staying up on fantastic Friday to watch Soca Monarch and Groovy Soca Monarch. I'm just as curious to see who will win the one million dollars first prize for Soca Monarch. I have my favourites but let's just wait and see. Anyhow, time to talk about the recipe (boy do I get side tracked easily!!)
So, whether you're liming either in an all inclusive fete or on the beach Maracas Bay, to cool down after a day of jumping up in the road, bake and shark is one liming food you just can't miss or I should say do without. A friend of mine likes bake and shark so much that she makes it a lime every Friday to go down St James to get a bake and shark for TT $18. But you all are in luck, today you won't have to spend all that money to enjoy a good bake and shark, because you have the recipe here step by step courtesy of simply trini cooking.
This dish, to me, is another top liming food found in Trinidad and Tobago around carnival time or any other time as a matter of fact. Just like corn soup, geera pork or chicken, pholourie, doubles and pigfoot souse, bake and shark is truly a favourite of ours.
So if you're in Trinidad and Tobago to enjoy carnival, don't forget to try out a bake and shark while you're enjoying yourself in a fete or on the beach. Who knows, maybe you've already done that and crossed it out of your list! Enjoy bake and shark. This is as Trini as it gets!
My Bake and Shark recipe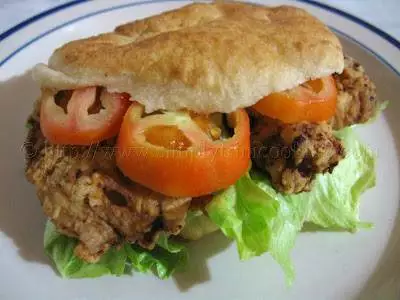 Bake and Shark
Ingredients:
For Bake:
2 cups flour ( all purpose)
3/4 tsp salt
1 tsp baking powder
1 tsp yeast
1/2 tbsp sugar
3/4 cup water
oil for frying
For Shark:
1 lb shark
3 tbsp green seasoning*
3 lemons (or 4 limes)
1 egg ( for egg wash )
flour ( to flour shark )
salt to taste
oil for frying
* If you don't have green seasoning use 1 chive, 10 leaves chadon beni, 2 seasoning pepper, 1 small onion, 2 cloves garlic and 3 leaves big leaf thyme.
Direction: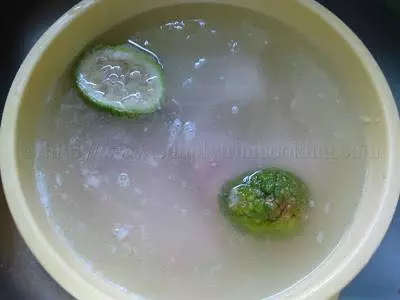 Squeeze about 3 lemons in some water and leave the shark to soak for about 3 hours. Afterwards wash the shark in clean water.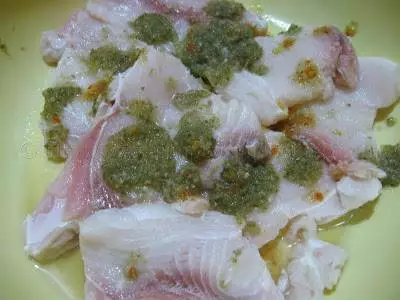 Season the shark with the green seasoning and salt.
Dip the seasoned shark in the egg wash.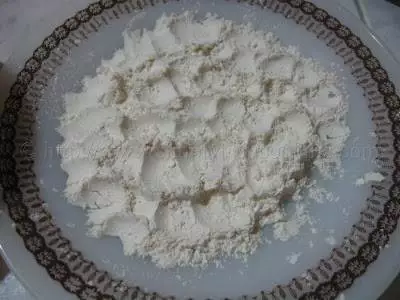 Then in some flour.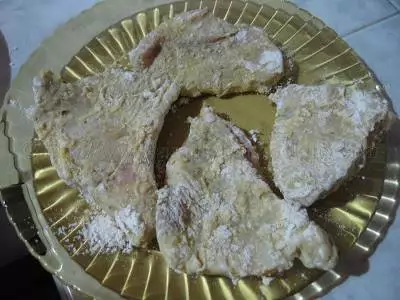 The shark is now ready to be fried.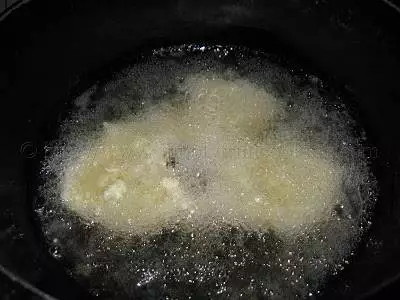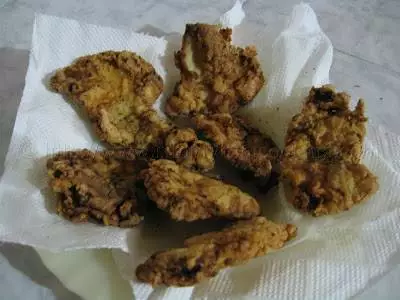 Deep fry the shark until golden brown and drain on paper.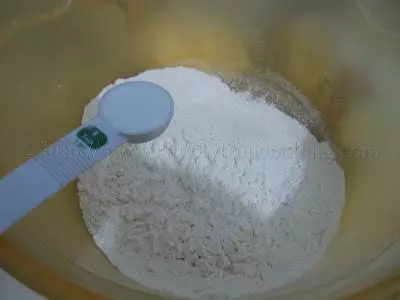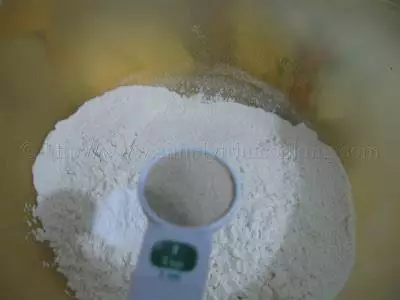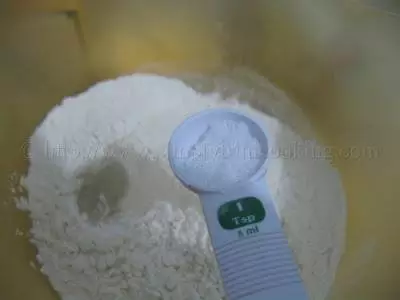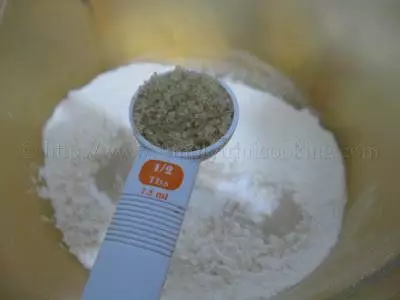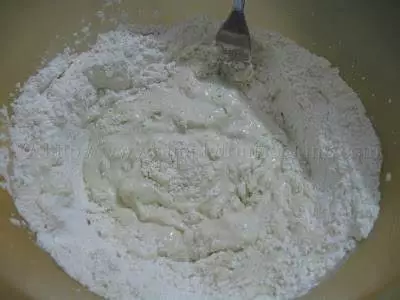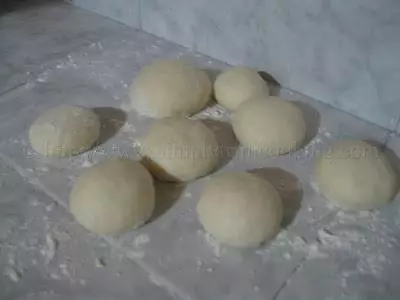 Mix the ingredients for the bake and leave to rest for 30 minutes.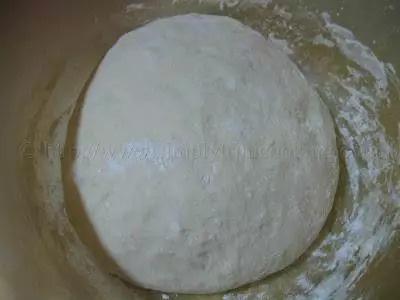 This is how it looks after half an hour.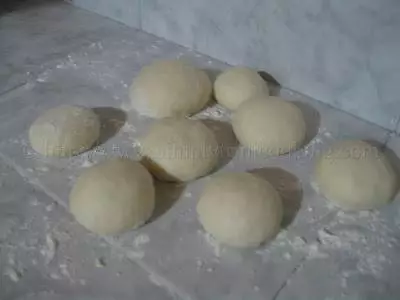 Make balls about three inches in diameter.
Then flatten out to about 1/4 of an inch thick.
You can vary the size according to how large or
small you want your fry bake to come out.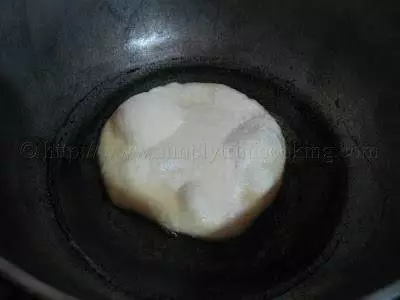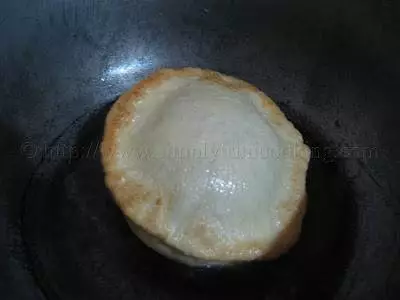 Fry on both sides until golden brown. Notice how it swells like float.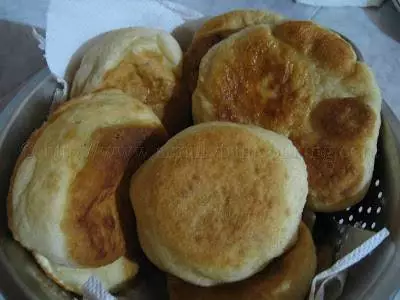 Drain on paper and assemble using fresh tomatoes,
lettuce and your favourite condiments.
And that's how the cookie…Uh!! fry bake fries. ha ha!! Until then. Bye!
P.S. If you liked my bake and shark recipe please leave a comment below.