I just love yogurt and this tropical yogurt parfait was simply perfect. A parfait is a rich creamy dessert made with cream, eggs and syrup. However, today I will not make the creamy part of this dessert in the traditional way, instead I will use yogurt. Then add the rest of the ingredients in layers, as you will see.
Yogurt is healthier (though I will one day try it with cream, eggs and syrup). My favourite yogurt is Mt. St. Benedict Pax Yogurt. They have many flavors: almond, vanilla, coconut, soursop - to name a few. I tried this recipe with their soursop and almond flavors. I really wanted to try the tropical yogurt parfait with vanilla, but I could not get it in the supermarket these days. Anyway, I preferred the almond flavour most. Maybe next time I'll try the guava flavoured yogurt.
So Many Flavors in This Tropical Yogurt Parfait
Putting together yogurt, fruits and granola makes this dessert perfectly healthy. (The word "parfait" is french and it means perfect). The fruits and granola are layered with the yogurt. Once done mindfully you will have yourself a nice glass of yogurt parfait to enjoy.
I used tropical fruits in my parfait. They were pawpaw, pineapple and banana. I even thought of using portugal but the fruits were enough. The granola was a delightful medley of granola, coconut and pineapple. If you can get your fruits fresh, no problem; but you can also purchase a tin of Dole's Tropical Fruit Mix. Normally, I would use fresh fruits, but I really wanted a little syrup as well to push the flavour. So I used the Dole's Tropical Fruit Mix.
A Tasty Treat
What can I say? This dessert is delightful and very satisfying. Whether it is served in a cup, a small glass bowl, or a tall glass your senses will be mesmerized; I savoured mine to the last drop. I also like the way the layers look, and I like the way each layer has its distinct flavor. You are never bored eating this dessert, first with one fruit, and before you know it you're down to another layer enjoying another type of fruit.
I caution my readers to resist the urge of just pouring the ingredients in any haphazard fashion. Take the time to do the layers and you will enjoy a delicious healthy combo that is very appealing visually. So, with that said, here is my recipe for a delicious and visually appealing tropical yogurt parfait.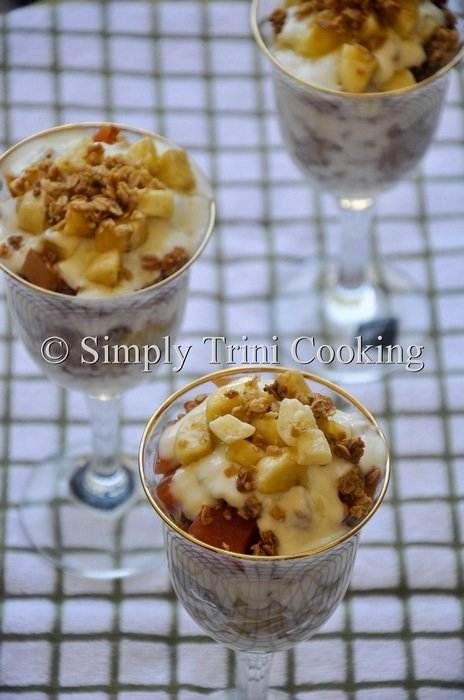 Tropical Yogurt Parfait Recipe
Ingredients:
2 ripe bananas
24 oz or 681 grams (1 ½ packs) granola medley - with dried coconut and pineapple (we used Natural Delights brand)
44 oz (2 containers) Pax almond yogurt
20.5 oz (2 tins) Dole Mix Tropical Fruit (in light syrup and passion fruit juice)
This recipe should yield about about 8 servings.
Direction:
Prepare the working table with your ingredients.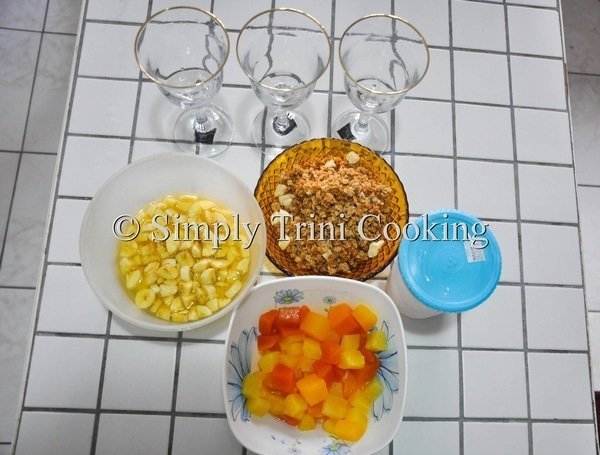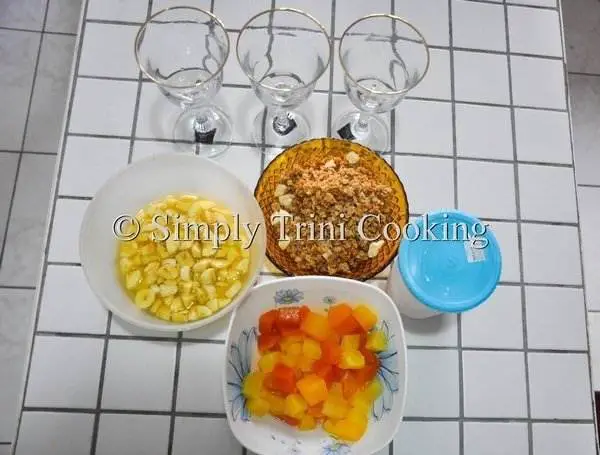 Set aside the light syrup from the fruits. Dice the bananas. Place the diced bananas in the light syrup. This keeps the bananas from turning brown. It will retain its natural colour, and get a bit sweeter as it sits in the liquid.
Your will need smaller sized cubes of fruit than is available in the tin. Cut the fruits into smaller sized cubes.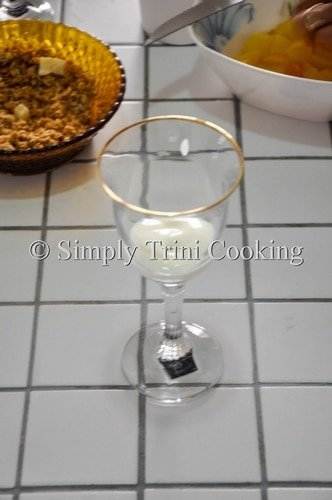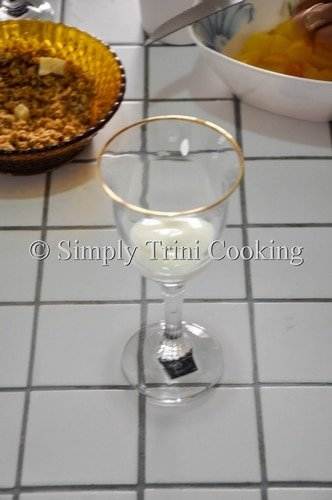 In a tall glass, first add 2 tablespoons of yogurt.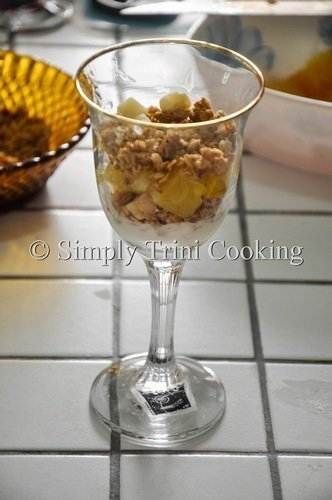 Then sprinkle the granola evenly; the pineapple, and some more granola. Continue the layers in this manner. The first layer with the pineapple; second with pawpaw (papaya), and third with banana.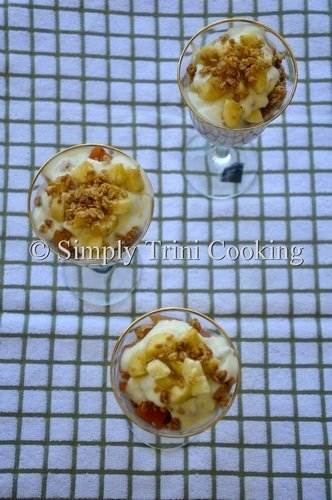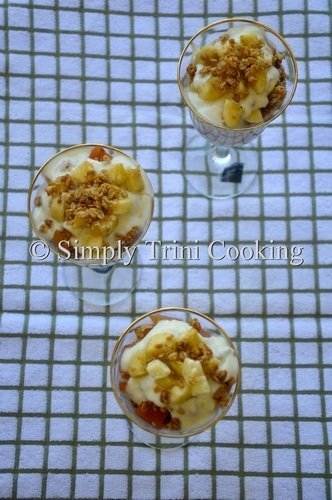 If you use a tall thin glass, you will be able to get the three layers; but at least two with a shorter glass.
Also, I did not want my yogurt mixing quickly with the fruit. Layering this way maintains a bit of separation for while.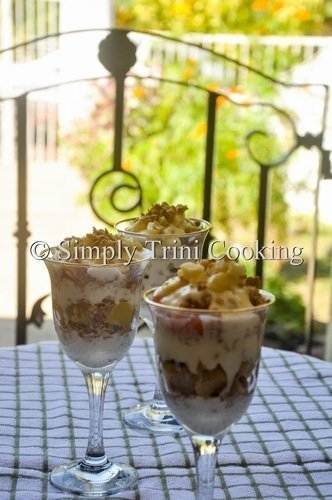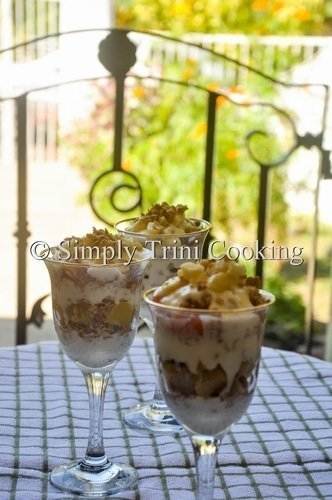 This was a dessert everyone enjoyed. Yet another recipe for you to enjoy on special occasions.
I understand some people add sweet biscuit to their parfait too. I imagine cake, as well. Mmm. If you try this and add some other ingredient combinations, do tell us how it turned out.
Ah Gone!