A tamale pie recipe was on my mind for quite some time. I wanted to do the tamale pie for Christmas but Parang had me busy so I had to put it off. Incidentally, the time was right for this tamale pie to be made. For a week, I was looking at the pack of cornmeal in the pantry, until I finally thought it was time for a tamale pie. Yes, more cornmeal! Christmas I know was last month and I had a lot of cornmeal pastelles. I believe I ate the last cornmeal pastelle last week. But, no, I was not fed up of eating cornmeal just yet.
A Pie Almost Like A Pastelle
Now, a tamale pie is a lot different from a pastelle pie. I must say I kind of prefer the tamale pie. It reminds me of pastelle, but with a little twist. The meat is not between two layers of something that looks like a cornbread or coo coo. Instead, it is mixed in with some cornmeal and topped with a cornmeal layer. So, there is just two layers in a tamale pie: a meat layer and a cornbread/coo coo layer. Anyhow, when you make it, you will see what I mean.
Another reason I believe this tamale pie is much like pastelle is the similarities between the ingredients used. Most of the ingredients you gather for this tamale pie is much like the ingredients you would use for pastelle save for the corn and tomatoes. The tomatoes and corn adds more flavour and goodness to the pie making it extremely tasty.
Now you can make your tamale pie spicy as well. Just add some cayenne pepper or hot pepper to the meat. Here is our tamale pie recipe I know you all will love. Enjoy!
Tamale Pie Recipe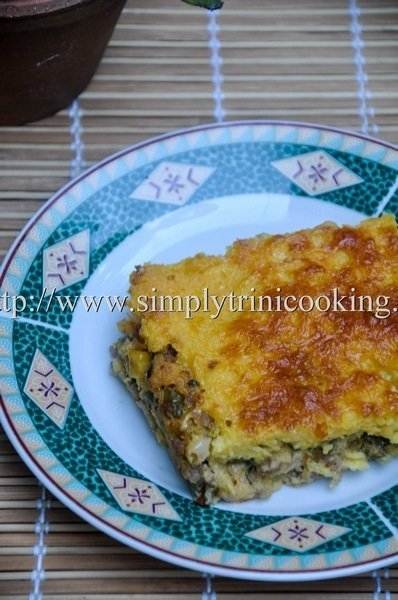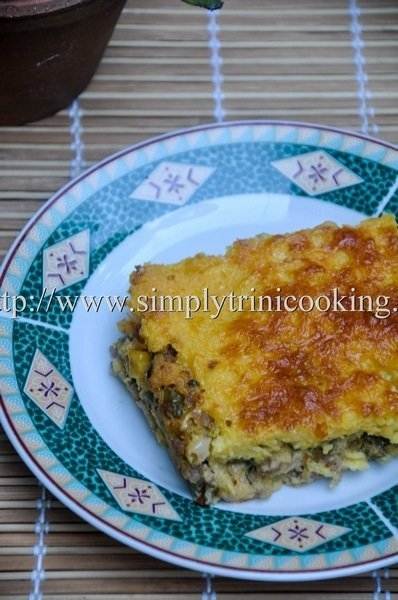 Tamale Pie
Ingredients:
Meat Mixture
2 cups ground raw beef
1-2 tablespoons coconut oil
2 small ( 1 cup) onions, chopped
2 cups tomatoes, chopped
1 teaspoon salt
2 pimento peppers
2 tablespoons chopped fresh parsley
½ teaspoon cayenne pepper (optional)
½ cup chopped chive
¼ cup minced chadon beni
¾ cups corn
¾ cups sweet pepper
5 olives, chopped
Cornmeal Mixture
1 cup yellow corn meal
1 teaspoon salt
3 cups water (comprises of the liquid from the tin of corn and water to bring to 3 cups)
2 cups evaporated milk
1 ½ cups grated cheddar cheese (divided)
Direction:
Prepare the meat.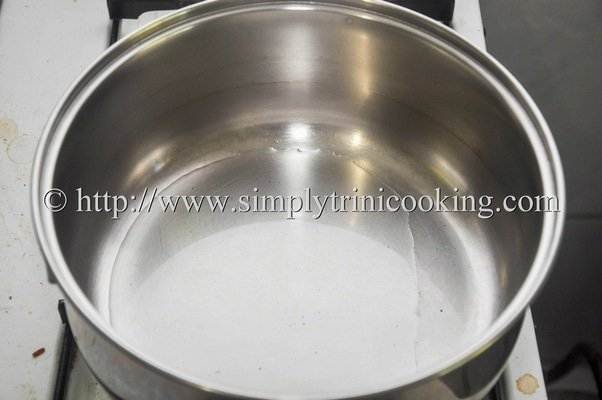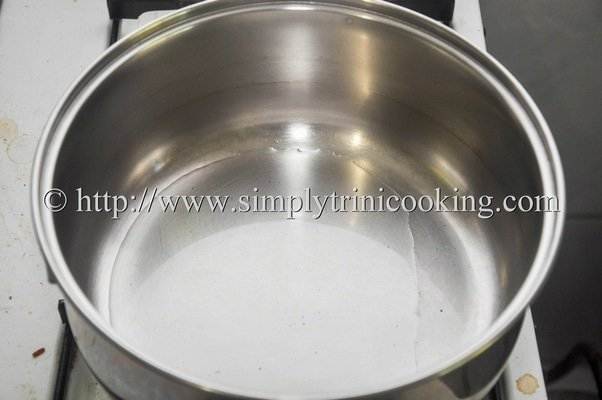 Heat the oil in a deep pot over medium flame.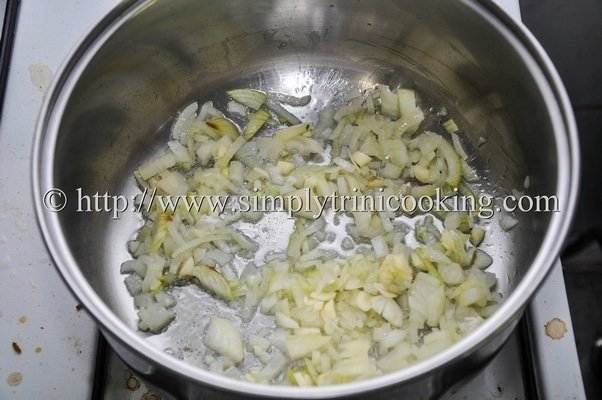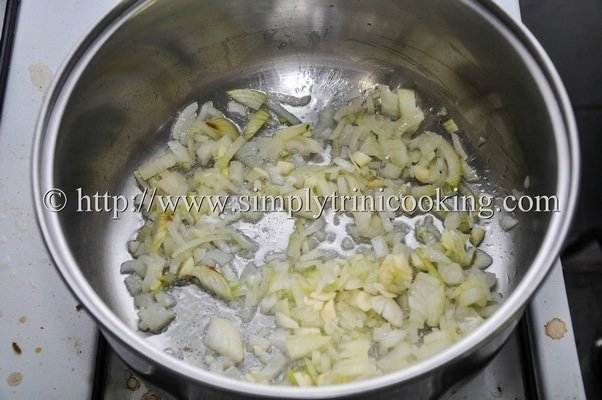 Add chopped onion and garlic then cook lightly in hot oil until translucent.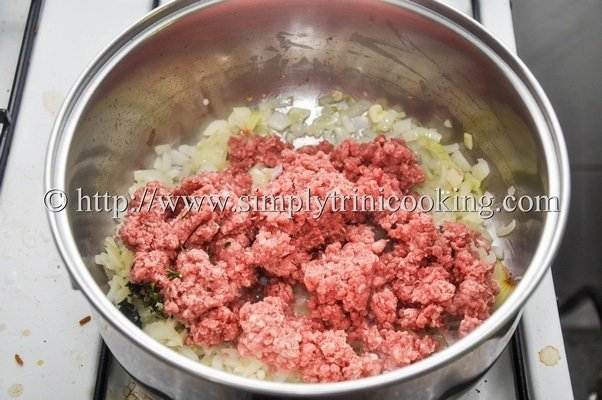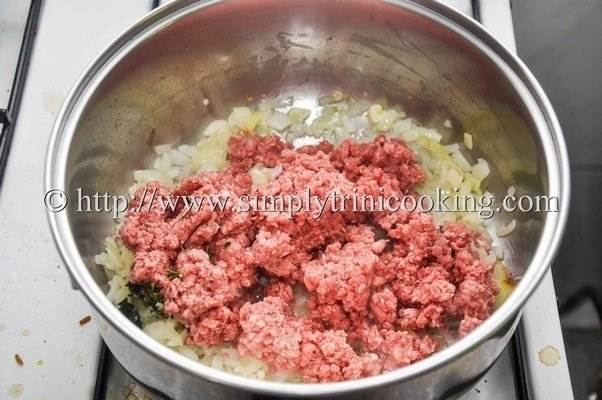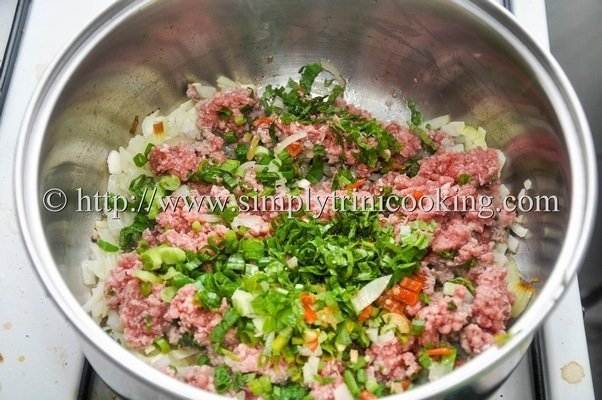 Next the minced meat. Then, add the parsley, chive, pimento, chadon beni and salt.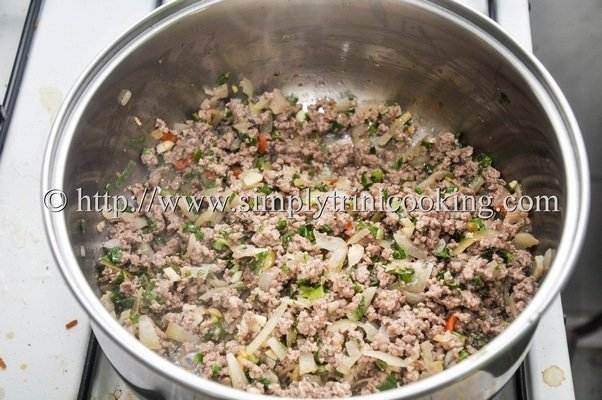 Cook until the red colour of the meat disappears.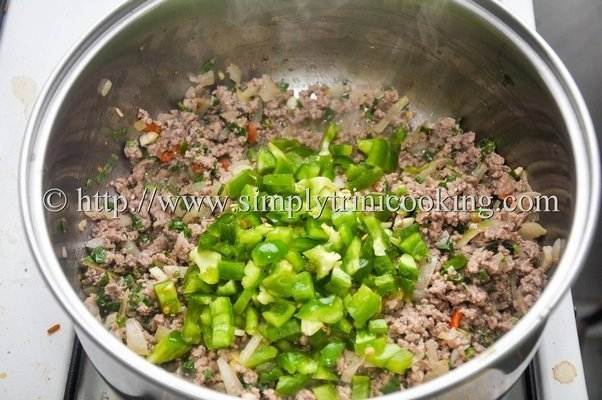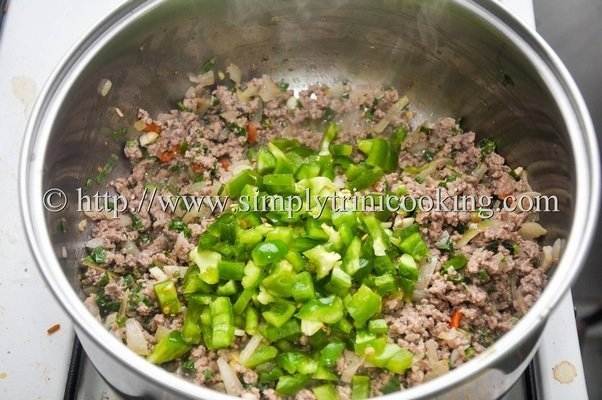 Add the sweet pepper, ...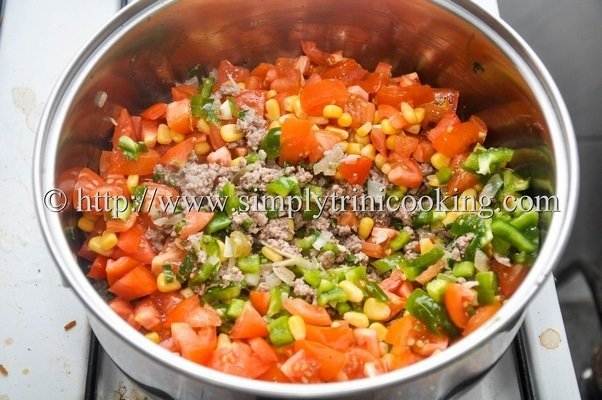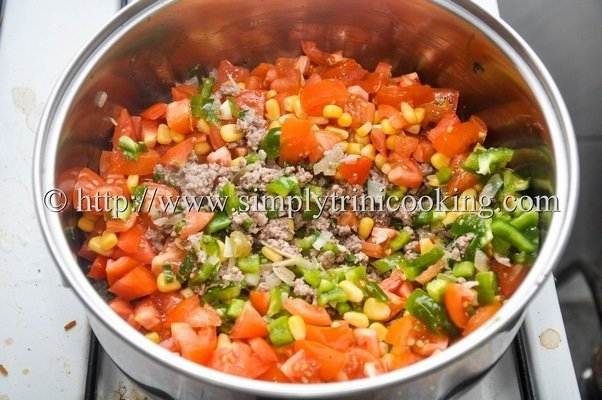 ... the tomatoes and corn. Mix then lower the flame. Leave the meat to simmer and allow most of the liquid to evaporate. While this is being done, prepare the cornmeal mixture.
Prepare the Cornmeal Mixture.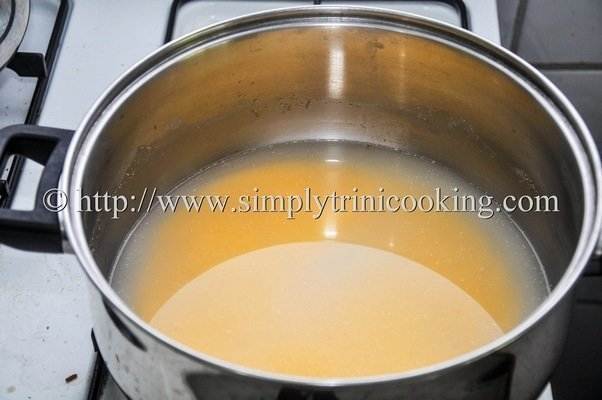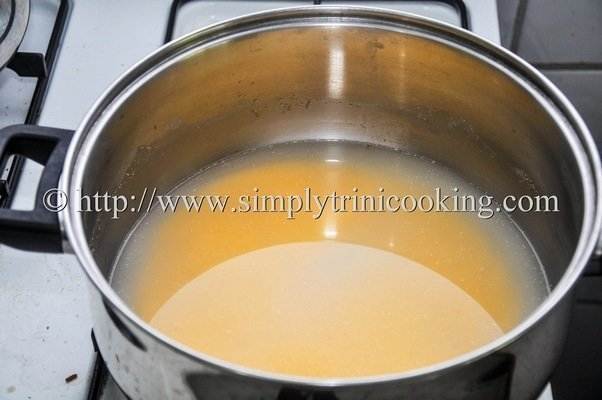 In another deep pot, mix cornmeal, salt and "water" together. (See ingredients on how to make the "water")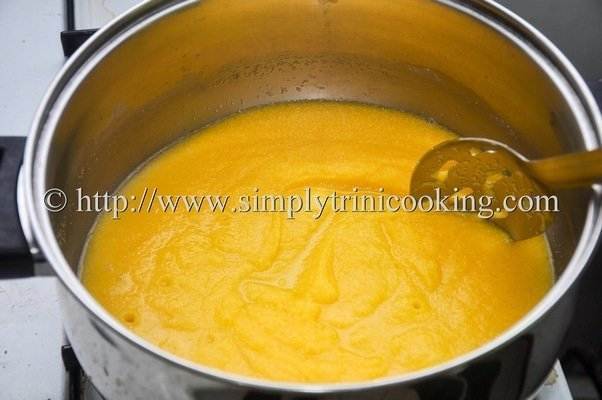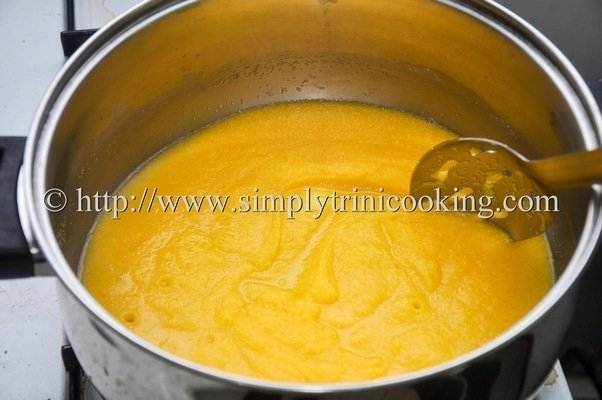 Cook the cornmeal until mixture begins to thicken.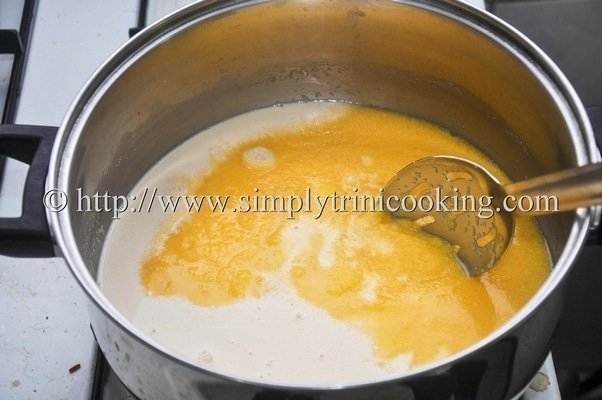 Add the milk and boil for 8 to 10 minutes. Stir constantly.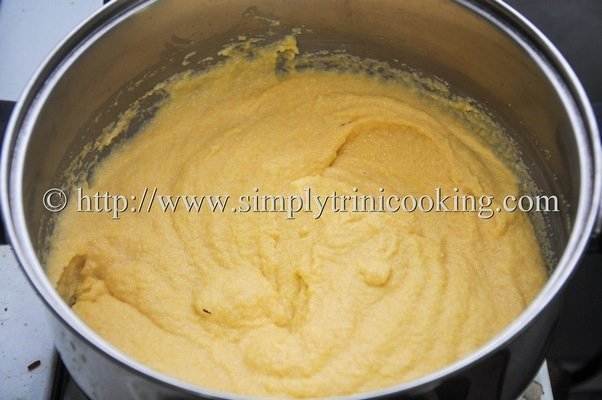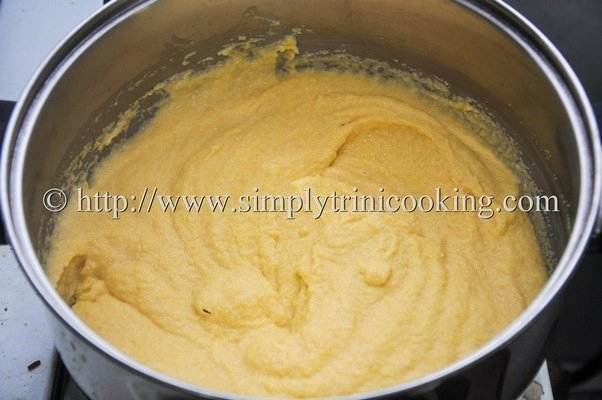 The cornmeal mixture should look a little mushy like this. Lower the heat.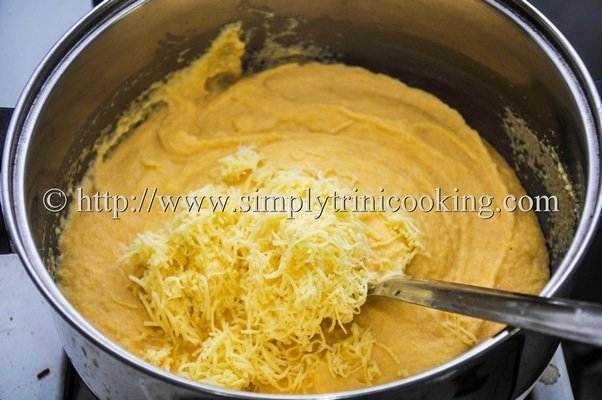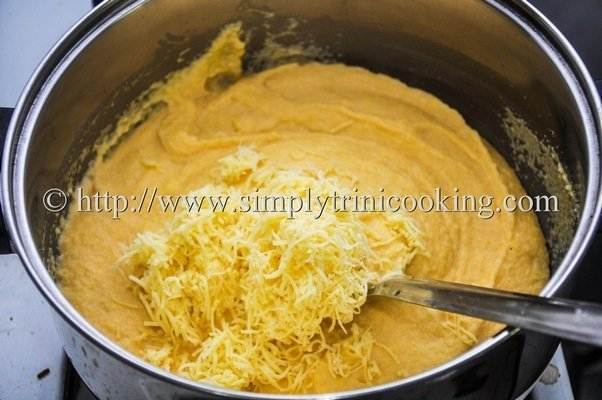 Add 1 cup of grated cheese to the cornmeal and mix.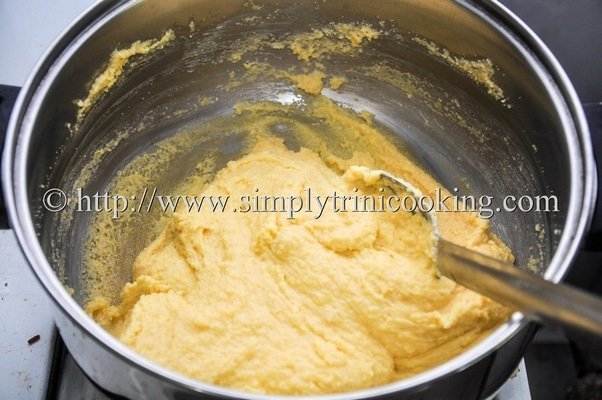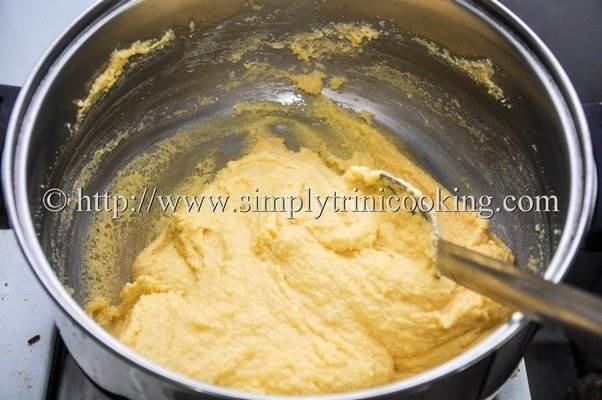 Remove from the heat immediately. Separate ¾ of the mixture for the meat and reserve ¼ for the topping.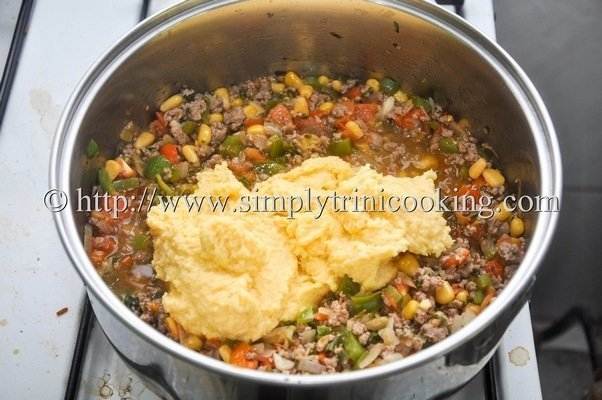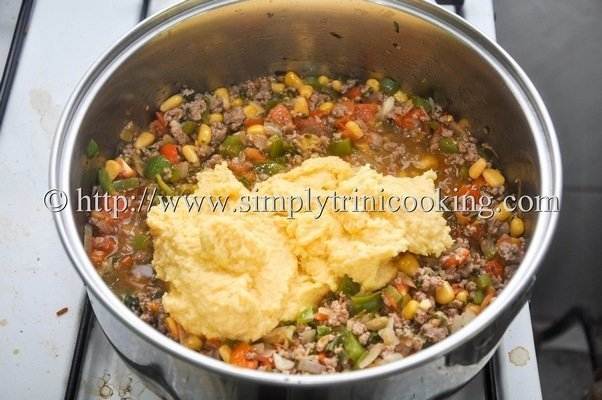 Add ¾ of the cornmeal mixture to the meat (which should still be simmering).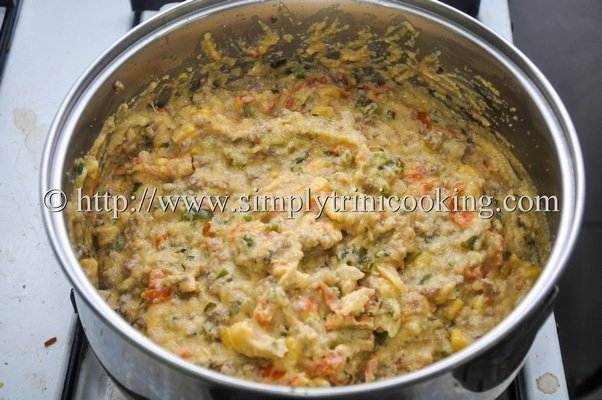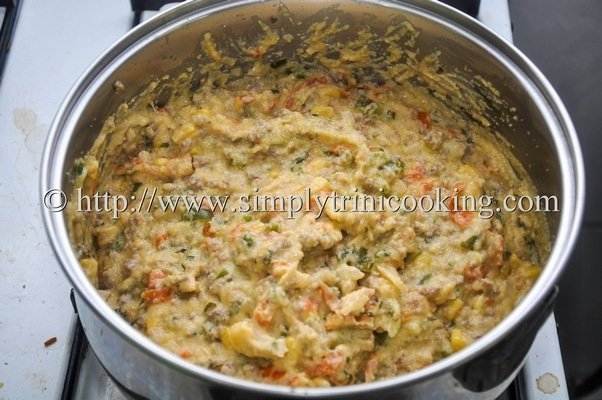 Mix well. This is the finished meat mixture.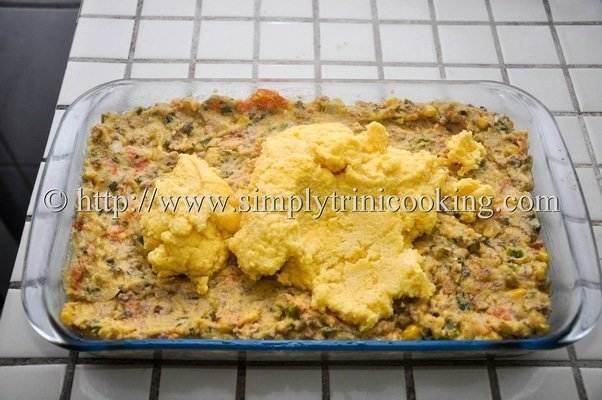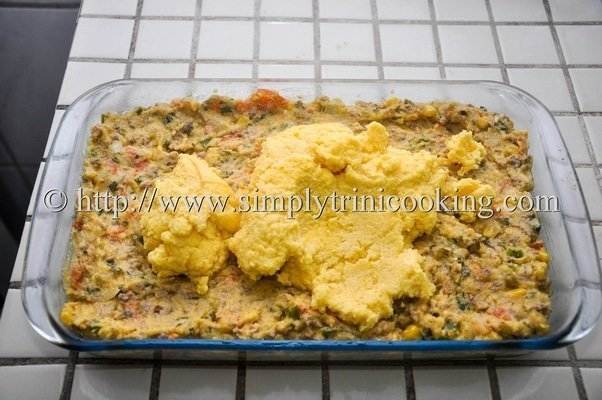 Pour the meat mixture into a greased baking dish (8" x 12"). Spread evenly. Next cover with the remaining cornmeal mixture. (Note: You should add dollops of the mixture all over the meat mixture. It would make it easier to spread evenly. )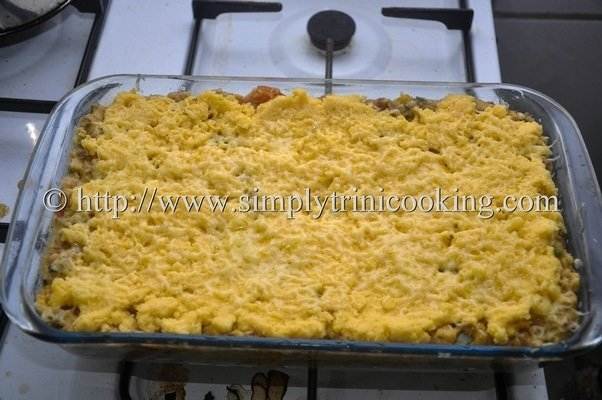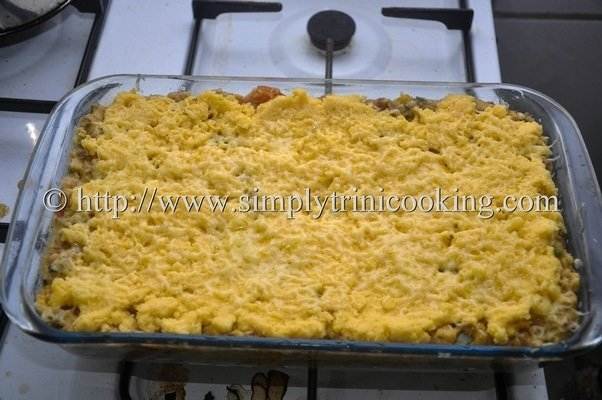 Sprinkle with the remaining grated cheese.
Bake in a preheated oven, at 350 degrees F, for 45 minutes.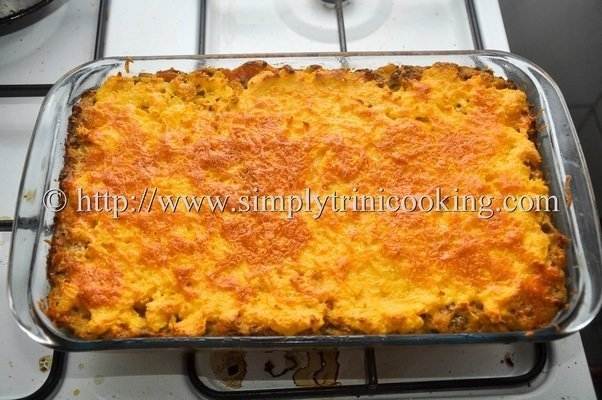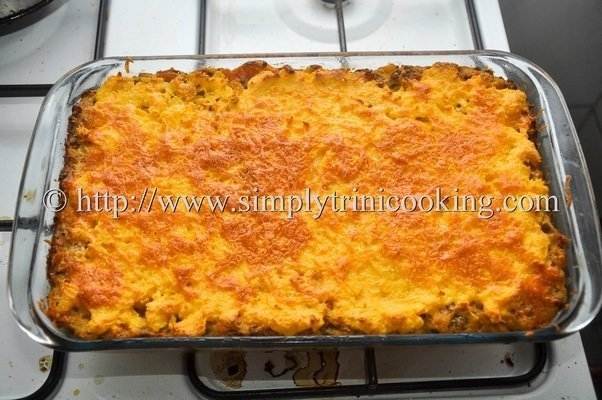 Serve cool.
The tamale pie was a true hit. Everyone who tasted it enjoyed it. I even saved a piece for my colleague at work. Well, that's it for another wonderful, tasty recipe. More recipes to come.



Ah gone 🙂
Ok Before I go here's some Farmer Nappy.
Ok ah now Gone 🙂