In the Caribbean we also like scrambled eggs, but with a bit more seasoning in it. How do you like your eggs? Sunny side up? Omelet? Scrambled? I like my eggs scrambled, but not just scrambled, I like my eggs scrambled Trini style. Similar to seasoning meat, I like to add fresh herbs and cheese all mixed up into one mishmash of exotic flavour. You can serve your scrambled eggs with other sides and toast bread and orange juice. I find the combined taste is always perfect.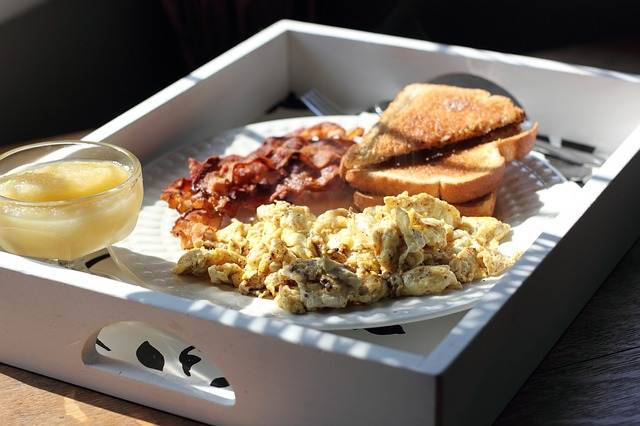 My Trinistyle Scrambled Eggs
Now I have been frying eggs for a while and have learnt a few things along the way. One of which is frying eggs over a low flame. Other than not burning your eggs, somehow, especially with this recipe, the ingredients get time to permeate through the eggs. Actually, I discovered this by accident one time and ever since I have been using this method, unless I'm in a hurry!
Adding the cheese came a little later which I learnt from my wife, but the way she did it gave the cheese more of a grilled taste and appearance( which tastes great also). The slow cooking method I use works great for the cheese, giving it time to melt.
To me this is a complete meal and if you're on a low carb, high protein diet ( like I'm on these days) this recipe makes a great breakfast or dinner meal by itself.   In fact, I read in a book that we're supposed to eat most of our proteins in the evening time, but that's another story if you're interested. Are you?
Again, I'm talking too much. So if you're in the mood for some some scrambled eggs try making it Trinistyle and tell me what you think.
Trini-style Scramble Eggs Recipe
TRINISTYLE SCRAMBLED EGGS
2 tomatoes, chopped
4 leaves Chadon Beni, chopped finely
3 leaves big leaf thyme, chopped finely
1 sprig chive, chopped
½ onion
1 clove garlic, chopped finely
3 eggs
½ cup grated cheese
salt to taste
butter
Direction:
Add the eggs and tomato, then add the chopped chive, big leaf thyme, and chadon beni (culantro)
Add the onion, garlic, salt to taste, and grated cheese.
Mix it all up. In a frying pan, over a low flame, melt a little butter.
Then add the eggs. Make sure the fire is low to give the seasonings time to infuse into the eggs while cooking.
It's time to scramble the eggs now that they're nearly finished.
The finished scrambled eggs.
To end on a sad note….Michael Joseph Jackson (August 29, 1958—June 25, 2009) you will be missed but you have left a legacy. Say hi to Bob Marley and Kitchener for me.
Print this Recipe.
Print
Trinistyle Scrambled Eggs
Ingredients
2 to

matoes

chopped

4

leaves

chadon beni

chopped finely

3

leaves

big leaf thyme

chopped finely

1

sprig chive

chopped

½

onion

1

clove

garlic

chopped finely

3

eggs

½

cup

grated cheese

Salt to taste

optional

Unsalted butter

about 2 tsp.
Instructions
Blend together the ingredients, besides the butter. In a frying pan, over a low flame, melt a little butter. Then add the egg mixture. Make sure the fire is low.

Mix continuously to scramble. Fry until golden
Notes
For lighter and fluffier eggs, aerate the eggs.