Welcome back, now it is time for me to post the herb crust pizza. Yesterday I started talking about Pizza and how we Trinidadians came to enjoy this meal and has crowned it as one of our official liming foods. So today I continue with another of our homemade Pizza recipes that my wife has mastered. Of course I had to leave the best for last. Trini herb crust pizza is not your ordinary run off the mill herb crust pizza; it has our local herbs found in the Caribbean that gives it the Trini seal of approval (the only herb crust I know with chadon beni in it).
Too besides, what kind of cook would I be if I didn't Trini-style it up a bit? That is how we do it in the Caribbean. Anyhow, this is my favourite crust because it is so light and crispy. I feel I could eat a whole one by myself with all the toppings smothered, close to drowning, in lots of cheese. Yes! it tastes that great and no! I'm not greedy 🙂 When you make it you'll see what I mean; actually you will taste what I mean. We topped this pizza with lots of toppings and slices of salami but you can use any toppings you like. So enjoy Trini herb crust pizza and tell them where you learnt it; right here with love from Trinidad & Tobago. Enjoy!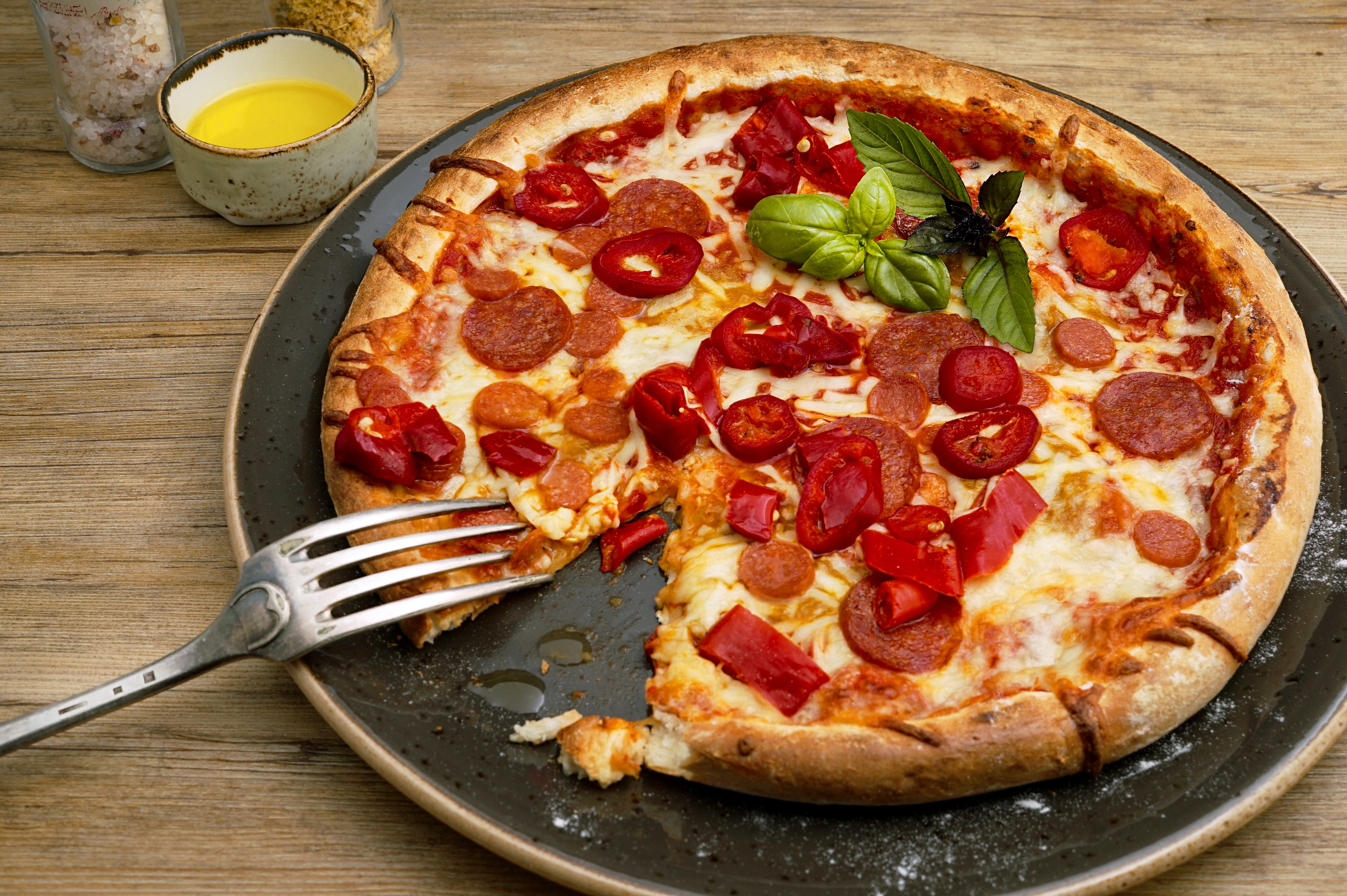 TRINI HERB CRUST PIZZA
Pizza crust
Ingredients:
2 tablespoons (1 envelope) yeast
1 ½ cups water
4 cups flour
1 teaspoon salt
2 leaves chadon beni, finely chopped
½ teaspoon thyme, finely chopped
½ teaspoon garlic powder
½ teaspoon onion powder
½ teaspoon chive, finely chopped
½ teaspoon parsley
¼ cup oil (olive or coconut oil)
Directions:
Sift the flour, add the herbs and the yeast. Mix the oil and water together and stir the liquid into the flour. Stir to a smooth dough.
Knead the dough and allow it to rest for about 15 minutes. Divide into two and roll out into 28" circles. Rest the dough into 35" pizza pans or in our case a tawah. Dough is ready for the sauce and toppings.
Spread the sauce evenly over the dough. * Add the various toppings of your choice. Here we added chopped onions, sweet peppers, tomatoes, corn, pimento and salami. Sprinkle cheese, lots of cheese, and bake for 25-30 minutes in a preheated oven at 230 degrees, or until golden brown.
The trini herb crust Pizza is baked and ready. Slice and serve with a nice glass of Mauby.
* Refer to the Trini Whole-wheat pizza recipe for a quick homemade sauce recipe.
Well that's it for another piping hot post; see you tomorrow for another of our favourite soup recipes. Believe you me you are really going to like this one. Until then, bye!
.