We eat a lot of fake foods. Food is the body's fuel.  We cannot live without food.  It gives the body nutritional support so it can withstand daily challenges.  However, the modern food industry is not one that entirely encourages healthy environmental practices for food production.  For this reason there are many processed foods and fake foods available. Are you eating fake foods? let's find out.
Unhealthy Fake Foods
Today,  much of the food we eat are not healthy or even natural.  These "fake foods" are low in nutrition, high in salt content, artificial flavors and sweeteners, chemical preservatives and additives.  They are so processed that they do not taste like real food or the food they have been made from.  These foods are also referred to as "imitation foods".
Some examples of "fake foods" are "processed cheese", margarine, some "dressings", artificial flavors, chocolate flavored desserts, cream fillings, saccharine, nondairy toppings, and lately, some processed meats and "soy bean flesh imitation foods". Surprisingly, many of these foods, in their various forms are already in your pantry, cupboard, and refrigerator.  These fake foods and processed foods are convenient and requires little preparation before consumption.

Also, most times they are deep fried in oil with trans fat, MSG, sweetened with high fructose corn syrup, and packaged in wrappers with phthalates -  a chemical used to make food storage containers.  Fake foods have little nutrients in them, but we keep eating them, and craving for them even though we know it is not good for us.
Eating Real Food
It is time we make a step towards real food and let go of fake foods;  rediscover the wonders of real food;  or perhaps consider the true taste of fake meat.  For example, fake crab and fake lobster are made from pulverized fleshed fish that is combined with various additives. 
The list of ingredients on a pack of fake crab reads like this: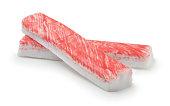 "Alaska pollock, egg whites, wheat salt, sugar, mocked tapioca , starch, crab meat, natural and artificial flavour, extracts of one oyster, scallop, lobster and fish (salmon), anchovy paste, rice wine,  yam flour, hydrolyzed soy, corn and wheat protein,  colour, disodium inosinate and guanylate , sodium pyrophosphate, and food colour". 
It is package and priced inexpensively.  The final product tastes rubbery. It is thus for our own sake we should eat real food.
This is also a step towards losing weight. A step towards healthy eating is a step towards enjoying the benefits of a healthy body.  But it requires commitment and a change in perspectives.  It means you first have to do a lot of reading to help you make informed choices so you will know why you must do this.  Next, you will also need to appreciate the experience of cooking healthy foods and savour the taste of real food.  You body will certainly feel better while it detoxes itself from unhealthy and fake foods.
Want to find out more about fake foods? Click here, it's worth the read.