Whenever I think of pig snout and bean it always takes me back to my happy school days........
As a boy I went to school with my father since he taught at the school I attended...(Yeah and he also taught me in Standard five ...Presha!) But, the experience was all good. The morning stroll down to the corner was exhilarating. And, it had to be because in Maracas Valley, the mornings were always cold...and at Christmas time it was even colder.  Sometime as I walked I would puff a breath of air to see the air condense like smoke as it came out of my mouth.  By the time we reached the junction we would take a  taxi going up Maracas Royal Road to the school.
The day would pass quickly.... Recess bell would ring and we would be outside playing "gun shootin' with pieces of branches or bamboo. ( I wonder what parents would think if their children played that game now! )  We sometimes played "marble pitch" ...Those who didn't have a marble, picked the young grapefruit and it was game on. But watch yourself, because we used to play "Rings" and "Three hole" for "bokee" so you better don't lose.
By the time the lunch bell rung, longer fun games would be played. Some of the bigger boys played windball cricket while some boys and girls played catch, running to the cashew tree just in time not to be caught. Others, like myself, raided the fruit trees that abounded on the school premises. There were Mango trees, Cashew, "Chinee Tambran" and Grapefruit. And, if you went in the bush at the back of the school you may have been lucky to get some Cocorite from the Cocorite palm trees, stinkin' toe or some "  'gouti fig "...those were the days ent?
By "home time"  while we were saying our evening prayers like the "Prayer to your Guardian Angel" or " The Act of Contrition" all you could study was to raid the grapefruit trees one last time before you went home. Or, you would be planning on which tree to climb to get the biggest grapefruits before anybody else.
It would be a mad rush. The grapefruits would be picked and "pegged" with our bare hands to eat with salt and pepper or just by itself... By the time you reached home from school it's either you were smelling of grapefruit, "cooloubois" nest, cocoa ants or a defining mixture of any two, since termites loved to make their large nests on these trees and the ants followed them to take over the nest. Or, even preparing to get some licks because you stained your good shirt while you were eating a cashew. lol!!
The Popular Pig Snout and Bean with Rice
When my father and I finally reached home after a long day, we would be greeted with some simple meal that I loved, pig snout and bean with rice. To me pig snout and beans was a classic. The pickled pig snout added a flavour to the bean that was really exotic. Pig snout was bought at the market together with pigtail, salt beef, saltfish  and smoke herring.  In those days these meats were cheap and lasted a long time. The beans we got from my aunt or uncle who planted their gardens high up on the mountain side in Caura; from that height you could have seen Trincity Mall with its orange dome roof easily.
When this dish was cooked it never lasted long because we always went back for seconds. Even now as I write I realize that when it was cooked the day of shooting, it didn't last long either lol!! Anyhow, here's a dish that's dear to me along with bhaji rice with pigtail, dumpling and smoke herring, dumpling and saltfish and green fig pie.... Won't give them up for the world. Here's Pig Snout and Bean, you can't get any more Trini than this 🙂
Pig Snout and Bean Recipe
1 lb snout, chopped
1 lb bean (harvester bean)
1 ½ c rice
½ med onion, chopped
4 cloves garlic
1 tablespoon soy sauce
3 pimento peppers, chopped
2 tablespoon oil
1 teaspoon pepper sauce
Water
Boil the rice, strain and set aside.
Cut up and boil snout (15-20 min). Drain and set aside.
Note: Just add enough water to cover the pig snout in the pot.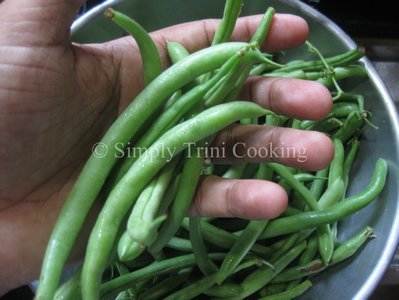 Cut up the bean. Note that you are cutting up the bean into four lengthways,
then cut across to make smaller pieces.
 Heat oil and saute the garlic.
 Then add the onion and pimento pepper.
 Add the snout and fry for 2 min mix thoroughly.
Add the bean...
Then add the soy sauce and pepper .
 Add a little water (about ¼ cup)
 Cover and simmer for 10 - 15 minutes or until the bean is tender and most of the water evaporated.
 The bean looks good now. Serve over rice.
Well this was a nice walk down memory lane for me....the memories still fresh in my mind....I could still smell the
cooloubois" nest lol!! And yes, my shirt did get stained with cashew juice that ran down my arm. hahaha 🙂 But it was all fun. Anyhow, look out for more recipes like these and many more.
Also, the forum is up and running and we are 200 strong and counting  so come join us 🙂
Perhaps we could talk more about pig snout and bean with rice.