Cow heel souse is another of our trini souse dishes that we enjoy. It is similar to the famous pig foot souse and is just as delicious. The bonus of this souse dish is that people who do not eat pork can enjoy it. But then we have religions that do not eat cattle in our country but they could enjoy some chicken foot souse. So you see there's a souse recipe for nearly everyone. There are a few other types of souse made but it borders on bizarre on my part.
A Simple But Delicious Cow Heel Souse
The steps are simple as you would see in a while: just be a little watchful when you're pressure cooking the cow heel because we don't want it too soft. Other than that you're on your way to making some cow heel souse trini style. If you cannot source the chadon beni you can substitute it with cilantro but you will have to add a bit more. Here's Cow Heel Souse.
Cow Heel Souse Recipe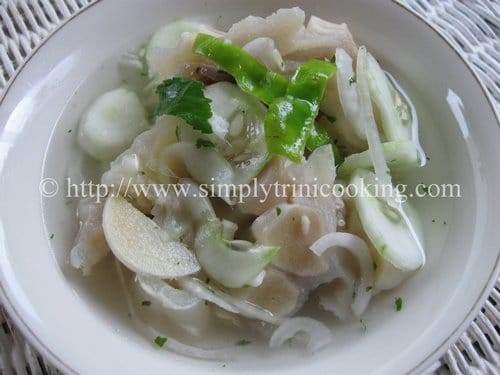 COW HEEL SOUSE
Ingredients:
2 packs cow heel (about 2 lbs)
3 limes, divided
1 tbsp. salt, to season
1 cucumber
½ onion, sliced
7 leaves chadon beni, grated
2 tbsp. salt, for souse
2 tbsp. green seasoning
2 cloves garlic grated
Direction:
Wash the cow heel and drain.
Squeeze half a lime..
and add salt...
and green seasoning.
Mix well.
Pressure cook in 2 ½ cups of water for 25 minutes from time it starts to steam.
Note: Due to different types of pressure cookers and their efficiency, still check the cow heel about midway into cooking for doneness. What we're trying to achieve is a soft texture but not too soft as when you're doing cow heel soup.
Wash three times under running water to get rid of the excess oil.
Add about 2 cups of water for sauce and cut up the cucumber into thin slices.
add the sliced onion
Salt
lime juice from the remaining 2 ½ limes
and hot pepper.
Add the garlic and chadon beni...
and mix well. Let soak for 1 - 2 hours at room temperature before serving.
More recipes to come.
Ah gone.
Don't forget to leave your comments on cow heel souse in the comment box below.