So the book is finally out! This post is going to be the last post for the year 2019; and we are ending it in a celebratory tone - the publishing of the Simply Trini Cooking cookbook. And, now you can experience Trini Cooking like never before. It was truly a labour of love. There were many trials; even after publishing the book, some challenges still remain but solutions have been found in each case.
We received a heavy box of some of our cookbooks this week. Let me tell you, it was a dream come true to actually see the published book in our hands. We could not believe it! The books were really thick. One of my relatives had already bought one on Amazon, a gift for someone; and he did not expect the book to be the large size it was. Nevertheless, he was not finished ordering - he ordered two more recently. We thank him for his support - it was greatly appreciated.
Now, not everyone thinks like that. We already had two comments from people stating that the book was too expensive. What can I say? Wouldn't you agree with me that after 11 years of hard work that I just cannot give away my book? You can judge for yourself when you buy the book. As the many thousands of people who visit the site already know the recipes speak for themselves. And, what's better to have it in print now.
Currently, the the Simply Trini Cooking cookbook is only available through Amazon and myself; and is not available at any local bookstores. We will be fulfilling orders for the fans in Trinidad and Tobago at a cheaper price. So Trinbagonians can contact me for an autographed copy. My gift to you.
The Cookbook - A Peep Inside
We wished we could have published the book locally, but it would have been really expensive for us. However, we chose Amazon, because they are very good at what they do; thus we accomplished everything without much cash outlay on my part. I am happy for that.
The cookbook has an excellent spine, a smooth glossy soft cover and the pages are just perfect. The book opens and lays flat easily as you would see in the picture below. This was one factor I was mindful of. As you read the simply trini cooking cookbook, we wanted you (the reader) to be able to have the book open easily while in the kitchen; following one of the many recipes in the book. How many times have you placed an open book down only to find the pages flipping by themselves? I am glad I choose Amazon just for that; their print on demand service is bar none.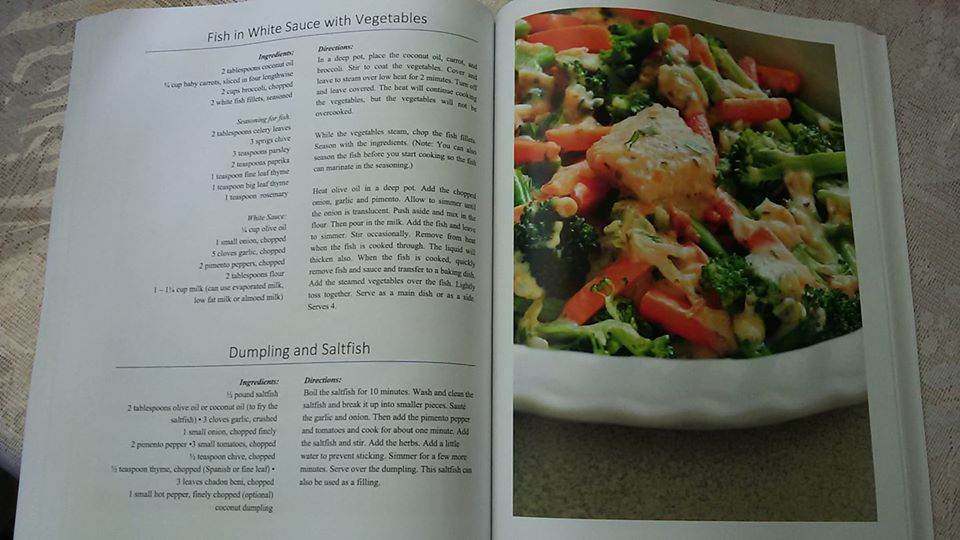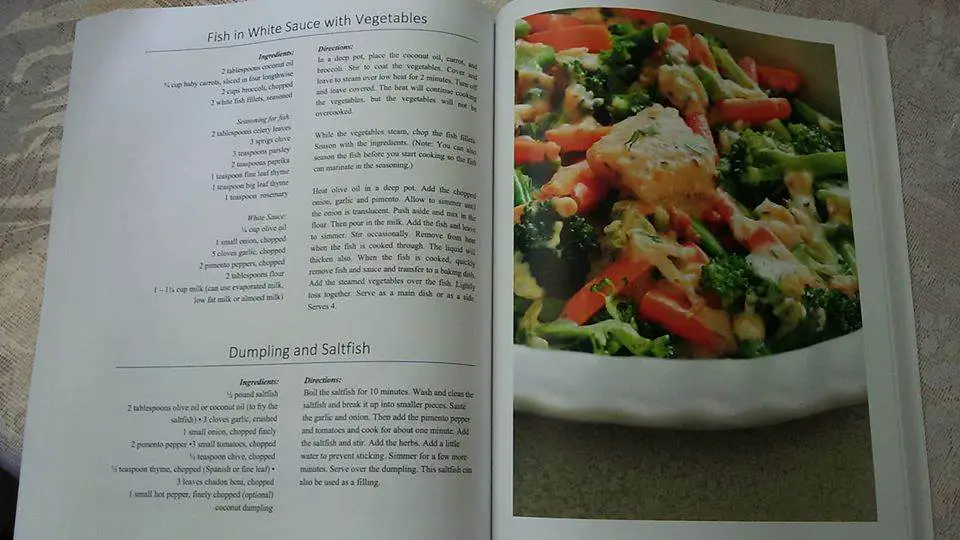 An Amazing Simply Trini Cooking Cookbook
Now, my dear friends, when I say all the recipes to date on the website is in the cookbook; I mean what I say. If you are an avid reader and visitor to this site, for the past 12 years, you will be glad to know that there are over 600 recipes; and over 200 coloured pictures in this amazing book. Wouldn't you like to own such a cookbook that you know will make people delight in your cooking? I could have easily called this book the Instant Trini Sweet Hand cookbook lol.
The book is really a heavy weight. It weighs in at a little less than 3 pounds; and has 416 pages ram packed with all of our tried and true recipes. There wasn't even any space to write at length about anything - just enough space for the recipes and pictures. So, less talk more recipes. And, it is very practical too; instead of us using our phones to access a recipe from the site, it is far easier to just open the cookbook now.
A Happy New Year's Gift!
So there you have it. A Simply Trini Cooking cookbook for the new year. So, do yourself a favour buy the book; and you'll be cooking up a storm in the kitchen in no time. It's as easy as that. No need to figure out measurements from your mother or granny; who never even used a measuring cup or spoon in their cooking, or to calculate cooking times. The thinking has already been done for you. Just buy the book, open it, look for a recipe and start cooking. It's that easy.
With every sale of our cookbook, we are convinced that there are like minded people out there, like you; who still believe in preparing healthy home cooked meals instead of purchasing commercialised, low nutrition fast food. It also tells us that our readers treasure our contributions and our presence online. Thank you for believing and trusting us over the years.
We wish a healthy and prosperous New Year to all our readers. We look forward to posting new recipes. So, look out for us; and even more brilliant recipe posts in the coming year.
P.S. Local fans who want to buy the cookbook can contact me using the contact form on the site.
Ah Gone 🙂