Some time last year I embarked on a 7-day detox.  During that detox, I had lots of fresh salads (as a matter of fact it was mostly fresh salads).   I have to admit, at first it was unbearable - all I had was "bush" to eat without the slightest hint of dressing.   I overcame that feeling and kept my mind focused on the BIG goal of better health and well being as well as lowering my blood glucose levels naturally.
I felt that I was getting closer to that goal as I continued.  Even, by the third day I knew something was happening; I felt differently and wasn't getting hungry, although all I had for lunch was a salad. To my surprise, I was enjoying the meals - the many salads with lots of fruits interspersed between the "living' vegetables. I felt exhilarated!
That was the first time I attempted eating like that, and it was not the last time.  I adopted the habit of eating lots of salad with my meals.  This became my mainstay for eating healthy and maintaining and living a healthy lifestyle.  It is also a great way to begin losing unwanted pounds.   Salads are just one of the best ways to prepare and enjoy your vegetables.
There are many types of salad.  We have already posted many types on the site already.  So I have many favourites.   Today's recipe is another of my favourites.  It has a combination of cooked and uncooked vegetables with a taste of lemon juice and garlic and no salt.  It is simple and fuss free, and very satisfying.  It goes great as a side dish, but can be a main dish with a meat of your choice.  So here is a simple, but healthy salad.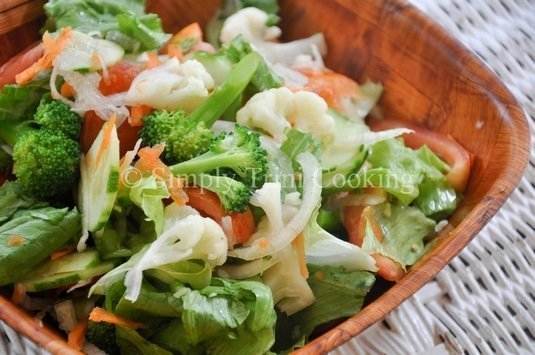 A HEALTHY SALAD
1 cucumber
3 tomatoes
4 leaves lettuce
1 large floret broccoli
½ carrot
3 slices onion
1 floret cauliflower
2 radishes, sliced
2 cloves garlic
Juice from 1 lemon about ¼ cup
2 teaspoon olive oil
salt and pepper optional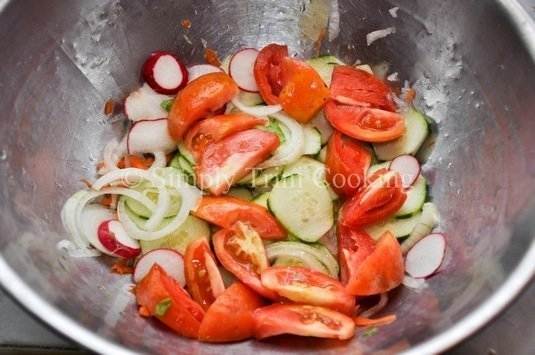 Place all the ingredients into a large bowl. Toss.
There you have it. This recipe is so simple even a caveman could do it; provided he has a bowl to steam the veggies lol .
Print
A Healthy Salad
Ingredients
1

cucumber

3 to

matoes

4

leaves

lettuce

1

large floret broccoli

½

carrot

3

slices

onion

1

floret cauliflower

2

radishes

sliced

2

cloves

garlic

Juice from 1 lemon about ¼ cup

2

teaspoon

olive oil

salt and pepper optional
Instructions
Place all the ingredients into a large

bowl

. Toss.
Ah gone 🙂