3. Mortar and Pestle
A Mortar and pestle  is used to crush, grind, and mash ingredients.  The conventional mortar and pestles were used to grind spices and food. This is another handy cooking utensil if you don't have an electric blender or food processor.
Different uses of a mortar and pestle
Long ago, the larger version was also used to pound cocoa and coffee (this tradition is still alive in some communities).   Their various sizes suit their varied purposes –  for heavy duty jobs you should use a 1 to 3 cup capacity heavy duty mortar and pestle; whereas, for smaller jobs such as when you are pounding spices and herbs, you should use a smaller capacity.  The smaller type is used for generally crushing garlic, herbs, and seasoning; while a little larger type is used for crushing foods such plantains and other provisions.
The mortar and pestle was mostly made of wood in the olden days.  Smaller commercial versions of it are now available in ceramic, stone and metal.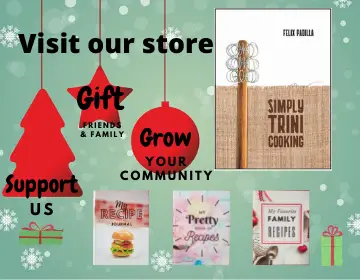 A mortar and pestle. This is unquestionably the best way to crush herbs.
An old mortar and pestle once used on the the estate of "La Reconnaissance",
now on display in the Historical house at Lopinot Complex.