Having a long conversation with a 97 year old lady got me to wonder about how fortunate it is to be able to meet and speak at great lengths on so many topics with a person past 80 years,  including a topic such as health and longevity. I began to feel privileged and wished this was really a common occurrence. Her memory was without fault and her spirits was youthful. How many of us can say we will be like that if we ever (luckily) reach that age or even 80 years of age.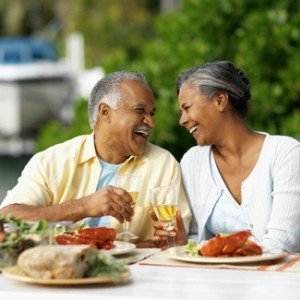 Health and Longevity
For many of us our diet and eating habits is a major cause of concern. Many are becoming obese, especially in the Caribbean, and we neglect to recognize how we are increasing our chances of developing any of these chronic diseases. These risk factors are like bargains when we go into a shoe store, buy one get one free, because they come in clusters over time.
Tips towards a life of health and longevity
I beg the reader to take note. You don't have to get paranoid and start counting every calorie you consume or release that is difficult. Start simple. One can adopt the recommendation put forward at The National Consultation on Non Communicable Diseases (2006):
Curb fat, sugar, and salt consumption, increase consumption of fruits and vegetables, adopt a physical regime into your daily life, control the use of tobacco, also avoid drugs, over consumption of alcohol, and processed foods. It is encouraging that the governments of the Caribbean are focusing on this issue because it cost the governments millions of dollars to treat. Prevention is still better than cure.
I believe we can still enjoy our myriad of local dishes in a sensible manner. There are a few tricks of the trade I have learnt that will help anyone who wishes to eat right and enjoying our local Trinidad cuisine:
Meat could be browned without oil.
Choose the leanest of meat and remove the fat from chicken
Limit the consumption of red meat
Eat more locally grown vegetables and fruits because they are cheaper than imports
You can use less sugar in many recipes
Eat lots of natural grains and cereals
Drink 8 glasses of water daily
Drink fresh squeezed fruit juices
Avoid all soft drinks or sodas
Eat salads without dressings
Do not include in your dinner plate more than one serving of starch item (this encourages you to include fruits, vegetables, and legumes on your plate)
Becoming aware of Health
Yes, sometimes I too, indulge at times.   I just love coconut sweet bread, coconut bake, roti and doubles (with slight pepper) but that doesn't stop me from making healthier choices when I eat. In this life, I believe moderation IS the key.
No one said you cannot enjoy your self, but not to the detriment of your health and well being. So become aware , become conscious of the choices you make when eating because you are the only person responsible for what you put in your mouth.
I hope this writing was helpful to many who are like myself aiming for a healthy, fit and fulfilling life. Also, enjoy your food, and take good care of yourself. Remember, being healthy is a process, it cannot happen over night. So love the body you're in and reach your goal of health and longevity.
Back to Articles