I absolutely love pancakes, especially seasoned pancakes. You know that feeling you get seeing a nice stack of pancakes with maple syrup drizzled all over. *In a low tone* Uuuuhhhhhh! Delicious! hahaha lol! Well since I did pancakes a long while ago I thought it would be great to post a nice Trini twist that I have enjoyed as a child. I actually mentioned it really but as usual got busy with other recipes and forgot about it.
Savory Seasoned Pancakes
We are all accustomed to sweet homemade pancakes, but what about savoury ones? Umhm! Now I have you thinking. And, what about a savoury pancake done trinistyle with all our fresh local herbs, especially Mr. Chadon beni. That's what I am talking about: a savoury trinistyle pancake recipe that's Mm Mm Good!
In fact the herbs added so much fibre that it was filling too. So if you're looking for a healthy pancake recipe look no further. And, if you can't get trini herbs why not substitute them with what's available. With so many variations to this pancake recipe I can't see anyone making a mistake. Well, unless you didn't really follow the instructions to the letter and added too much milk or something, but who's complaining 🙂
So put away the maple syrup, take out your frying pans and let's get to cooking some trini style seasoned pancakes. Are you ready?
Season Pancakes Recipe
SEASONED PANCAKES
Ingredients:
1 egg
1 cup flour, sifted
2 ½ teaspoon baking powder
¼ teaspoon baking soda
5 leaves chadon beni
1 leaves big leaf thyme
2 sprigs chive
1 sprig parsley
1 sprig fine leaf thyme
1 tsp. grated onion
⅔ cup water or milk
1 tbsp. sugar (optional)
Salt to taste
Oil or butter for frying
Direction:
Chop the herbs finely and grate the onion. Blend the seasoning with the egg. Beat the mixture well.
Add the water (or milk) to the mixture. I first added ½ cup. Add the flour and mix well.
Add the remaining amount of water (or milk) to the mixture, mix well.
If the batter is not loose enough you may add a little more water (or milk).
Pour about 2 tbsp. of oil or melt about 1 tbsp. of butter in a frying pan over low heat.
Pour about ¼ cup of the mixture into the oil and allow to cook until slightly golden.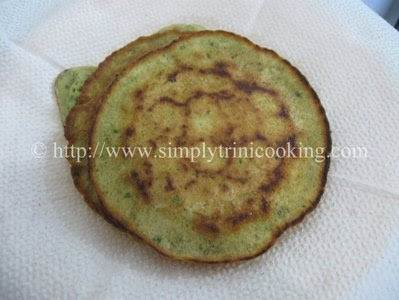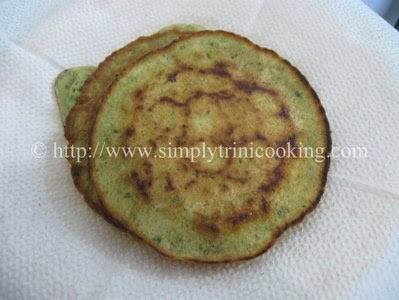 Then remove and drain on a napkin. This recipe will yield about 4 -5 pancakes.
So how did it taste. I could imagine ...with all that chadon beni that seasoned pancake has to taste good. See you soon with another trini creation.
Ah gone!
P.S. Keep your requests coming and keep me busy....Someone asked me for red mango and another put in their order for beef soup so look out for these and many more soon...
OK! Ah now gone!
Don't forget to leave your comment about seasoned pancakes in the comment box below.
Print
Seasoned Pancakes
Ingredients
1

egg

1

cup

flour

sifted

2 ½

teaspoon

baking powder

¼

teaspoon

baking soda

5

leaves

chadon beni

1

leaves

big leaf thyme

2

sprigs chive

1

sprig parsley

1

sprig fine leaf thyme

1

tsp.

grated onion

⅔

cup

water or milk

1

tbsp.

sugar

optional

Salt to taste

Oil or butter for frying
Instructions
Chop the herbs finely and grate the onion. Blend the seasoning with the egg. Beat the mixture well.

First add ½ cup of water or milk to the mixture. Add the flour and mix well. Add the remaining amount of water (or milk) to the mixture, mix well. If the batter is not loose enough you may add a little more water (or milk).

Pour about 2 tbsp. of oil or melt about 1 tbsp. of

butter

in a frying pan over low heat. Pour about ¼ cup of the mixture into the oil and allow to cook until slightly golden.

Flip and fry on the other side. Then remove and drain on a napkin