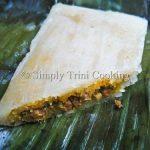 Print Recipe
Cassava Pastelle
I am really excited to share with you this Cassava Pastelle recipe. Cassava done in this way is a very delicious innovation.
Prepare the meat filling. * (Check the link below for directions on preparing the filling.)

Wash and peel the cassava before boiling in a deep pot of water. (The cassava is is good when a knife goes through it easily.) Dice the cassava and then mash it with a strong fork. Remove all the firm pieces of cassava and continue softening it with your hands. Set aside.

Melt the butter. Add the melted butter and olive oil to the cassava. Mix well. The softened cassava dough is pliable and can now be rolled easily. Separate the dough into smaller balls.

Place some oil in a saucer. Roll each dough lightly in the oil. Press the ball flat and fill with the meat filling. Fold the leaf wrapper neatly over the pastelle and tie with a piece of string. Steam the pastelles for 25 -30 minutes. Set aside to cool before serving.
Calories:
164
kcal
|
Carbohydrates:
20.6
g
|
Fat:
8.3
g
|
Sodium:
121
mg
|
Fiber:
1.8
g
|
Sugar:
1.4
g