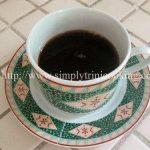 Print
Coffee with Tea
Coffee with tea is a good introduction to coffee.
Set the water in a kettle to boil. Pour the hot water into a teacup. Dip the tea bag into the water (about 8 times).

Then add 1 teaspoon of instant coffee. Stir until the coffee dissolves. Add sugar for taste. Serve hot.