We were in a hurry... It was about 1 in the afternoon and we now arrived at home after a busy morning in Tunapuna shopping. And we were dying of hunger. Cooking an elaborate meal with meat was out of the question, so my wife quickly grabbed some potatoes while I chopped some carrots and other ingredients to stir fry.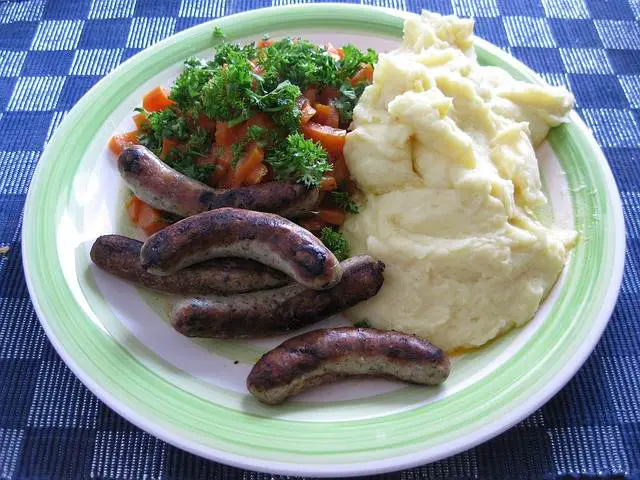 Need a Quick Meal?
The pot of water was on the stove over high heat ... soon it came to a boil and in the potatoes went; washed, whole and unpeeled ( no time to peel anything). A little more and we would have been begging the potatoes to cook faster...in the mean time all I could do was gulp a glass of water to assuage the raging hunger....
The carrots and snap beans were ready to stir fry..... (didn't even bother to chop the beans)
Thinking to myself while cooking: OK ...a little oil...saute onions and garlic... throw in carrots and beans ...fry quickly....turn heat a little higher ....fry faster ...turn ...turn...toss....make sure to turn often ....add salt and seasonings, soy sauce ...fry some more ...OK it's good, it's good....Oh and add pepper!
The vegetables were done and now it was just to make the mashed potatoes. Well, my wife handled that while I grabbed some plates and started the share the veggies. ...in "two twos" mashed potatoes were done; click! click! click! take out photos; grab a fork and dig in........
That afternoon I had a renewed appreciation for mashed potatoes as I finished the last morsel; it came to the rescue. Maybe you would not be as hungry as I was, to make this mashed potatoes recipe, but for a "fast cook" it was worth it. Try it and see for yourself and add a little piece of meat or fish; it will surely keep you filled for a few hours. So if you're in a hurry without further ado here's mashed potatoes! 🙂
MASHED POTATOES
Ingredients:
7 medium potatoes
½ cup grated cheese
2-3 tablespoon butter
¼ cup milk (adjust for moisture)
½ teaspoon fresh parsley and thyme (finely chopped)
salt to taste
Direction:
Wash and boil the potatoes until tender or until a knife can easily go through it. Drain and peel. Set aside the peeled potatoes in a separate bowl. Mash the potatoes until smooth. I prefer to use a fork to mash the potatoes.
Add the butter to the mashed potatoes and mix thoroughly. Generally, if you mash the potato while it is hot the butter melts quickly and mixing is easier. Add the milk and cheese and mix well until you get the desired smoothness. You may have to add a little more milk if you like it light and smooth.
Also, add desired seasoning or herbs and continue to mix. The finished mashed potato ready to be served.
As I mentioned earlier, this mashed potato recipe really saved the day. It was quick and tasty and most of all filling. Do you have a meal that you make when you're really hungry and have no time to lose? leave me a comment I would like to hear all about it.
Anyhow I gone again. See you soon with another recipe. Bye!
---